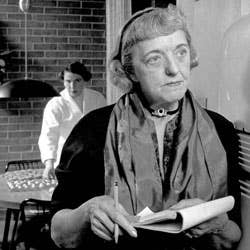 Culture
Hometown Appetites
Kansas native Clementine Paddleford was a pioneer when it came to chronicling America's food traditions.
One of the first things people from western Kansas want you to know is that their state isn't totally flat. I wouldn't have believed them if I hadn't seen the Flint Hills for myself. Speeding west for 120 miles from Kansas City to Manhattan ("the Little Apple", a town of 45,000 and home to Kansas State University), you're treated to spectacularly unadorned terrain—but those really are hills in the background.
I'm making this drive to learn more about a once famous, now forgotten food writer I've come to admire: Clementine Paddleford. Culinary icons often have a geographical touchstone. For Julia Child, it was France, where she had her gastronomic epiphany. For Elizabeth David, it was Egypt, where she discovered the integrity of a life spent pondering the edible. Paddleford, too, ate her way through the world, but she found her culinary inspiration at home, in America. Indeed, Paddleford was arguably the first journalist to call attention to the fact that there is a rich tradition of good eating on these shores—a tradition worth preserving and building on. And it all started in Kansas.
Born in 1900 (or 1898, depending on your source), Clementine Haskin Paddleford was an ordinary Kansas farm girl who grew up to be, for a time at least, the world's most influential food writer. She covered the coronation of Queen Elizabeth II, dined with the Duke and Duchess of Windsor in Nice, crisscrossed the States, traveling some 50,000 miles a year, to sample local delicacies, and wrote about it all—smartly, sassily, and with unerring authority and enthusiasm—for the New York Herald Tribune, among other publications. At the height of her career, Paddleford had an estimated 12 million readers; was named "best known food editor in the United States" by Time in 1953; and was even the subject of a New Yorker cartoon. She was also a single mother, a pilot (she flew her own Piper Cub plane to expedite research trips), and an unabashed cat lover.
I first learned about Paddleford, who died of cancer in 1967, by happy accident. Two years ago while in Boston, my husband popped into a used-book shop, came across a dusty old cookbook called How America Eats _(Scribner's, 1960)—basically, a compilation of columns that Paddleford wrote for the _Tribune and This Week magazine—and bought it for me. I'd never heard of Paddleford, but as soon as I opened the book, I knew this was someone who definitely should not have been forgotten.
"We all have hometown appetites," Paddleford once said. "Every other person is a bundle of longing for the simplicities of good taste once enjoyed on the farm or in the hometown they left behind." After explaining in the foreword that her book is based on personal interviews with more than 2,000 of the country's best cooks and that the recipes are "word-of-mouth hand-downs from mother to daughter", she proceeds to introduce us to people like Mrs. Thomas W. Jensen, a Salt Lake City mom who told Paddleford that she fixed apple dumplings so good they put all eight of her daughters-in-law to shame, and Mrs. Carl Stewart, the former food editor of the Des Moines Register, who made vinegary barbecue pork and had been cooking "ever since she could remember". But Paddleford didn't limit her research to traditional American fare. She also documented the way immigrants influenced the American table—concocting dishes "mixed and Americanized", as she put it. So we get to meet Mrs. Norvin H. Vaughan, who every Christmas baked German sweets like schokoladeplatzchen (little chocolate drops), and Mrs. Eliot Fletcher, who hailed from a family of cigar makers who emigrated to Tampa and who served up a killer Spanish boliche (eye roast with olives, lime juice, ham, and garlic).
In Paddleford, who liked to boast that she ate "every dish at the table where I found it", I'd met a writer who spun gold from the simple wisdom of American recipes. I grew up in a Jewish family in the South; we ate things like stuffed cabbage and kasha alongside fried chicken and creamed corn. Ours was a melting-pot table, with food that was tied not to just one tradition but to many—a distinctly American phenomenon, and exactly the phenomenon to which Paddleford devoted her life.
Curious, I began cooking from the book, starting with a cake from the Philadelphia chapter. "Aunt Sabella's Black Chocolate Cake" turned out as promised: easy to prepare, moist, and rich. Paddleford's clipped, efficient prose in the accompanying text was equally rewarding: "Chocolate cake, now that's my meat," she wrote, after discussing her foray into Pennsylvania Dutch country for "chocolate cakes, so famous people drive one hundred miles and more to eat a slice fresh cut".
The book's recipes and stories only made me hungrier to know more about the woman responsible for uncovering and sharing them. Internet research turned up a couple of pages with Paddleford's most famous quotes (my favorite: "Never grow a wishbone, daughter, where your backbone ought to be"). Then I came across a gem: Kansas State University's website. On it, I learned Paddleford was a graduate of the school, which during her time was called Kansas State Agricultural College, and had bequeathed it her papers, 1,900 cookbooks, and various other effects. "The Clementine Paddleford Papers (1920-1967)" is a collection that includes menus, diaries, photographs, 25 scrapbooks, and more than 100 boxes of clippings, not to mention award plaques, hot plates, a copy of nearly every column she wrote, correspondence with readers and editors—in short, a treasure trove for someone interested in American food history. Some folks make pilgrimages for religion, some for music. I thought I might've found my own guru, and, like a good groupie, I had a burning desire to follow her ghost to Kansas. So from one Manhattan to another I went.
The Hale Library rises proudly to five stories, one of the tallest buildings on Kansas State's campus. The Paddleford Papers are housed on the top floor in the special-collections department, along with material on other notable Kansans, like Gordon Parks, the Life photographer and director of the original Shaft film, and Alice Nichols, author of Bleeding Kansas. Cindy Harris, a Kentucky native who married a Kansas boy, looks after the Paddleford collection. Harris starts me off with a stack of boxes, which contain, among other things, all the notes, organized by year, for How America Eats. "She was a real Kansas pack rat," Harris offers, sensing my bewilderment. Paddleford was more than a pack rat: this was a woman who saved every menu from a monthlong hospital stay (she was sick with pneumonia) in 1962. She kept drafts of letters she wrote to her readers and slips of paper inscribed only with notes like "please type". It was as if she knew that somebody would one day follow her trail.
Together, Harris and I spend hours poring over the collection. Pictures from Paddleford's college days reveal a tall, solidly built young woman with a prominent nose, a square jaw, and thick black hair with a fringe of bangs. "I really admire her," Harris says, "because she was no-nonsense." I ask her to explain, and she recounts one notorious episode when Paddleford used the word blood in a story to describe the liquid that comes out of a tomato when cut. After a copy editor changed the word to juice, Paddleford chastised him in front of the newsroom. Her original choice was restored.
I have to don special gloves to handle some of the more fragile papers, including a letter Paddleford wrote to her mother in the winter of 1909 about baking pies during a visit to her grandmother. Leafing through several scrapbooks and boxes, I find a flight certificate, notes about a favorite electric pencil sharpener, pictures of Pussy Willow (a pet cat Paddleford toted daily to the Tribune office, where it eventually dropped dead in Paddleford's "in" box). There are a few items relating to her husband, Lloyd Zimmerman, a fellow Kansas State student, from whom she separated within a year, and to her daughter, Clare. But the vast majority of material is tied, in one way or another, to Paddleford's career as a food writer.
It stands to reason that Paddleford's own "hometown appetite" was the source of her calling. She came from a family of farmers who owned a 260-acre spread called Blue Valley Farm, in Stockdale, a town near Manhattan that was flooded out of existence in 1951 to make way for the Tuttle Creek Dam. Living on the farm with her parents, she grew up loving mealtime and often helped in the kitchen. "At our supper table there was family togetherness plus," she wrote in a memoir about her childhood called A Flower for My Mother; "[supper] was a time for laughter.... Arguments were forbidden."
Paddleford revered her mother, Jennie. "I remember my mother as the Rock of Gibraltar, a woman who could meet an emergency with dignified calm but determined action," she confided in one of the book's essays. Paddleford also wrote about the splendid birthday parties Jennie threw. At one such party, the lavish buffet that Jennie had just laid out was ruined when a pitcher of fresh lemonade tipped over; she stoically re-created the meal, even frying up a new batch of chicken, as an incredulous Paddleford looked on. Reading the tale, I imagine that this was the moment a love for the magic of home economics was born.
Paddleford honed her writing skills by contributing to the local page of her town paper, the Daily Chronicle, while in high school. At K-State, she was one of the school's first female newspaper editors. After graduating with a degree in industrial journalism in 1921, she moved to Manhattan to attend New York University's journalism school. Her first big break came in 1924, when she was named women's editor of the now defunct Farm and Fireside magazine, a post she held for five years before beginning a successful freelance career. A bout with throat cancer in 1932 that required Paddleford to learn how to speak through a "voice box" did nothing to sideline her career. She was tapped to be food editor of the Tribune in 1936 and stayed until the paper shut down in 1966. The invitation to pen a weekly food column, titled How America Eats, for This Week came in 1940. (She wrote the column until her death.) From 1941 to 1953 she was also a contributor to Gourmet.
No doubt Paddleford's popularity was at least partly due to her uniqueness; during most of her era there were just two types of newspaper food writing: restaurant reviews by big-city critics and recipe pages by small-town food editors. One of her peers, Cecily Brownstone, the food editor of the Associated Press from 1947 until 1986, remembers Paddleford as "a celebrity". "[She] did a lot to bring American food to the floor," she told me shortly after I returned from Kansas. Indeed, Paddleford's genius lay in tapping into what she knew best: authentic home cooking. And she used her pulpit to spread local cooks' favorite recipes, and the stories behind them, from coast to coast.
Along the way, Paddleford likely coined the phrase "regional American cooking". And, old as her columns are, they ring true today. Of New England, she wrote, "[The] dishes are as devoid of fuss and feathers as a Puritan's hat." Of Manhattan: "...you can eat around the clock, around the calendar...around the world, and sometimes almost out of this world." Of Florida: "...things are grown, caught, and raised like nowhere else. Not only fish—it's a coconut, pineapple, banana country."
Driving back to the Kansas City airport, I consider Paddleford's legacy: American regional food has never been trendier, yet almost no one responsible for it today has heard of the woman who was probably its initial chronicler. After traveling here to Kansas, I can't help feeling it's important to restore Paddleford to our communal food library; her work is crucial to our understanding of our collective national appetite. And, come to think of it, that is worth more than just remembering; it's worth celebrating.