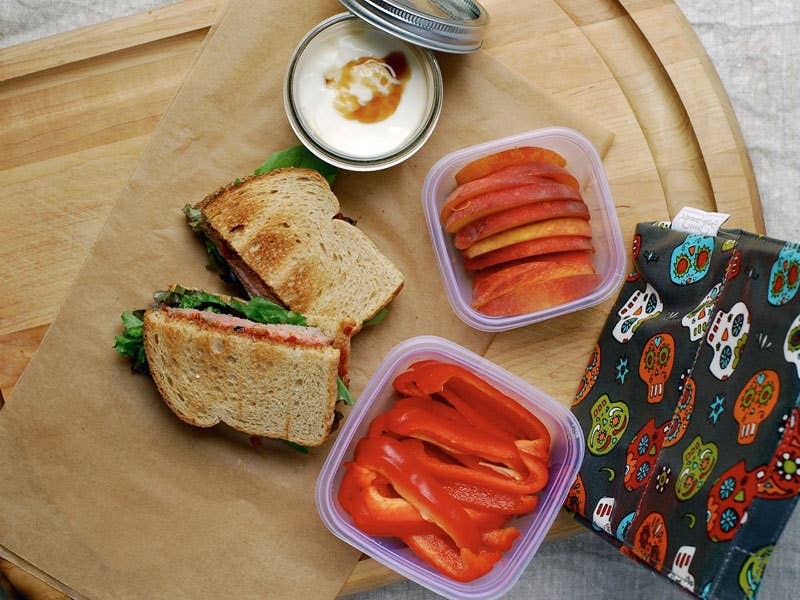 Culture
How Elizabeth Stark and Brian Campbell of Brooklyn Supper Pack a Lunch
Elizabeth Stark and Brian Campbell, creators of the blog Brooklyn Supper and contributors to Babble.com, show us how they pack a lunch for their two young daughters.
Packing a simple school lunch on a daily basis can feel like a major impediment to creativity in the kitchen, which can hurt an epicurean's soul. A packed lunch can't be heated or refrigerated. It can't be cut with a knife or eaten with a fork. It can't be messy. It needs to be healthy, while also accommodating a child's ever-shifting, and relatively limited, palate. With so many restrictions, it's no wonder that school lunches are usually composed of a few easy standards.
To keep from falling into a rut while relying on the tried-and-true, we try to use fresh and interesting ingredients to punch up the old standbys and (we hope) instill a love of good food and good cooking. A roast beef sandwich on it's own can be pretty pedestrian, but homemade roast beef with herbs from your garden, crisp greens, and savory-sweet tomato jam make it something special. Tangy yogurt with a drizzle of honey is healthy and helps develop a taste for treats with a complex flavor. Fresh peaches and sweet red peppers from the farmers' market help to teach a child to enjoy the fleeting flavors of the season. The only drawback to packing such a delicious lunch is that you may just want to keep it for yourself.
Roast beef (recipe below) on whole wheat toast with tomato jam and greens
Plain yogurt and honey
Sliced peaches
Sliced red pepper
1 eye round roast (1½ to 2 lbs.)
2 sprigs fresh rosemary
6 to 8 sprigs fresh thyme
½ tbsp sea salt (or more to taste)
Pepper to taste
1. As far beforehand as you are able (ideally several hours or even the night before), finely chop the rosemary and thyme, and rub it all over the beef.
2. Preheat the oven to 425° and rub the meat with salt and pepper. Arrange the meat in a small roasting pan and place in the oven when it comes to temperature.
3. After 30 to 35 minutes, insert an instant read thermometer into the center of the roast, and check the temperature. Pull it when the temperature has reached 130°. Remove from the oven. Let stand for 20 minutes before covering and placing in the fridge.