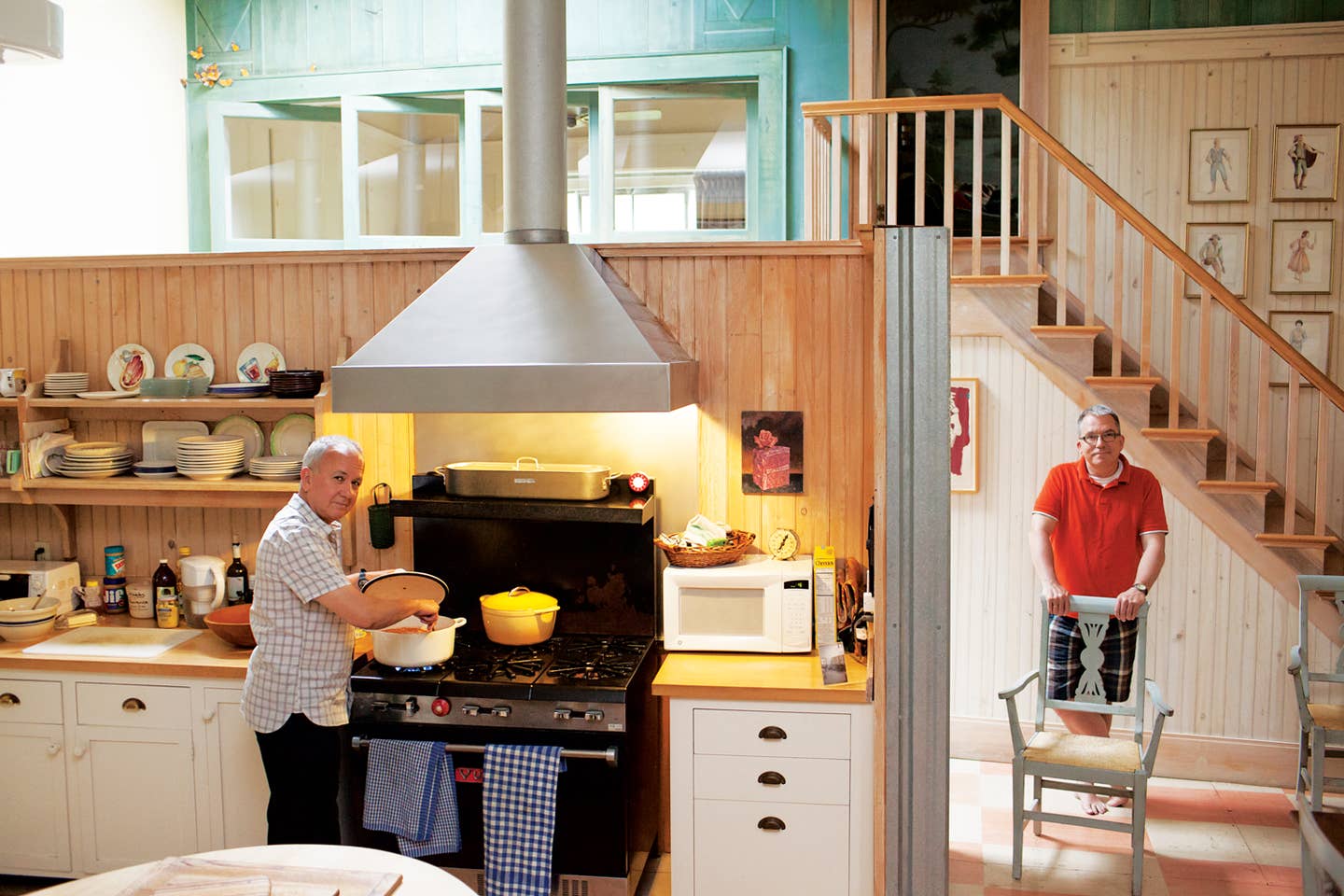 Culture
I Love My Kitchen Because: Franklin Tartaglione
The kitchen of New York creative couple Franklin Tartaglione and Dave King captures the look of a bygone era. Here's what Franklin loves about his space:
With its austere color scheme and warm wood surfaces, the kitchen my friend Franklin Tartaglione [far left] shares with his partner, the novelist Dave King, gets its inspiration from two separate places. One is the subterranean summer kitchens where Frank and his relatives would spend warm summer evenings while he was growing up in Buffalo; the other, the Catholic school where he attended Monday catechism classes.
But more than anything else, this kitchen, which Frank designed and built in a converted wool combing mill, is also a testament to his tremendous talents as a professional decorative painter. He has spent the past few decades adorning homes and apartments with murals evoking Blue Willow pottery, exotic paradises, and 18th-century French landscapes.
Frank used those talents to create what is perhaps this kitchen's most striking and dramatic aspect: the floor. While designing the house, located near Ghent, New York, he and Dave agreed on vintage linoleum underfoot. Unfortunately, the pattern they had their hearts set on turned out to be discontinued. And so, while Dave was away one weekend, Frank came up with an alternate plan, painting the wooden subfloor a pale raspberry red and tan checkerboard pattern to suggest a linoleum surface naturally faded by gentle light, generations of foot traffic, and the effects of time.
The kitchen's theatrical and evocative stage-set look (in certain lights, you can see it serving as the backdrop for a production of an Arthur Miller play) is also enhanced by the old-fashioned metal radiators and exposed copper pipes that Frank and Dave bought and installed themselves, by the rustic butcher block counters and wooden cabinets, as well as by the two small bathrooms (the original men's and women's factory washrooms complete with their original stalls) leading off the main space.
Though characteristically modest about his skills as a chef—much of them learned while working the short-order station at his father's Buffalo restaurant ("I know how to have seven or eight egg orders going at once")—Frank is a superb cook. His delicious roasts and pastas seem to enhance, and be enhanced by, the kitchen's decor, which channels history without self-consciousness, nostalgia without kitsch.
It's a magical experience to gather with friends for dinner in Frank and Dave's kitchen. You can almost hear the soft murmuring gossip of Frank's Buffalo relatives, and the buzzing of June bugs against the screen, even in the dead of winter.
• A wall of painted faux beadboard running behind the sink reflects the sort of thing that Frank has learned to do almost effortlessly in his work. "It was all stuff that rolled off the brush. No fuss."
• Wood countertops evoke the rustic summer kitchens Frank remembers seeing in Buffalo when he was a child.
• Though he'd never made furniture before, Frank crafted the two large dining tables that can seat a crowd of holiday and dinner party guests.
• "We just bought the simplest restaurant-quality stove we could find in the kitchen-supply stores on the Bowery," Frank says of his sophisticated Vulcan range.
• Stairs were built leading up from the kitchen to reinforce the impression of a room that is at least partly underground, "as if it were below the fancy part of the house," Frank says, though in fact the kitchen is on the entry level.