I Love My Kitchen Because: Kerry Diamond
Before her current life as an owner of Brooklyn restaurants Seersucker and Smith Canteen, Kerry Diamond was a full-time fashion girl: a beauty editor for Harper's Bazaar, and vice president of PR for a major cosmetics company. Her aesthetic pedigree translates to the decor of her restaurants (which she runs with her chef boyfriend Robert Newton), as well as to their home kitchen. "The light is beautiful, and the reason I moved in,"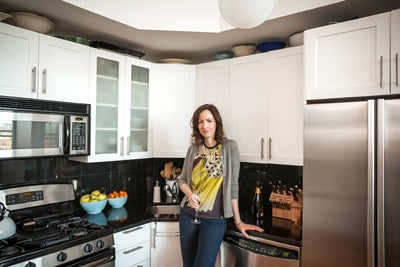 • I love my citrus juicer. I had mine for a decade and it finally gave out when I was making blood orange mimosas for my girlfriends a few weeks ago. They chipped in and bought me a new one, which was very cool of them. When you make your own orange or grapefruit juice, you'll never be able to drink the stuff that comes in a carton ever again.
• I spent my entire adult life using inferior knives and I had no idea how much better professional knives were. Prep work is so much easier when you have decent, sharp knives. It's revelatory. Lessons here? One: Date a chef. Two: Go buy a good knife.
• I've learned some good habits from cooking with Rob. Clean as you go. Read the whole recipe before you start cooking. And mise en place! Everybody should know about mise en place—and not just because it's fun to say and makes you sound like a better cook than you probably are.
• My kitchen doesn't really have a color, but I love the idea of a kitchen with a major color theme. My Aunt Olive was famous for her red kitchen. Red stove, counter, curtains. When I say everything was red, I mean everything was red. It was easy to buy her gifts: red pot holder, fridge magnet, spatula. Bingo.
• I love that Rob tested so many of the dishes for Seersucker in our kitchen. We had a really fun year of inviting friends over to try everything before we opened the restaurant. Lots of good food and bourbon were consumed and we washed a lot of dishes. It was a blast.
Previously
I Love My Kitchen Because: Brian Ray »
Kitchen Tour: Inside the SAVEUR Test Kitchen »