L.A. Salad
The original cobb did not include the kitchen sink.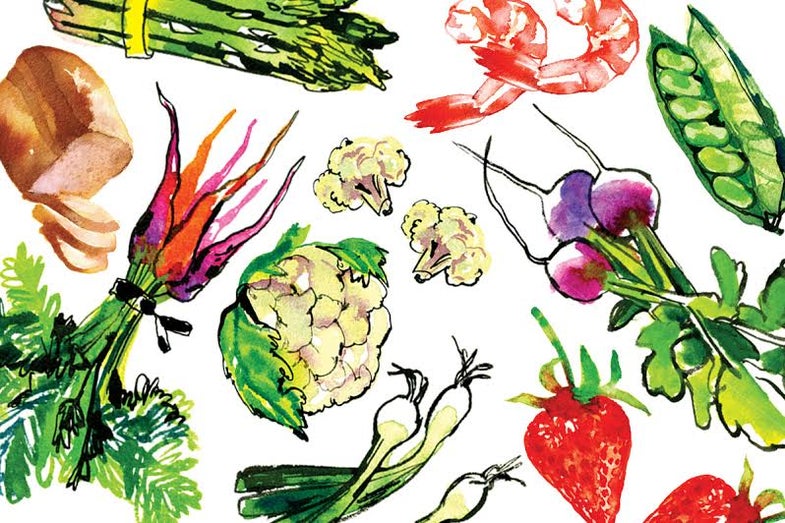 The first Brown Derby Restaurant opened on Wilshire Boulevard in Los Angeles in 1926 and quickly became known as much for the glittering Hollywood movie crowd it attracted—Loretta Young, Mary Pickford, and ur-gossip columnist Louella O. Parsons were among the first customers—as for the food it served. But the food was hardly negligible. Generations before restaurants like Spago, L'Orangerie, and Valentino brought good food to LA, the Derbys (branches opened later in Hollywood, Beverly Hills, and the Los Feliz area) were buying the best available produce and upholding the highest culinary standards—at least for their time.
Without question, the restaurant's most famous creation was the cobb salad—improvised one day early in the restaurant's history by Robert H. "Bob" Cobb, a protege of Derby founder Herbert K. Somborn and president of the Brown Derby Corporations after Somborn's death in 1934. According to Richard Morgan, the Derby's executive chef at the time, Cobb got hungry one day and "he chopped up whatever was around—some lettuce, an avocado from the icebox, some bacon left over from the breakfast service—and stirred it all up in a bowl. He liked what he came up with and, by adding a few new ingredients, developed a recipe." Morgan remembers the eventual salad, which became an instant hit, as "a bowl filled with lettuce…topped with stripes of ingredients—red tomatoes, blue cheese, white chicken, and the rest—so that it resembled a flag. The waitress would arrive with it at the table, dribble the dressing over it, and toss it there. Today people will chop up everything but the kitchen sink, throw it all together, and call it a cobb." It's not.