Lone Acre Farm's Cold Weather Finds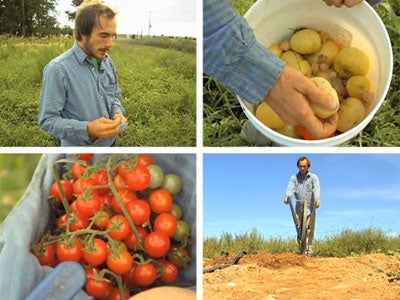 On one acre of rich Peconic Bay soil, Dan Machin farms alone. "One acre, one man, 100 varieties" is the motto of the Lone Acre, his Long Island farm in Riverhead, New York, where this intrepid young farmer hand sows and harvests crops with no machines or chemicals. Rediscovering and cultivating heirloom vegetables and herbs is a key goal, too, and the Lone Acre's stand at the Park Slope Farmers' Market on 5th Avenue and 4th Street in Brooklyn, New York, spills over with uniquely shaped and pigmented tomatoes, peppers, potatoes, and herbs, including spilanthes and calendula, often causing customers to stare at the booth curiously.
As the days grow cooler, Lone Acre Farm is shedding the last of its first summer's harvest and sprouting cold-weather crops aplenty. Celeriac, or celery root, is one of the newcomers, and Machin's young, fresh bulbs are as good as they get. It's hard to imagine that this root vegetable was almost unheard of until a few years ago, when chefs embraced it and its popularity began to spread. You'll have no trouble spotting celeriac at markets this time of year, thanks to its seasonality as well as its distinctively knobby appearance. Once peeled, roasted, and made into a hearty vegetable stew, or pureed into a creamy celery root potatoes, it's a savory case in point that some vegetables are worth discovering.