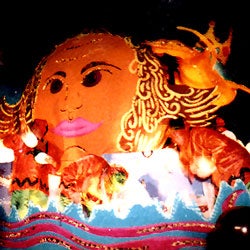 Mardi Gras—literally, "Fat Tuesday" in French—is a day of merriment and revelry around the world, the last gasp of indulgence before Christians observe the penitential season of Lent. Which makes it one heck of a great party.
New Orleans is practically synonymous with Mardi Gras and all its bead-flinging, parade-watching, king cake-eating glory, and, happily, the local cuisine is some of the best America has to offer. To celebrate the rich culinary legacy of the bayous—and bone up on your southern Louisiana history—check out Don't Call It 'Cajun', a story by native son Gene Bourg on the evolution of Acadian cuisine.
The Big Easy isn't the only Southern locale with a storied Mardi Gras history, however; in Mother of Mystics, Ann McCarthy returned to her Mobile, Alabama, roots for a trip down memory lane a the height of Carnival season.
And once you master our Mardi Gras lore, it's time to reward yourself and put your knowledge to good use with an exclusive SAVEUR menu, Classic Acadian with a Cajun Twist–guaranteed to help you spend Fat Tuesday in gourmet style. After all, whether or not you observe Lent, good food is always a cause for celebration.