Classic Acadian with a Cajun Twist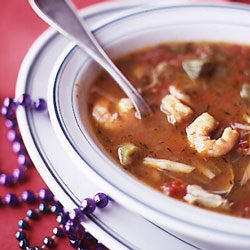 The French immigrants who settled Louisiana—known as Acadians—devised a distinctive cuisine born largely out of necessity, using the bounty of the land. Shrimp, crawfish, rice, and abundant local vegetables like okra and corn became mainstays of the simple but flavorful, one-pot dishes that evolved into the staples of Acadian cooking.
The style of cooking popularly know as "Cajun"—blackened fish, dirty rice, bananas foster—isn't truly Acadian, but it's still tasty. This menu—a perfect choice for a Mardi Gras party—combines several Acadian classics with some newer Cajun creations thrown in just for fun.
• Acadian Seafood Gumbo
• Shrimp and Crab Étouffee
• Fried Sweet Potatoes
• Miss Daisy's Red Rice
• Cortlandt's Bread Pudding
• Bananas Foster