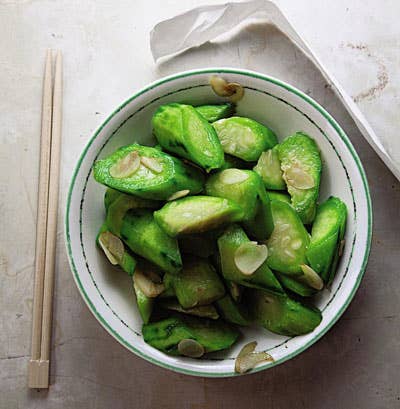 Culture
Mystery Vegetable
Enlightenment at the Chinese takeout
It has always been on my to-do list to attain Zen enlightenment, and recently, I did. Who knew it would happen at the tiny table in the bay window of the Golden Wok restaurant in Red Hook, New York, the one that affords a view of the street? § I've known Red Hook since my college days. Back then, it was a tidy little workaday town surrounded by apple orchards and dairy farms, with a bank, a Ford dealer, a hardware store, an agricultural equipment outlet, a dentist. Nothing fancy. Since then, the town has caught up with the 21st century: there's now a bookstore and a multiplex cinema, and where the old Cowhig's drugstore used to be there is the Golden Wok.
This is your usual family-run, six-table, take-out or eat-in Chinese place—at first glance. Maybe at second glance, too. There's the colossal jade plant, the photomural of Hong Kong harbor, but there's something else, too. It's cleaner, and somehow less utilitarian. If you look closely at the faces of the people who are working and eating there, you'll notice that they're all happy. They're relaxed. They're talking to one another. They're talking about the food. They're even walking back into the kitchen, where people are hollering and things are sizzling.
Once you've eaten there a few times, the experience is less like going out for Chinese and more like visiting friends who happen to be spectacular cooks. This has everything to do with the Cheng family, who run the place. The kids are off at the corner table, doing their homework. Robert, the younger son, is a chess shark, and he often has a board set up, waiting for victims.
And there's Gigi Cheng, the mother and the guiding spirit of the Golden Wok, who long ago quit paying any attention to what my wife and I order, instead bringing us what she thinks we need. This is fine with us. I believe she assesses our state of health and our mood, and is practicing medicine without a license. On this particular day—the day of my Zen enlightenment—she brings a slew of light and simple sauteed vegetable dishes to go with our hoisin duck and delicately prepared chicken. There's baby bok choy, mustard greens, hot and spicy cabbage, all prepared similarly, with glistening cloves of garlic, all subtly yet strikingly different. It's a hot day and this food is cooling and energizing. I'm sure there is some conversation, but all I'll remember later is that I moaned with delight.
I am no vegetarian, but I am a vegetable fan—no, a vegetable freak. I came to this late in life, having lived through the '40s and '50s, when—except among certain ethnic groups to which I do not happen to belong—vegetables were treated disgracefully in this country. Now I have seen the light, and the produce section and the farmers' market are the equivalents of grand opera or maybe even religion for me. Gigi knows this. She has seen me eat. So she knows what she's doing when she comes over and says: "I have something special, okay?"

The dish is another stir-fry of a vegetable, a vegetable I've never seen before. Pale green and pliant, it has a flavor somewhere between zucchini and cucumber.
"What is this we're eating?"
"I don't know the name in English. Eat. It is good for you."
"What's the name in Chinese?" I want to know so I can order it again.
"I forget the name in Chinese." She hurries off to the kitchen.
Sharp autumn afternoon light slants across the street. Now we know perfect happiness. Our dogs are in the car, watching us through the window, counting our every mouthful and calculating their share. People passing in the street wave to us. We wave back with our chopsticks.
Jacky, the older son, comes by, busing tables. He's in high school.
"Jacky, what do you call this?"
"Some kind of Chinese vegetable. My dad makes it good."
"Look, is it a kind of squash? A cucumber? What does it look like before it's cooked?"
He goes poetic. "It's like ridges, like mountains. Are you saving pieces of chicken for your dogs? Can I feed them?"
Kan, the dad, pops out of the kitchen. His expression is always watchful and serene, as though he's surveying some huge enterprise. His manner alone makes us feel like we're in a grand, white-tablecloth restaurant, possibly with live harp music. We could ask him what the vegetable is, but he's not going to tell us. Besides, we don't really want to know anymore. Let the marvelous vegetable remain a mystery. I'm sure we will taste it again the next time Gigi notices that we need it.