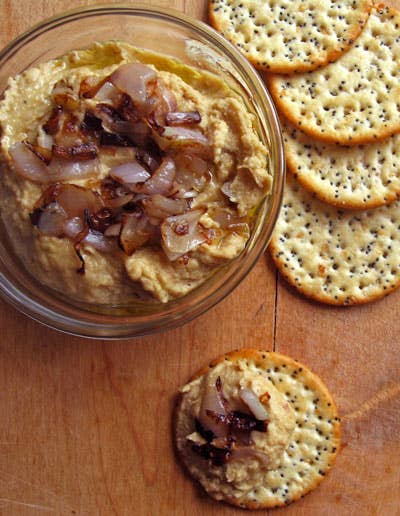 Culture
One Ingredient, Many Ways: Onion
Despite its extraordinary popularity, the onion is perhaps the humblest of all foods. While the aromatic vegetable is often the first thing we reach for in the pantry, they're the last ingredient to vie for attention in a finished dish; instead, they quietly and expertly lend depth to our pasta sauces, sharpness to our salads, and sweetness to our stocks. But onions are worthy of our adoration: they are a vital ingredient in countless dishes and found in virtually every one of the world's cuisines, and when given the opportunity to be the centerpiece, they truly shine.
Luckily, at this time of year the members of the allium family are out in full force. Last fall's storage onions, like the saucer-shaped cipollinis, petite shallots and common yellow onions, are still in fine shape, and fresh, watery varieties like sweet Vidalias and green-topped spring onions are just beginning to make their seasonal debut. With storage onions, always look for dry outer skins that are free from obvious bruises, dark spots or soft patches that could indicate decay. Fresh onions should be crisp and bright, with no signs of wilting or brown tips.
When cooking onions, use a very sharp knife to chop and slice them. A good knife gets the job done cleanly and quickly, giving the bulb less of an opportunity to release the propanethial S-oxide gas contained in its cells - the culprit behind onion-related tears. Some cooks wear protective goggles or other gear while chopping onions, but I try to embrace the stinging and leaky eyes when they come as a form of kitchen-induced catharsis. As the poet Carl Sandburg wrote, "Life is like an onion; you peel it off one layer at a time, and sometimes you weep."
Pickled Blueberries
Thinly sliced red onion adds depth and kick to these sweet-tart pickled blueberries. Pair them with brie and crackers.
Onionista: Caramelized Secret Chocolate Cake
Onions and chocolate are hardly a common pairing, but there's serious flavor chemistry in this cake, which capitalizes on the intense sweetness of slowly caramelized onions.
Cipollini Onion Hummus (pictured)
Gently browned cipollini onions add an unexpected hint of caramel sweetness to hummus, deepening its earthy flavors.
**French Onion Soup
** Yellow onions enjoy a long, boozy braise in a white wine and sherry-based liquid before becoming the base of this classic favorite.
Imbibe: Make Your Own Cocktail Onion
Homemade cocktail onions pickled with Champagne vinegar and spices make the perfect garnish for Gibsons and other allium drinks. _
Epicurious_: Spring Onion Cocktail Toast the spring with this drink made from gin, white grape juice, Italian parsley, and thinly sliced green onion tops.