One Man's Calling: Make Good Bread
One man's epiphany to become a bread baker.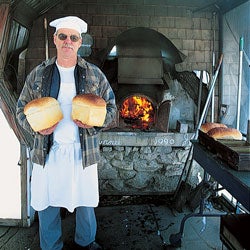 It was one of those lightning-bolt moments. Eleven years ago almost to the day, Jean-Claude Cote, a retired asbestos miner from Black Lake, a mining town on the western edge of La Beauce, was sitting under a tree, idly carving away at a hunk of wood, when he was struck with an epiphany: he realized he wanted to become a bread maker. "I had never even touched dough before then," he recalls. "But something told me this is what I must do. It was like divine intervention."
Cote, who knew nothing of the art of baking, let alone the art of running a business, began constructing an oven on some land he owned alongside a lonely stretch of highway. It was not the chrome-and-gas variety he envisaged, though; it was a traditional, outdoor, Quebec-style clay oven, the rustic sort that the first settlers depended on. Soon the oven, made of two kinds of local clay that Cote harvested from the surrounding hills, was complete, and the bread making began.
Business at Au Four a Pain, as Cote called his establishment, was feeble at first. But as time went on, locals came to appreciate the gift in their midst: Cote's English-style white loaves (the region's favorite) were golden, gorgeous sacraments that smelled of yeast and comfort and thumped like a heart when you tapped them. "In the past decade my customers have grown dependent on my bread," he says. "That's because I make it with the same grace with which I hand a rose to a woman."