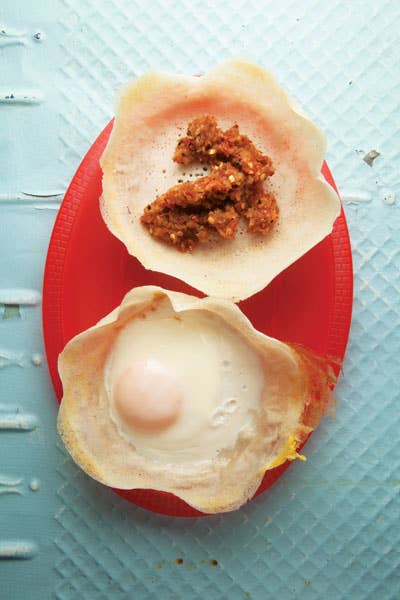 Culture
Party Food: Sri Lankan Hoppers
For Sri Lankan ex-pats, hoppers foster community
Of all the foods my Sri Lanken husband has introduced me to, appa, or hoppers, are my favorite. On my first trip to his country, I gorged on the bowl-shaped crepes, made from a yeasty batter of rice flour and coconut milk. I ate them filled with steamed eggs for breakfast, with fiery onion-chile paste for lunch, and for dinner with a little seeni sambol, caramelized onions mixed with Maldive fish, smoked and air-dried tuna. For dessert? Yup, suffused with smoky-sweet palm syrup. Though they resemble French crepes, and many of Sri Lanka's foods were brought to the island by colonists, the origin of hoppers is unclear.
Traditionally, hoppers were cooked at home over coconut-shell embers. Since the end of Sri Lanka's civil war in 2009, the economy has burgeoned, and the newly mobile society hungers for quick snacks. Hoppers have become a popular street food, sold by a "hopper man," who works behind blue-hot gas flames, ladling batter into his many round-bottomed, aluminum pans. He swirls one of the small, deep vessels until batter spills over the sides, forming lacy edges. Then he covers it to cook the pillowy portion that pools at its bottom. A quick clatter of the pans, and hoppers are stacked steaming in front of you. The scents of coconut and yeast fill the air.
In the United States, we don't have such stands, but we still get cravings. A typical serving is three to eight hoppers. To cook for a crowd, you need at least four pans—exactly how many we have. The problem is that "we" is a group of friends, Sri Lankans and their families living in Seattle; the pans are shared among us. Whenever we go to Sri Lanka, I ask my husband if we should get our own. "It's better to share," he says. "Besides, our suitcase is already full of spices."
He's right. When we want to make hoppers, we make calls: "Do you have the pans?" we ask. "Know who does?" Inevitably, we hear ourselves saying, "Oh, yes, come at eight. Don't bring anything." By the time we find the hopper pans, we've also found a party.