Pass The Shredded Wheat Pilaf, Please
For some of us, breakfast cereal is practically its own food group.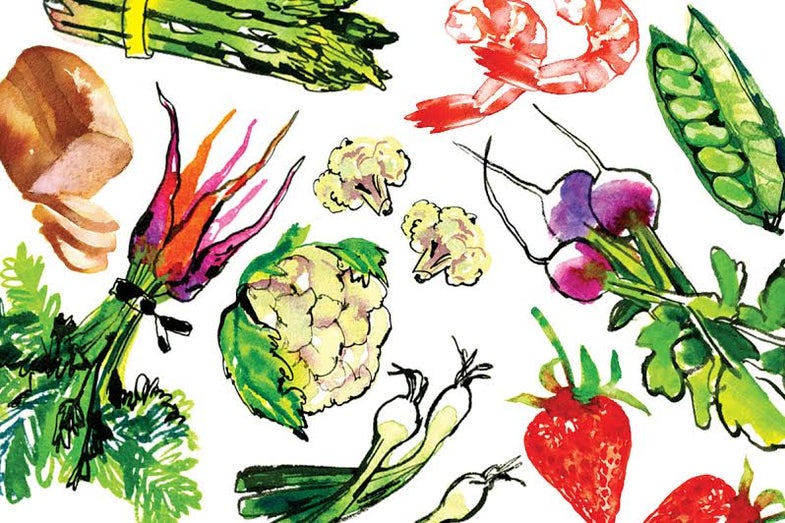 For some of us, breakfast cereal is practically its own food group; we eat spoonfuls of it—crunchy, toasted, fruit flavored, marshmallow sprinkled, whatever—not only for breakfast but also for lunch, dinner, and midnight snack. (I started pilfering late-night bowlfuls of Life from the pantry when I was four.) Other cereal lovers see the stuff not as an end in itself but as an ingredient in more-complicated noshes; thus Chex Party Mix and Rice Krispie Treats (which were apparently invented for a Camp Fire Girls fund-raiser in 1939). In his book The Breakfast Cereal Gourmet (Andrews McMeel Publishing), author David Hoffman goes way beyond gooey snacks and cornflake-topped casseroles. His book, which resembles a cereal box, is part nostalgic catalogue (it includes cereal lore and vintage cereal box illustrations) and part cookbook, featuring 31 recipes, among them ones for frosted banana pancakes (made with Frosted Flakes, of course) and pork loin stuffed with Honey Nut Cheerios. Some recipes come from well-known chefs like Annie Miler and Rick Bayless, while others hail from the depths of Hoffman's brain: "I thought, Well, the Cap'n is a sea captain, so why not Cap'n Crunch in crab cakes?" The recipes aren't merely gimmicky, though; the rule Hoffman held to throughout the testing process was that a dish had to really gain something from the addition of cereal—and to taste good. That's why, after testing a meat loaf made with Corn Chex and being reminded of tamale pie, Hoffman decided to run with the Mexican connection and came up with one of our favorites, Corn Chex-enhanced Roasted Poblano Meat Loaf. Just don't add milk.