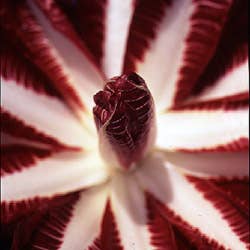 Culture
Red, White, and Bitter
Radicchio is sophisticated, versatile, definitively Italian—and mostly grown today in California fields.
Northeast of Monterey, in central California, lies the fertile Salinas Valley, immortalized by John Steinbeck. Renowned for its agricultural vigor, the region has long been called America's "salad bowl", producing billions of pounds of greens each year for shipment all over the world. But in the past decade, a new crop has been tinting this coastal valley (and others in California) with a distinctive red hue.
The recent arrival is radicchio, Cichorium intybus, a colorful and singularly flavorful member of the chicory family. The lettuce, whose leaves suggest the endpapers of old-fashioned books, marbleized in burgundy and white, has been appearing on smart tables across the nation for over a decade. Radicchio covers all the bases: Its color is vibrant, its texture is smooth, and its taste is refined and sophisticated. And it is unexpectedly versatile. When not festooning salad bowls, this indelibly Italian vegetable is sensational grilled or sauteed, mixed into pasta sauces and risottos, or simply dipped in bagna cauda—the anchovy-based "hot bath" of Piedmont. (A recent Italian cookbook called Il radicchio in cucina offers some 617 recipes for radicchio—including desserts.) It has become so mainstream that McDonald's now includes it in its salad blend. The most surprising thing about radicchio, however, may be that most of what we eat of it in America is grown not in Italy, but in California—where some 4,000 acres dedicated to the vegetable produce millions of heads a year.
Radicchio as we know it was developed, from various local chicory varieties in the Veneto region of northern Italy, in the late 1860s by visiting Belgian garden consultant Francesco Van Den Borre. Today, about a dozen different types of radicchio are grown in Italy. The two most common—both in Italy and in America—are rosa di chioggia, with its tight, red-and-white, cabbage-shaped head, and radicchio di treviso, with a head shaped like Belgian endive. Both are named after towns in the Veneto—as are other varieties such as castelfranco, a mottled green radicchio, flecked with red, that unfurls like a rose; the egg-shaped verona, small and loose-leaved; and the tardivo di treviso, a late-maturing radicchio with thin, curled leaves that's appreciated, according to Italian food authority Marcella Hazan, for its sweetness.
In Italy, the first appearance of radicchio each fall is cause for celebration—and the winter harvest is considered even better. In America, radicchio is grown and enjoyed year-round because the climate in California's coastal valleys is consistently mild. In 1988, Lucio Gomiero and a fellow Italian, Carlo Boscolo, planted one of the first major commercial radicchio crops in the Salinas Valley. "California is like heaven for radicchio," says Go-miero, now a co-owner, with Boscolo (and John Tamagni and Dennis Johnson), of the Salinas-based European Vegetable Specialties, one of the state's two largest radicchio growers (the other is J. Marchini and Son in LeGrand).
Their crops follow the region's slight climatic shifts: From January through March, they're in the fields in the Central Valley; in March and April, they're in Irvine, in Southern California; and from May to January, they're in the Salinas Valley. Gomiero estimates that his firm sells about 24 million heads of radicchio a year, mostly to the U.S. market—but also to Europe and Asia. (He ships about 240,000 heads to Japan every month, for instance.) One year, Gomiero boasts, "We even sent some to Italy when they were short."
Some connoisseurs claim that California radicchio is better than its Italian forebear. "Once you find the best zones," explains Joe Marchini, owner of J. Marchini and Son, "you can produce a bigger, heavier, and more brilliantly colored head than they can in Italy. Plus, it'll be a lot fresher—it's a better product." Many chefs, even Venice-born Francesco Antonucci of New York's Remi restaurant, agree. Antonucci uses California-grown radicchio in his kitchen because, he says, "Italian radicchio is more bitter." Domestic radicchio, he says, "is perfect for all of the dishes we use it in, like risotto with shrimp and radicchio soup."
Recently, I was in a Salinas Valley field, where I picked a rosa di chioggia. In my hand, it reminded me of a brilliant, precious jewel. In a way, I thought, it is.