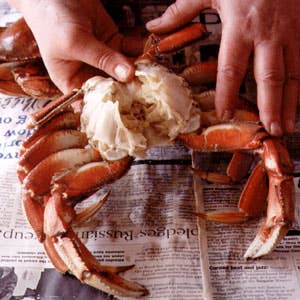 Culture
Serious Crab
Named for tiny Dungeness Bay in Washington State, these crustaceans are San Francisco's ultimate shellfish.
Cracked crab is the quintessential San Francisco meal, and crab in San Francisco means either Alaskan king or dungeness—the most popular varieties fished commercially on the West Coast. As any San Franciscan will tell you, dungeness crab is by far the better of the two—smaller, sweeter, much more flavorful, and never as chewy (Alaskan king, frankly, is the stuff of cruise ships and is usually frozen first; most San Franciscans won't touch it). In the Bay Area, in fact, we grant the consumption of dungeness crab almost ritual status, from the cracking of the shells to the poking of forks into the plump meat to the postprandial cleansing of our fingers with lemon water. We take dungeness crab very seriously, in other words. It is our lobster, our crayfish, our loup de mer. It's our celebration food, our Christmas lunch—the food we always serve when good cooks from someplace else come to visit.
Dungeness crab is fished all along the Pacific coast, from central California to the Aleutian Islands. The vast majority of the dungeness eaten in California, however, comes from around Eureka and Crescent City, in the northernmost reaches of the state. Some people claim that dungeness from the San Francisco area is superior to any import (even from 100 miles or so to the north)—and at lunch one day in San Francisco a year or two ago, I was astonished to hear Julia Child observe (correctly, as it turned out) that the dungeness in her crab Louie had obviously not come from local waters. The difference, though a subtle one, is based on diet: Crabs from Bodega and Half Moon Bays and the shelf outside San Francisco Bay feed on clams and mussels, which makes them sweeter than their kelp-eating cousins from farther north.
Visitors to the Bay Area tend to identify crab with Fisherman's Wharf—the famed San Francisco tour-ist attraction lined with seafood restaurants and take-away crab stands (which locals never really trust and almost never visit). For me, the best place to sample dungeness crab in all its delightful simplicity—outside my own home, anyway—is a modest, 20-stool enterprise on Polk Street called the Swan Oyster Depot. Rain or shine, there's always a line at Swan's tile-and-marble oyster bar, and a couple of hundred pounds of dungeness crab are consumed there daily—in crab cocktails, as crab Louie, or simply boiled in the shell and cracked. Real aficionados order a double crab cocktail and eat the sweet, ivory-hued legs with a dish of mayonnaise, homemade horseradish, lemon juice, a few capers, and cracked black pepper on the side. Few dishes have ever given me more sheer pleasure.
Though intimately (and long) associated with San Francisco, dungeness crab was named for a tiny bay on Washington's Olympic Peninsula—named after Dungeness, a headland in the English Channel—by the British explorer George Vancouver, who discovered the bay in 1792 while sailing through the Strait of Juan de Fuca. The bay was teeming with crabs at the time, which Native Americans in the area had enjoyed for centuries before the first Europeans arrived, and eventually the crustaceans, too, acquired the Dungeness name.
Considering my affection for dungeness crab, I thought it might be fun to go crabbing in Dungeness Bay—so one day last March, some crab-loving friends and I flew up to Seattle, then drove and ferried to the town of Sequim (pronounced ''skwim'') in the Dungeness Valley, where we checked into a Victorian-style B&B—complete with broad porches and a huge stone fireplace in the main room—called Groveland Cottage, about a block from the bay's chilly, crab-filled waters.
As the late afternoon sky turned pink and then darkened, the owner of the inn, Simone Nichols, announced ''It's time to go crabbing.'' Crabbing is always done at low tide; it's easier to spot the crabs at night, when the pink shells stand out against the green eelgrass and there is no daytime glare. We put on our waders, lit our lanterns and headlamps, and covered the tines of our pitchforks with little rubber sleeves to avoid puncturing the crabs we hoped to catch (crabs are scooped up with the forks, not stabbed with their oversize tines). To carry our catch, we dragged tin washtubs tied around our waists with rope. Setting out across the subtidal shellfish beds and wading through eelgrass, we stepped very carefully so as not to stir up the mud. Our eyes became accustomed to the inky waters, and our mood was meditative, almost primeval, as we mucked through the grass, seeking out the rosy crustaceans as if they were Easter eggs.
It was hard not to shriek when we spotted our first crab. I acted first, easing the pitchfork under the crab's belly—in about four inches of water—scooping it up quickly, and dumping it in the tub. He put up a fight, clawing vigorously at the fork. We won, but according to our crab ruler—a C-shaped plastic device that's available at bait shops and hardware stores—he was too small (in Washington, less than six and a quarter inches across the back), so we gently eased him back into the water. We pulled up some throwaway rock crabs (they're not very tasty and don't have much meat) and quite a few more undersized dungenesses before giving up with only three standard-size crabs—well under the limit of six per person. The tide was now rising quickly, so we hightailed it to shore with our precious cargo, rushing it back to Groveland Cottage to be boiled for a potluck dinner built around a crab salpicón, a Mexican dish of shredded crab, peppers, and chiles. (Crabs are highly perishable; they must be cooked live or iced immediately if not eaten right away.) It struck this San Franciscan as odd to cook these delicate creatures with such overpowering ingredients, but the resulting repast was delicious.
In the 1850s, Issak Stevens, governor of the Washington Territory, negotiated a series of treaties between local Indians and white settlers in the region, guaranteeing the Indians access to ''usual and accustomed'' hunting grounds and assuring them of the continued right to fish for halibut, salmon, shrimp, and crab, as well as to gather berries and cedar bark. On December 20, 1994, a U.S. District Court ruled that the tribes that had signed the Stevens Treaties are entitled to up to 50 percent of all species of shellfish in subtidal and natural shellfish beds—regardless of property ownership—in Puget Sound, the Hood Canal, and the Strait of Juan de Fuca, and along the open coast. Native Americans are also allowed to fish all year long, while the season for nontribal commercial fishermen in Washington is restricted to anywhere from six to nine months of the year, depending on location. (Recreational crabbers who wade out into the tidal flats with pitchforks as we did are also permitted to crab year-round.)
Some local non-Indian fishermen and seafood purveyors complain that the Native Americans have an unfair advantage and that the supply of dungeness crab is limited as a result. Jeff Rubens, who buys seafood for The 3 Crabs, his mother-in-law Norma Marshall's popular restaurant in Sequim—which serves up to 100 pounds of crab (each crab weighs about two pounds) a day between April and October—is concerned that he'll be unable to meet the demand for fresh crab this summer. Although he lives only a few feet from Dungeness Bay, he's scouting for a dungeness connection in Alaska.
The day after our crab-hunting expedition, we paid a visit to Mary McQuillen, aged 66, an elder of the Kwe-Dee-Aatlh (also called the Makah) tribe in nearby Port Townsend. We dropped by her small wooden house, not far from the bay. It was filled with photographs of relatives and herself in full tribal regalia. McQuillen is a well-known storyteller in the traditional style. One of her centuries-old songs, she told us, is a paean to crab. ''We thank the crab for giving its life for our well-being, and we thank our Creator to be assured of future abundance.'' It is still common today, she said, for younger tribesmen to bring gifts of crab to the elder members as a symbol of respect.
The Kwe-Dee-Aatlh, who had a reputation among local tribes as generous hosts, used to stage huge crab feeds. Sometimes, McQuillen told us, the crabs would be steamed in pits lined with rocks and salal berries and served with wild asparagus and potatoes. ''But when the first crabs were harvested each year,'' she continued, ''our forefathers would simply steam them in great pots. Lots of speeches about crab would ensue, and when they'd all been eaten, we'd return the shells to the waters they'd come from, thanking them, thanking the Creator, and assuring the other crabs that they'd always be honored.'' That's a sentiment any San Franciscan would understand.