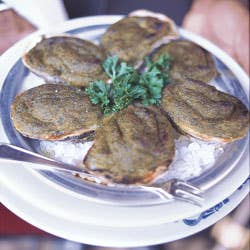 Culture
Shell Game
These plump oysters are cloaked in mystery.
Oysters rockefeller entered my life when I was nine, at a restaurant in Myrtle Beach, South Carolina. The dish had been ordered for me, and it appeared on a plate with six round indentations, each holding a large half shell filled with a plump oyster embedded in spinach and covered with a layer of bacon-studded cream sauce. I adored the combination of velvety cream and salty oyster, the likes of which had never before passed my prepubescent lips. At home, when I told the kids at the playground that oysters rockefeller was my favorite food, none of them knew what I was talking about. And, apparently, neither did I.
I learned the truth about the dish several years later in New Orleans, where it was created—specifically, at Antoine's, the legendary Big Easy French-Creole temple owned and operated by the Alciatore-Guste family since 1840. Restaurant founder Antoine Alciatore was the original chef, but it was his son Jules—trained in restaurants in France—who invented oysters rockefeller in 1899 and named it, because of its rich flavor, in honor of one of America's richest men at the time, John D. Rockefeller.
Antoine's steadfastly refuses to give a recipe, but we do know that neither bacon nor spinach is traditionally involved. Instead, the oysters are topped with a roux full of bracing green herbs and vegetables (a mixture of scallions, celery, parsley, and tarragon is our best guess), then combined with bread crumbs and broiled until the bivalves are tender and a delicate crust forms. I still don't know exactly what's in oysters rockefeller, but I'll never tire of trying to figure it out.