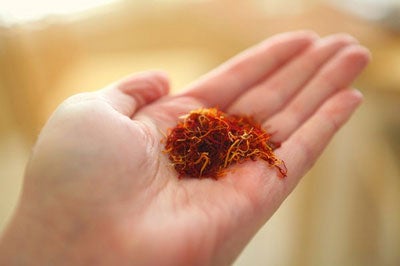 Smoky, vibrant and uber-expensive, saffron is the wild card chefs keep in the back of the pantry, hidden from everyday view and sought out for only the most special of occasions. While saffron may not be the first thing you expect to see on a dessert menu, it's just as key to a pastry chef's repertoire as it is in the savory kitchen.

Having made its debut as early as 2600 B.C., saffron has been used in medicine, as currency and, most deliciously, in the kitchen. With the recent skyrocket in the already sky-high price (an ounce of saffron costs $225 at Despaña), a little has to go a long way. Fortunately, it does. Just a tiny pinch of the finely spun red-orange threads lends a delicate yet intoxicating aroma, color, and flavor to a dish—even a sweet one.
So, next time you have a few of these deeply-hued filaments in the pantry, resist reaching for the paella recipe and introduce saffron into your dessert repertoire with this almond cake with peaches and plums, or these beautifully-hued saffron and pumpkin macaroons.