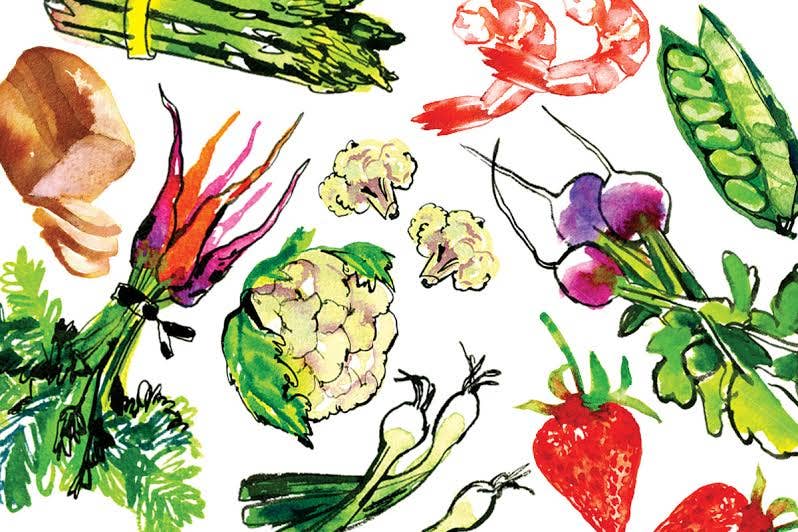 Culture
Sweet and Fragile
The charentais is like a dream cantaloupe; and now it's a reality in the U.S.
Driving through Provence one day about twenty years ago, I suddenly smelled a powerful, musky aroma wafting into my car. I looked around for a perfume factory, but I saw only endless emerald green fields. Later, at an outdoor market in the town of Cavaillon, just southeast of Avignon, I recognized the same alluring fragrance. This time, my nose led me to a stand heaped with melons; small melons, not much bigger than softballs, with smooth, golden green skin segmented with dark green stripes. I bought a few, took them to my car, and promptly cut one of them open. Its flesh was bright orange, dense, juicy, and incomparably more fragrant than any other melon in my memory. I took one bite. It was unbelievably sweet and flavorful, like a dream cantaloupe: It was my first cavaillon.
In France, the term _cavaillon _has long been shorthand for the world's finest melons. Cavaillon, though, is not a melon type or a species. The name is simply a geographical reference to a town in the middle of France's original "melon country". The melons grown here are actually charentais, a variety that originated in the early 1920s in the Charentes, a region in west-central France better known as the home of cognac. Until recently, the esteemed charentais melon was rarely found outside of France—much less in the United States. However, times have changed, and domestic charentais cultivation is now burgeoning. Unfortunately, within the past few years the American market has also been inundated with inferior charentais—imported not from France but from more than half a dozen other countries.
The origins of the melon, Cucumis melo, are uncertain, but wild ancestral varieties have been traced to tropical and subtropical Asia and Africa. Domestication most likely began in the Near East during the Bronze Age, and during the Roman Empire the fruit was introduced into Europe. Early melons tasted apparently more like cucumbers (a close relative) than like the melons we know today, but there is evidence that melons were sweet by the fourth century. By the late Middle Ages, sweet melons were being grown regularly in Provence, among other places. In 1537, King Francis I went so far as to authorize farmers in Cavaillon to irrigate their melon fields with water from the Durance River.
The first melons identified with Cavaillon were winter melons, similar to honeydew melons. In the 19th century, these gave way to cantaloupes, melons that were nothing like the cantaloupes in the U.S. today but rather were descendants of the lumpy melons that have been traced to Cantalupo, Italy. By the turn of this century, oval melons, sometimes called _ecrits _because their markings suggested Arabic or Chinese characters, were common. The first charentais, developed from the cantaloupe, were introduced into the region in the '20s.
Until the 1960s, Provence grew about 80 percent of all French melons, but this share has since declined by about half as production has increased in the southwestern and west-central regions. French farmers, though, still have a reputation for taking extra-good care of their melons—waiting patiently for them to ripen on the vine, for example, and picking them only when the color of the rind lightens and the leaves close to the stem wither. French melon aficionados, for their part, know that these prize melons are best eaten plain—or at the most with perhaps a little port or some other fortified wine poured into the cavity.
Alas, the increasing demand for charentais-type melons has encouraged large-scale melon production and the development of such "improved" hybrids as the matisse and the cezanne. These new strains have been bred for durability and resistance to disease, but in terms of flavor and aroma, they do not compare with older varieties. Melon growers Rose and Claude Combe, who have a 50-acre farm in Sarrians, near Cavaillon, can attest to that. They grow mostly hybrids, but on one treasured acre, they coddle as many as 60 varieties of heirloom melons, many of them passed down from Claude's great-great-grandfather. Every other summer, the Combes open their farm to the public (they call it their "Fete du Melon") and offer samples of special melons, including the delicate petit gris de Rennes and the melon de Trest—a white-fleshed winter melon, of which Claude says only, "Words fail me to describe its perfection."
In the 1980s, some large-scale French melon growers, lured by the promise of ideal weather conditions, cheap labor, and an early harvest, established charentais farms on the French Caribbean islands of Guadeloupe and Martinique. These melons are considered almost as good as the originals, but for whatever reasons—poor agricultural practices, premature harvest, shipping problems—the same cannot be said for most of those grown in Spain, Italy, Israel, Mexico, Guatemala, Costa Rica, and the Dominican Republic. Flavor may improve as growers and shippers gain experience. In the meantime, though, the imports do have commercial advantages: When I asked the manager of a noted Manhattan gourmet store why he was selling second-rate charentais from Costa Rica, he replied, "Real charentais are so fragile. You look at them, they spoil."
French imports may be pricey and hard to come by in this country, but delicious charentais are available. Last summer, I paid a visit to Laurie Todd, a farmer who grows 19 types of melons in Lan-sing, New York, and sells them at the nearby Ithaca Farmers' Market. Todd is one of at least a dozen farmers in the U.S. who started growing charentais (which she calls "more finicky than other melons") for local sale in the early 1990s. "It's been a process of education for my customers," Todd says. "At first I had to give away free samples, but now I sell a ton."
I don't, fortunately, have to go to Ithaca for melons. For the past five years I've waited eagerly for late July, when charentais begin showing up at the Bulich stand at the Union Square Greenmarket in New York City. These melons come from a farm near Albany, New York, and arrive in the city twice a week. I'm not alone in my appreciation of them: I've seen elegantly dressed French women gasp in excitement upon spotting the charentais display, hoist a melon or two, sniff, and smile as if lost in a Proustian reverie. _