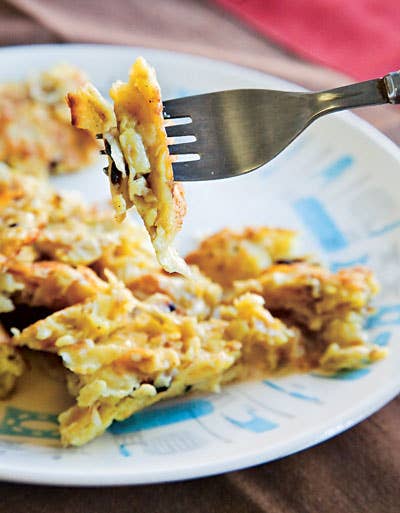 During Passover, I try to keep my week of unleavened food interesting by doing two things: spacing out which meals will be based off of matzo (at some point, usually around day three, the thought of another matzo pizza makes me cringe) and by jazzing up my matzo brei.
Matzo brei in its simplest form is French toast made with matzo instead of bread. Each family has its own traditional version, either savory or sweet. My family always adds cinnamon and sugar to the egg batter for breakfast, with a little powdered sugar to finish it off. My mom thinks it's practically sacrilegious to make a savory matzo brei, but if you're like me and need to have lots of variety in your meals, you'll want to try out these slight modifications to the traditional matzo brei.
Add sauteed grated apples and honey or maple syrup and chopped up dried cherries to the matzo batter.
Strawberries and Cream Matzo Brei
Mix chopped strawberries and honey to the batter, and top it all off with a big scoop of mascarpone.
Savory Mushroom Matzo Brei
Add grated emmentaler and sauteed mushrooms and onions to the mix.
Add minced smoked salmon, thinly sliced red peppers, capers, and cream cheese to the matzo just before the eggs are fully set in the pan. (Cooking lox or smoked salmon for too long can alter its texture.)
Sour Cream and Herbs Matzo Brei
Finely chop scallions and fresh dill and add, along with a dollop of sour cream, to the batter.