Recipes
Matzo Brei Recipe
This scrambled egg and matzo recipe is sure to please.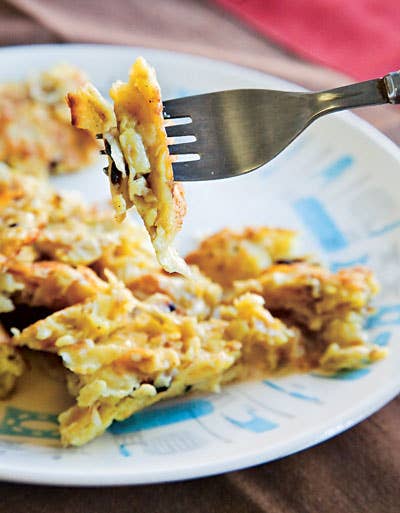 This Matzo Brei recipe is a version that Barbara Wand, a home cook in Newton, Massachusetts, makes for Passover; she usually serves it with jam or maple syrup.
Ingredients
4 (6 x 6") pieces thin salted matzo (not shmura matzo)
4 eggs
2 tbsp. butter
Salt and pepper to taste
Instructions
Step 1
Break matzo into 2" pieces, dropping them into a medium bowl. Pour 2 cups hot water over the matzo and set aside to let soak until softened, 2-3 minutes. Drain the matzo and cover with cold water. Swish matzo around, drain, and squeeze matzo firmly to remove any remaining water; return to bowl. Beat 4 eggs and salt and pepper to taste in another bowl; add to matzo and stir to combine. Heat 2 tbsp. butter in a large skillet over medium heat. Add matzo mixture and cook, stirring occasionally, until lightly browned and broken up into large fluffy curds, 4-5 minutes. Transfer matzo brei to plates and serve immediately.