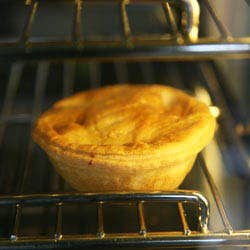 Culture
Tastes Like Home
For one New Zealand baker living in New York City, the comforts of home come packed inside a pastry crust.
The humble pie can cure an astounding array of ills, from hunger to heartbreak to lust. Perhaps it's because pastry crust takes time and care to prepare that eating it feels like an act of both labor and love. Whatever the reason, whether a pie is sweet or savory, mixed berry or mincemeat, few foods are as hearty, both in the way they satisfy you and in the way they seem truly to come from the heart.
No more than edible stuffed envelopes, pies transcend time and national boundaries. In Britain and Wales they're called pasties; in Jamaica, patties; in India, samosas; in Latin America, empanadas. Indeed, the elegant and utilitarian "hand pie" was the original workingman's lunch, a simple preparation designed to survive a day in the mines; but even today pies remain both a source of sustenance and a stage for improvisation, ideal for leftover pot roast, curry, or even Thanksgiving turkey.
In fact, people get so passionate about pies that it is hardly hyperbole to say that a good pie can change a life. Take Gareth Hughes, for example. Hughes, a native of New Zealand, where the meat pie is an unofficial state dish, was living in New York in 2001, when the attacks of September 11 turned the city upside down. After a year of toiling as a disaster assistance manager, Hughes decided that perhaps he could serve his neighbors better by baking. Taking inspiration from his home country's ultimate comfort food, Hughes started Down Under Bakery (DUB), a one-man meat pie operation, out of a Lower East Side kitchen in 2003. He now operates a cafe in Brooklyn (with plans for more in the works) as well as a delivery and catering service around New York, and thanks to the vocal fans of his mince and cheese and shepherd's pies, more and more New Yorkers are turning up for a warm and flaky serving of Kiwi hospitality. SAVEUR spoke recently with Hughes about his passion for steak and mushrooms, the best drinks to pair with pie, and whether America is about to embark on a meat pie renaissance.
Given all the foods in the world, why did you decide to devote yourself to meat pies?
The meat pie is more central to the food culture in New Zealand and Australia than pizza is in New York. It's surprising, really, that meat pies aren't common in the United States, since historically the biggest consumers of pies have been the British, and England is just a skip and a jump from here. Instead it's the colonies that have brought pies to the Americans. I'm not the only meat pie maker in the States; there's probably about eight or nine of us doing it now.
Also, pies are already suited to the American palate. Steak and cheese pie, for example, is a Philly cheese steak wrapped in pastry instead of bread. It will be interesting to watch what happens in the next few years because the two biggest Australian pie manufacturers just arrived in the States. One of them makes 50,000 pies an hour in Australia. Can you imagine that? And they are going to spend millions on advertising and marketing in the U.S.
Have you been in the U.S. long?
I grew up in Auckland, New Zealand, but moved to New York in late 2000. Before that, I'd spent a few years living and working in Oregon.
Have you always had an interest in baking?
No. If anything, my trade was bartending; I'd worked in bars all my life. But right after I moved to New York and got a green card, the company I'd been working for started laying off employees. I could have moved back to the West Coast with them and kept my job, but I figured, Hell, I have a green card and I'm in New York—I'm going to stay and do my own thing. I was interested in being a writer [laughs], so I tried that for a while, earning no money and burning through what little I'd saved. I also started driving a yellow cab, thinking that would give me stories to write about.
I'd been driving the cab for two weeks when the attacks of September 11 happened, and then I quit. I'd told myself that no matter how bad it was—and it was horrific—I would drive the cab for three months. But September 11 changed everything.
For a year, I worked on the recovery effort as a manager of a disaster assistance center. My job was to manage the counselors who worked with people who had lost their friends and jobs and loved ones. It was intense, and we got dumped on a lot. And though we didn't realize it at the time—at least I didn't—we were going through a lot of emotional stress, too. After a year I had nothing left in me. I went back to New Zealand to recharge. I was looking high and low for an idea that was unique to New Zealand and Australia that I could take back to the States. But I was also exhausted and in need of comfort. I was eating four or five pies every day. And it hit me just like that—that the pies might be the answer to my question.
But you can't just become a baker overnight. How did you get from the concept to the product?
First I approached a few bakers in Auckland whose pies I admired. I told them what I wanted to do and showed them my New York ID so they'd know I wasn't trying to compete with them. They were great. I got a crash course in pie making and came back to New York.
Initially, the hardest part was that I was making everything myself, mixing the pastry in a KitchenAid mixer and rolling the dough by hand. Now we are equipped to pump out a lot of pies. But back then, if I could make three dozen pies, I'd be ecstatic—and that was in an 18-hour day.
What's your favorite pie?
Steak and mushroom. I grew up eating it. In fact, if you really are what you eat, I am a steak and mushroom pie.
Not now. I made a decision to stop eating so many because I noticed that my passion for pies was being affected. I always thought there was no limit to the amount of pies I could eat, but when you're making them all day, every day, you hit that limit pretty quickly!
How many varieties of pie do you make now?
We make steak mince and cheese, plain steak mince, shepherd's pie, steak and kidney pie, chicken and vegetable pie, a curry vegetarian pie, and a couple more. But it's a really exciting time because we're just about to expand and bring on another baker, who will help streamline the operation and enable us to expand our flavors. That's the great thing about a pie: it's really just a package—you can put anything in there. I've got 46 recipes developed, but we use only 12 now. We'll be adding one with smoked fish and sweet potato pie and a Thai curry pie soon.
Should the ideal pie be thick inside or runny?
The inside should be runny, but not so wet that the pie can't be eaten in hand. Growing up in New Zealand and Australia you develop the ability to eat a pie without making a mess. It requires some learned skill to keep the gravy inside the pastry shell.
It absolutely has to be flaky. Right now I think our shells are perfect, but as the shops grow, we are going to work on some other aspects of the appearance. For instance, true "gourmet" pies from Australia and New Zealand are a little bigger than ours.
So there are standard shapes and sizes for different kinds of pies?
Yes, in fact, I bring the pie tins that we use here in from New Zealand. The shape is called the New Zealand oval, and it's the most common shape for pies back there.
What's the best accompaniment for a pie?
A beer, definitely a beer. Pies are perfect for sports watching. In fact, soccer, beer, and pies: they were meant to go together.
Is there one thing you should never do to a pie?
I would say you shouldn't eat a pie cold. A cold meat pie and congealed gravy: ugh!
Do you foresee a future—say, ten years down the line—in which there is a pie shop on every corner in New York City?
I don't see why not. I like to think we're exchanging our culture with America. In fact, I'm applying with the INS to officially become a cultural ambassador, so I can hire Australians and New Zealanders. I could just keep on doing this and pay my bills, but I have much bigger plans than that.
The Down Under Bakery is located at 193 Columbia St., Brooklyn, NY. Pies can also be ordered online at dubpies.com.