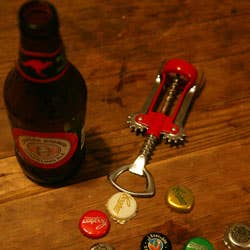 Drinks
South Pacific Suds
Need a pairing for your meat pie? Here are some exciting Australian craft beers to choose from.
For too long, anyone looking for an Aussie beer in America had to settle for an oil can of Foster's, which, despite its advertising tagline—"Australian for beer"—is about as authentically Australian as a Molson Ice. (In fact, until recently, the Foster's that was sold in the States was brewed in Canada by the Molson Coors Brewing Company. In November of 2007, the operation will move to Miller Brewing Company plants in Texas and Georgia.)
But the times they are a-changing. This year brought a new wave of craft-style Australian beers to American shores, and many of them are now available for purchase online or through local distributors. Made from native South Pacific hops and flavored with quintessentially Australian ingredients, like wattle seed, these brews prove that beer from down under doesn't have to be down market.
We tasted more than a dozen ales, lagers, and bitters; here are a few worth seeking out.
Blue Tongue Pilsener (six-pack, $13.99) Pale and highly effervescent, this unassuming pilsener has a subtle, summery flavor with lemony undertones.
Barons Lager (six-pack, $11.99) A bright, sunflower hue and a sharp, dry body help this tart lager pair easily with hearty fare.
Barons Pale Ale (six-pack, $11.99) Crafted from a blend of New Zealand hops, this pale ale floods the palate with flavors of grass and apricots and ends with a sweet, caramel finish.
Coopers Vintage Ale (six-pack, $9.95) This walnut-colored, intensely alcoholic beer has crisp cider and whiskey notes and a ginger kick that mellows after a few sips. It would also take well to cellaring.
Barons Black Wattle Superior (six-pack, $11.99) An infusion of ground, roasted seeds from native Australian black wattle trees gives this dark ale a smoky autumnal flavor, a deep red hue, and an herby, faintly savory aroma.
Coopers Dark Ale (six-pack, $9.95) Notes of coffee and molasses and a clear, bitter finish make this thick, mahogany-colored ale a tempting meal in itself.