Cutting Edge
These four knives will help you carve the turkey on Thanksgiving day, so the slices stay as beautiful and tender as they should.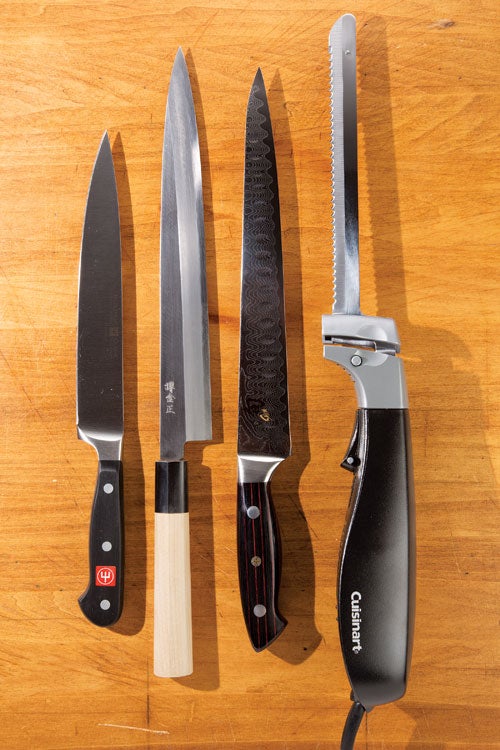 After all the loving care that goes into the preparation of the Thanksgiving turkey, you certainly don't want to mangle it when it comes to carving. A classic carving knife has a blade designed with such concerns in mind: long, to slice through in fewer strokes, as sawing the meat tends to press out the juices; and narrow, to minimize resistance.
1. Wusthof's Classic 8″ Carving Knife has a high-carbon stainless steel blade that holds a very sharp edge. It's forged from a single piece of steel that runs all the way through the center of the handle—the term for this is full tang—which makes it easy to maneuver.
2. The Kanemasa 10.5″ Pointed Sashimi Knife's beveled carbon steel blade was designed to slice raw fish, but it cuts turkey, too, with remarkable precision.
3. Another full tang knife, the Shun Reserve Slicing Knife has a forged nickel and stainless steel blade pocked with thousands of tiny indentations, as well as larger dents along both sides, both of which reduce the surface area that comes in contact with the meat, and therefore the friction of slicing.
4. Electric knives, a throwback to the 1960s, don't get the love they once did. But the Cuisinart CEK-40 Electric Knife's powerful motor, which gives the blade a fast vibration that causes it to glide right through meat, could spark a renaissance.
Watch our video to learn how to elegantly carve a turkey table-side »