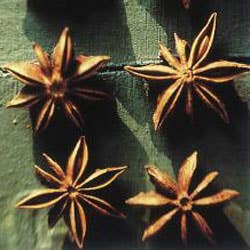 Culture
The Best Little Spice House in America
The world's most exotic spices are easy to find, thanks to Penzeys Spices.
_Sensuous star anise, fat rolls of China Cassia cinnamon, rare powdered Jamaican ginger, smoky pods of cardamom, lacy Grenada mace, Madagascar Bourbon vanilla beans, Kashmir Mogra Cream saffron from India … Sister and brother Pamela and Bill Penzey shop the wide world to bring exotic spices like these to Waukesha, Wisconsin.
_
It would be difficult to imagine a less likely spice emporium than this nondescript metal building, located in a tangle of one-way streets so daunting even most locals won't attempt them, on an industrial strip in an old Midwestern factory town outside Milwaukee. Once inside, however, you quickly begin to discover the treasures that hide in big cardboard drums, burlap sacks, and wooden boxes—lush bundles of handpicked bay leaves from Turkey; velvety West Indies nutmeg, so highly perfumed that a few spoonfuls will scent a room; eight grinds of Tellicherry black pepper; aromatic charnushka or Russian caraway seeds, so crucial to the flavor of Punjabi garam masala and the look of Jewish rye bread alike. Hundreds of such carefully chosen herbs and spices are the province of Penzeys Spices. Inspired by their parents' coffee-and-spice business, Bill Penzey and his sister Pamela have traveled the world, persuading spice growers and shippers that Americans are willing to pay for the rare and select. "We want to be that small voice that says Americans will buy quality," explains Pamela.
Thus she once sailed off to Grenada to convince the head of the local nutmeg cooperative that she did indeed want his costly and hard-to-obtain West Indies nutmeg, and not the less aromatic East Indies version. While there, she also managed to divert some beautiful amber-colored mace from its intended destination, Amsterdam, where it is used to season everything from hot dogs to doughnuts. This lacy covering of the nutmeg fruit is interchangeable with nutmeg, but more subtle. (If you find mace in stores at all in the United States, it's almost always an inferior brown version.) Bill's journeys yield similar prizes. In Jamaica, he snagged some rare Jamaican ginger to offer alongside the Chinese variety Penzeys has long carried. Both are appealingly pungent, but the more expensive Jamaican version has a richer flavor.
Geographical variations are key in the spice trade. Few Americans realize, for instance, that the "cinnamon" we favor is actually a spice called cassia, native to southern China and northern Vietnam. Ceylon or "true" cinnamon, which is lighter in color with an almost citrusy flavor, comes from Sri Lanka (formerly Ceylon), and is the cinnamon of choice in Europe and Latin America. The flavor of vanilla beans also changes significantly with geography. Penzeys' Mexican beans are prized for liqueur-making; Tahitian beans are favored for their lighter, sweeter flavor and for desserts; deeply fragrant Madagascar Bourbon beans are the truest vanilla. (Inside their plump casings, the Madagascar beans split open to reveal tiny glossy black seeds.)
The Penzeys' trade is one that is rich in history and culture, and intimately affected by the world's political uncertainties. Instability in the Fertile Crescent limits the availability of Iranian cumin, with its desirable high oil content. Dalmatian sage supplies were threatened by conflict in the former Yugoslavia. The diplomatic thaw with Vietnam, however, resulted in a return of the famed "Saigon cinnamon," a cinnamon-like cassia that had been illegal to import since the end of the Vietnam War.
Such lore is crammed into the Penzeys' mail-order catalogue, which combines history, social commentary, personal philosophy, food chemistry, cooking tips, and recipes. A crash course in spices, the catalogue describes how French herbs differ from their California counterparts (California gets points for better color, France for better flavor), why caraway seeds are traditionally added to cabbage and pork dishes (they help digestion), and how black and white peppercorns are related (they come, in fact, from the same plant; the white ones are the inner core of the black). Chiles are rated by Scoville units, which measure "heat." Those crushed red California peppers in pizza parlors are rated at about 20,000, with shiny red Tien Tsin Asian peppers at 60,000. Chiles piquins or birdseye peppers rate 140,000—"Use with caution," Bill warns.
The Penzeys also sell saffron, the world's most expensive spice by weight—as well it might be, considering that about 70,000 fall-flowering crocus flowers must be handpicked and then the three stigmas in each flower hand-plucked to make just one pound of saffron. But saffron is extraordinarily potent: A small amount of excellent quality Spanish yellow saffron will flavor half a gallon of chicken soup or a dish of paella. For a few cents more, you can try Kashmir Mogra Cream Indian saffron—moist, deep-red threads that are the best in the world.
Penzeys' customers are loyal and diverse, from a group of Tibetans in Seattle who need cardamom and sanaam chile peppers for Losar, the Tibetan New Year; to a Syrian searching out a black seed he remembers from home, reputed to lower blood pressure; to a chili cook-off winner convinced to his last fiery breath that Penzeys' ground ancho peppers are responsible for his prizes; and several bakers from the Midwest, so smitten by the luxuriously high essential oil content of Penzeys' Extra Fancy China Tunghing cassia cinnamon, that they will not use anything else.
"Selling spice makes the world smaller," says Pamela. "Trying the flavors of other people's foods, like sitting down to a meal with them, can help us accept them. And sitting down to a meal together makes people a family."