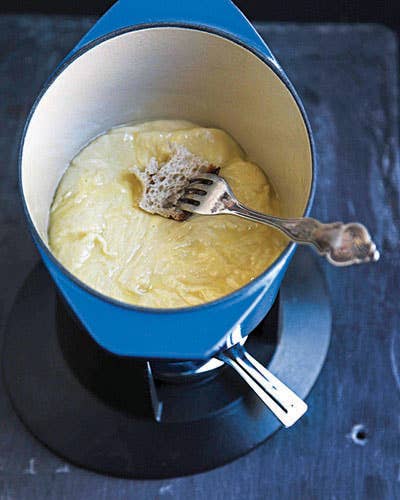 Culture
The Big Cheese
The communal charm of Swiss fondue.
As a teenager growing up in Geneva, Switzerland, I loved spending Friday nights at my friend Michelle's house. Following the Catholic tradition of meatless Fridays, Michelle's father joined the multitudes of Swiss families who prepared cheese fondue. At home, we never ate the dish; my dad was on orders to avoid rich, fatty foods. While the rest of Switzerland happily stirred the gooey mix, our family lit the Shabbat candles and sat down to my Parisian mother's boeuf a la mode.
Perhaps that's why, as I entered my rebellious teens, I set out to rectify this gap in my Swiss education and try as many types of fondue as I could. I never forgot the bland tomato version at ski camp, or my high school boyfriend's delicious addition of dried porcini to the bubbling pot of cheese. When I moved to the States in 1984, I was surprised to find that Americans had developed a fondness for the Swiss national dish and had created versions of their own. (See Form and Function: An Evolution of the Fondue Pot) Yet it was last December, back in my native Switzerland, that I savored the best fondue of my life.
I was with my American husband and my stepchildren at La Buvette des Bains, a casual eatery located on a jetty that extends into Lake Geneva, close to where I was born. In addition to being a restaurant, this unique 656-foot-long pier harbors Les Bains des Paquis, a renovated version of the old 1872 public baths across from the Jet d'Eau, Geneva's landmark water fountain. But what drew me in was the restaurant's storied version of fondue au cremant, a mix of cheeses melted with local sparkling wine.
Seated for dinner at a long rectangular communal table, a few steps from the wood-burning heaters, I took in the sweeping vistas of Geneva's silvery Cathedral St-Pierre in the distance. Outside the large windows, ducks and swans honked and flapped, probably hoping for leftover bread. Suddenly, a blue vinyl apron-clad waiter appeared cradling a steamy caquelon, the traditional clay fondue pot, which he placed on a stand over a Sterno cup. The smell was intoxicating. I skewered my first piece of day-old baguette—fresh bread would not be firm enough to hold the cheese—and dipped in. Silky and almost frothy, the mixture coated it perfectly. The cheeses blended so well with the sparkling wine, which added a slight effervescence to the fondue, that each bite became more addictive than the last. Half nutty aged Gruyere and half Vacherin Fribourgeois, a robust semi-firm Swiss cows' milk cheese, the fondue had just the right balance of salt and tang.
Though Switzerland lays claim to fondue, its origins are murky. There is no inventor, no official recipe. The word fondue comes from the French fonder (to melt). The first written record of molten cheese and wine that appeared in the 800b.c. in Homer's Iliad is not so different from the formula we know today—the classic Swiss Neuchateloise is an aromatic blend of equal parts Emmentaler and Gruyere cheeses, white wine, and kirsch, a cherry brandy. One theory credits Swiss peasants with dreaming up an appetizing way to repurpose cheese rinds and stale bread. There was certainly plenty of cheese to be had—by the early 17th century, the Swiss were already considered among the best cheesemakers in Europe. Ethnologist Isabelle Raboud-Schule, director of the Gruerien Museum in Bulle, which specializes in the history of the Gruyere region of Switzerland, says the oldest printed recipe in Switzerland to feature wine, cheese, and bread, appeared in Kochbuch der Anna Margherita Gessner, published in Zurich in 1699. Several 18th- and 19th- century recipes—including Brillat-Savarin's from 1825— called for eggs, resulting in foods that were more akin to souffles or scrambled eggs than melted cheese fondue.
"The popularity of the dish as we know it only originated in the 1930s," says Raboud-Schule. "As a way to sell more cheese, the Swiss Cheese Union launched marketing campaigns and blan- keted the country with such slogans as 'Fondue creates a good mood,' or 'Perfect weather for a fondue.' " The promoters sent cases of caquelons to ski clubs throughout the country and even to soldiers in the Swiss army, whose hearty reception helped popularize fondue. Gradually, the dish became part of the national identity. TSR, a Swiss television network, estimates that today about 88% of Swiss citizens own a fondue set.
My Swiss father-in-law once trumpeted, "It's impossible to ruin a fondue!"--which is not entirely true. Cheese can overheat and become stringy, or never emulsify with the wine at all. One of the keys to ensuring a smooth texture is adding a starch, like flour or cornstarch, to bond the cheese and wine together. Combining a moderately moist cheese, such as Gruyere, with a fattier cheese like Vacherin Fribourgeois helps create a balanced blend (see The Building Blocks of Fondue); Appenzeller, a firm yet creamy cows' milk cheese with tiny holes, works just as well in place of the Fribourgeois. But each region believes its local cheeses make the best fondue, and the choice is entirely up to the cook. James Beard once praised an American homemaker for substituting cheddar and bourbon for the customary Swiss cheeses and kirsch. Perhaps fondue resonates so well with the Swiss because variations unite the regions around the pot: a mirror of a nation of four official languages within 16,000 square miles.
At home in New York, armed with the Buvette des Bains recipe, I set out to re-create fondue au cremant for my family. We grated the Gruyere and the soft Vacherin Fribourgeois. Instead of Swiss sparkling wine, which is nearly impossible to find, I poured Alsatian cremant into a pot, set it on the stove over a medium flame, and diluted cornstarch in the wine. Some cooks rub half a garlic clove along the sides of the pot before beginning to cook, but my family loves garlic, so I minced two cloves and dropped them into the warming pot. As soon as the liquid started to simmer, I added the cheese and stirred steadily with a wooden spoon until it began to melt. I employed the traditional figure-eight motion, ensuring that the mixture moved constantly and didn't clump. My children Sophie and Sebastien tore a baguette into chunks.
The blend, a thick and silky mix that clung to the spoon, was soon ready. I quickly ignited the Sterno and placed the flaming cup in the metal holder under the fondue pot. Last, I mixed baking soda in with a splash of cognac for added froth and flavor, poured it into the caquelon, and set the concoction over the fire. Everyone rushed to the table. There may be endless variations, but for this Swiss-French-American family, the winning version originated somewhere along Lake Geneva. Just like me.
Sylvie Bigar is a food writer based in New York City. This is her first article for SAVEUR.