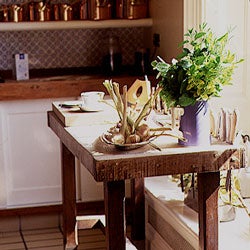 Before designer-restaurateur Terence Conran came along in the 1960s, the British had a Victorian sensibility about the kitchen: The cooking was done "downstairs," behind closed doors; the entertaining, which was more about proper behavior than pleasure, went on "upstairs."
Conran cast aside these archaic strictures, showing his compatriots (and the rest of us) that food—preparing it, looking at it, and eating it—could actually be fun. He also taught us how to celebrate the intrinsic beauty of everyday objects. As David Bishop, the late British interior designer, once put it, "I've spent my life trying to teach working-class people upper-class taste, and Terence Conran has spent his life teaching upper-class people working-class taste."
Case in point is Barton Court, Conran's country home near London, where in the 1970s he brought this kitchen (photo 1) out of hiding, opening it to the dining area (common practice today, but almost unheard of then) in one 35-by-50-foot room. True to his philosophy, he furnished it with utilitarian equipment (including that English workhorse, a four-oven, oil-fired AGA Cooker) and exposed most of the shelving to show off the contents. The room today looks much as it did then (compare the photo at right with the book cover below), proving that not only was he ahead of his time, he got it right the first time.
THE DETAILS
Functionality As Art (photo 2): Everybody stashes coffee mugs on shelves. Conran, though, has somehow turned this commonplace convenience into a virtual still-life, whose beauty expresses both simplicity and functionality. Neither the harmony of colors nor the angle of the mugs' handles is accidental.
Materials at Work (photo 3): Conran covered the prep side of the island (and most of the countertops) in teak, which doesn't warp or split when subjected to heat and moisture. Open wicker baskets are ideal for holding linens and cutlery, and reveal their contents freely, unlike drawers.
Priorities on Display (photo 4): On the room's cooking side, Conran laid rectangular ceramic tiles, which are durable and easy to care for, on the floor, mirroring the clean effect of the island's 4″ white glazed-tile sides. The table—with a slot along the back for knives—provides extra work space with a view.
Way Ahead of Its Time (photo 5): In 1977 Conran wrote his groundbreaking Kitchen Book , promoting the notion that a kitchen should be lived in. Though it can be difficult to find, the book is still as relevant as ever, and well worth seeking out.