Basket Cases: The History of Easter Candy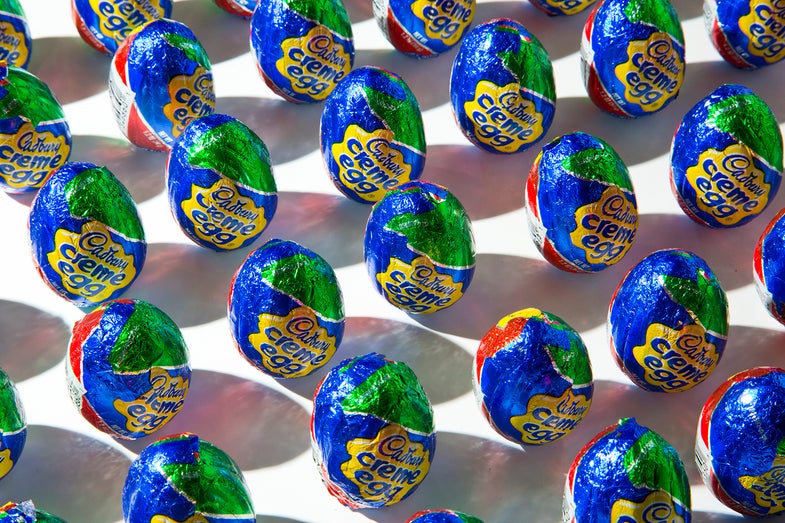 Lent, the period leading up to Easter, is traditionally a time for penitence and self-denial, and there's nothing like the deluge of candy that arrives Easter morning to help compensate for those weeks of lost pleasures.
Easter is a major candy holiday, lagging behind only Halloween in sales volume. It wasn't always so. While the other dishes that adorn the Easter table and filled Easter baskets—spring lamb, dyed eggs, and hot cross buns—all trace their origins to the pagan spring festivals of ancient times, candy is a newcomer, dating back just to the 1800s, when European candy-makers first started hand-crafting chocolate eggs for the holiday. Candy eggs were wildly popular, and by the late 1800s, fine candy makers in major U.S. cities were offering chocolate eggs both hollow and filled, jelly eggs, and exquisite panorama eggs of sugar, icing, and paper for the Easter holiday.
But it was only in the early 20th century when innovations in candy-making allowed manufacturers to produce novelty Easter candies on a massive scale—rabbits in every pose, chickens roosting and strutting, nests and eggs of every description—that they became Easter basket staples. By the 1920s, the demand for special Easter candies was so great that factories were reported to spend all their time from the beginning of the year until Easter stocking up to meet the demand. Since then, a basket full of sugary factory-made treats has become a beloved American tradition. You can of course fill your basket with whatever you like, but to my mind the best Easter candies are the classics, candies that were first invented for the holiday. —Samira Kawash
See the history behind 8 classic Easter candies »
Samira Kawash is the author of_Candy: A Century of Panic and Pleasure, to be published by Faber and Faber in October 2013. You can read more of her meditations on candy in history and culture on her website, candyprofessor.com._