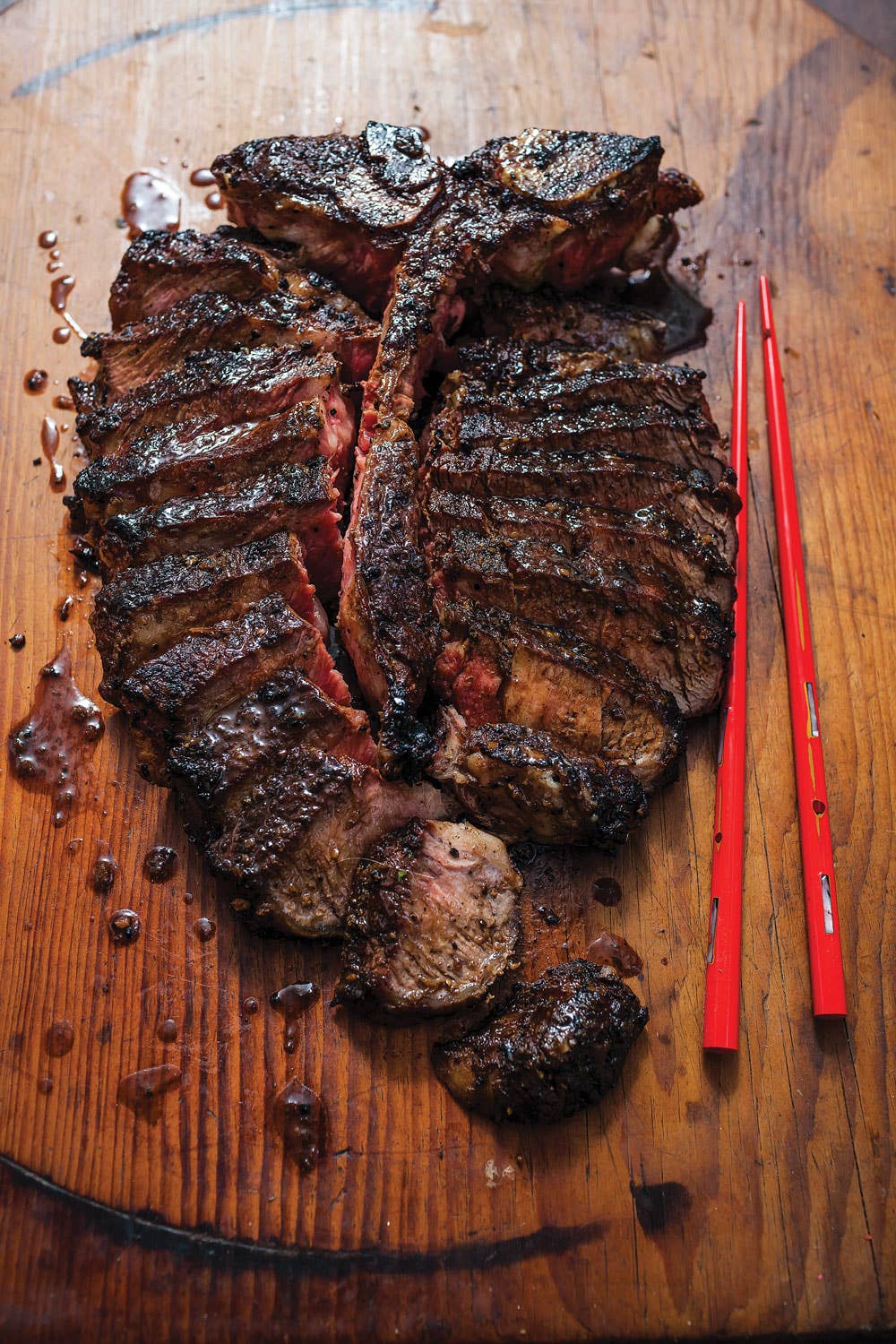 Culture
The Japanese Grill
The flavors of traditional yakitori make American flame-cooked foods better than ever.
Cooking over an open fire was central to traditional Japanese life until the 19th century; most households prepared their meals on the irori, a square-shaped open fireplace sunk into the ground. You still find houses with traditional hearths in the countryside, but in big cities like Tokyo, where I grew up, people don't really grill at home anymore. Most houses don't have the outdoor space for cooking, either, so grilling is left to professionals at yakitori restaurants, which specialize in grilled, skewered foods.
When I was a kid, there was a yakitori joint three blocks from my home, and whenever I passed by with my parents, I would see the smoke coming from the restaurant and smell the most tantalizing aromas. Then I'd be seized with the desire to go in—and I could usually convince my parents to do so.
Inside, there was always such a variety of food on the grill: all kinds of skewers threaded with things like chicken hearts, shiitake mushrooms, slivers of pork, and fish, all bite-sized and infused with the flavors of soy sauce, miso, sake, and char. I could easily eat a dozen skewers in one sitting. I could never get enough. The food made such an impression that as an adult, the first job I sought out as a chef was at a restaurant with a yakitori grill.
Working that station was a lot harder than it looked. It was hot—like standing in front of a furnace for five hours at a time. The grill was gas-fired, and the fumes made me drowsy. Even so, it was my favorite place in the restaurant.
At first I made a lot of mistakes. It seemed like I was always burning things or undercooking them. But I soon learned to keep a close eye on the skewers, and to move ingredients around on the grill so that they cooked by a combination of direct grilling (right over the flames, where the heat was most intense) and indirect (off to the side, where ambient heat cooked them more slowly). By the time I left that job, I really knew how to grill.
As much as I loved this style of cooking, it wasn't until I moved to the United States that I had the chance to do it outside of a restaurant. Twenty-five years ago, when I'd just arrived in America from Japan, a group of friends invited me to join them for a barbecue at a park in Los Angeles. It was fascinating. We played ball! We drank beer! We took turns cooking hot dogs and hamburgers! I loved the fun of it, the casual talk, how friendly it all was. I have been a devotee of backyard grilling ever since.
I now live in Mamaroneck, New York, where we have a nice big yard and a classic Weber grill, and in the summer, I barbecue with family and friends every weekend. Over the years I've merged the lessons I learned from yakitori cooking with the way I like to cook in America. To start and finish the meal, I might do up some classic yakitori dishes like beef negimaki (scallions wrapped in thinly sliced beef) and grilled rice balls called yaki onigiri, which brown and crisp over the coals. For the main event, rather than the skewers of thinly sliced morsels traditional to yakitori grilling, I favor big American-style cuts—pork chops, porterhouse steaks—which I grill alongside ripe beefsteak tomatoes split down the middle.
But when I cook them, I do as yakitori cooks do. I grill with Japanese binchotan charcoal, which burns hot and clean, and I brush on Japanese marinades laced with soy sauce, miso, sansho pepper (a tingly cousin of Sichuan pepper), or yuzu kosho—a paste made from chiles and fragrant citrus fruit—while the food cooks. That way, the marinade is grilled with the meat, caramelizing and lacquering it beautifully. The wonderful aroma it creates takes me back to Tokyo every time. —Tadashi Ono, co-author of The Japanese Grill (Ten Speed Press, 2011)