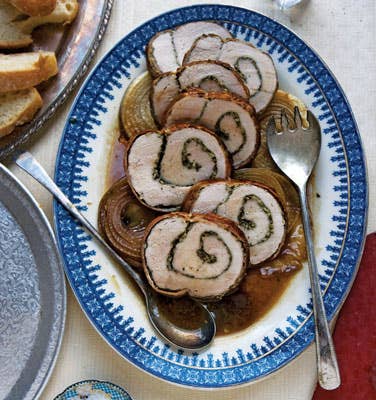 Culture
Porksgiving: Against the Turkey
A few years ago, I stopped going home for Thanksgiving. My divorced parents live in different states, and holidays can get, for lack of a better word, messy. So I opt to stay in Brooklyn, where I host an orphans' Thanksgiving for everyone else who can't or won't travel for the holiday. It's not a formal affair, by any means, but there is one rule: no turkey.
Despite the many tips and tricks promising to make it palatable, turkey has never been exciting to me. On a sandwich, it's fine. But if I'm going to host a dinner party for a dozen, I'm cooking what I want to eat, which is pork.
The first year I banished turkey, I played it safe and made a mustard-maple glazed ham. I picked up whole smoked ham from J. Baczynsky's East Village Meat Market, an old-school Ukranian joint in New York's East Village, whose owner gave me a long, silent stare when I explained that the ham was for Thanksgiving. I had prepped my guests ahead of time ("If you're expecting a traditional turkey dinner," I emailed, "please provide your own bird.") but during dinner, I heard not a peep against the pig, gleaming with its spicy-sweet varnish.
The next year, emboldened by the success of the relatively low-maintenance ham, I branched out and made a pork roulade, stuffed full of Granny Smith apples, country bread and fresh herbs. I put in a special order for an eight-pound loin at the Meat Hook, Brooklyn's sustainable meat mecca, whose butchers butterflied the gorgeous hunk of Berkshire pig for me. At home, I piled a small mountain of stuffing across the meat, and rolled the pork into a log held fast with butcher's twine. The hardest part was finding a vessel large enough to cook the thing in.
But when I did finally find an oversized roasting pan, and that beautiful behemoth came out of the oven—oh, it was glorious. The fat on top had melted into everything below, coating the entire dish in a silky porcine slipcover. Sliced into rounds and topped with a square of crispy skin, the heady pig easily outshone the turkey a friend had insisted upon bringing "to honor the history of the holiday."
This year, I'm toying around with cider-braised pork chops, or maybe a deconstructed tourtiere. I might even go beef — there's a standing rib roast-and-beets recipe that's been calling out to me for months now. I know that a no-turkey Thanksgiving isn't for everyone. But it is for me. Because what could be more American than trailblazing your own tradition?