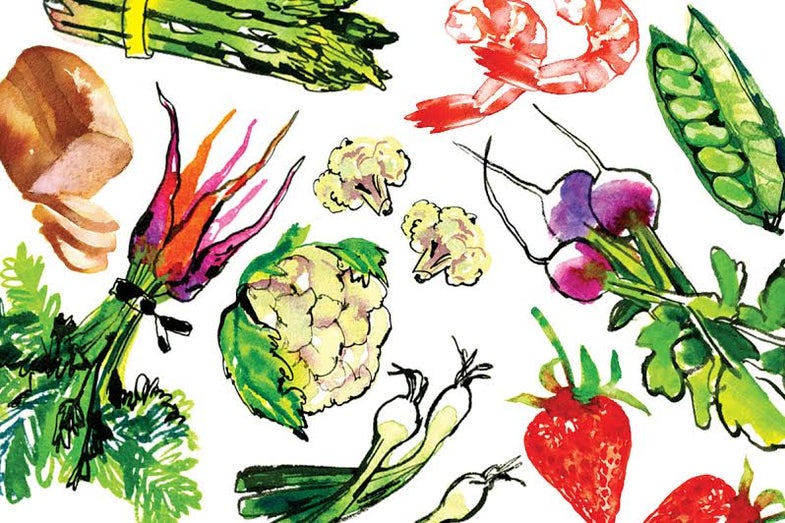 After 25 years of designing kitchens, Joanne Hudson, of Philadelphia's Joanne Hudson Associates, Ltd., believes, not surprisingly, that the kitchen is the most important room in anyone's home. But because people use their kitchens for lots of reasons other than cooking—just hanging out foremost among them—she spends a great deal of time asking her new clients questions. "I really get into what someone expects from their kitchen," she explains. "In order for a kitchen to be individualized, I need to think about how the client wants it to work."
Hudson took that very approach when the client happened to be herself. In 2000, she built a beach house in Bethany Beach, Delaware, about 150 miles south of Philadelphia. The house was designed to serve as a place where her entire family—including kids, grandchildren, and dogs—could gather on weekends and holidays. Hudson was sure that, despite the size of the group, meals at the house would rarely mean take-out. "I'm a cook, and we're all foodies," she says. "In fact, we cook more at the beach than anywhere else. So I knew I needed a kitchen that could accommodate major crowds, major food, and major people cooking it."
With that and a few other criteria in mind, she began mapping out a suitable kitchen. First, Hudson wanted the space to be accessible to the rest of the two-story home's first floor. To make that happen, she went about creating an open floor plan, setting the 19-by-15-foot kitchen between the informal living room, which faces Indian River Bay, and the equally informal dining room.
Second, she had fallen in love with the idea of having an island so that her grandchildren could line up at the counter and snack (or do art projects) while she was cooking. In her plan she included room for seven bar chairs, a 60-inch cooktop (complete with a griddle for making pancakes), a prep area and a sink, two refrigerated drawers, and lots of storage space. As a result, the island ended up measuring 15 by five feet. "I like large-scale things," Hudson admits. "You know, if you're going to do an island, do an island."
Hudson's third priority was to prevent "kitchen congestion"—that is, people getting in one another's way. Her solution was twofold: to set the main cleanup station along a wall, positioning it a generous five feet from the island's prep and cooking area, and to install a self-contained "drink station" across the room from both.
Smaller concerns, like cabinet pulls that wouldn't catch on clothing, received equal consideration. Given so much attention to detail, Hudson made herself a very satisfied client. Her advice for people seeking a kitchen designer? "Get involved with ones who are not only really passionate about what they do but who also understand your vision," she says. "It's an expensive project no matter what you do, so you might as well make it pay off.")
1. Cookware Quad "I like open shelves under a cooktop because they make everything so readily available," says Hudson, who divided the space into a quadrant. "I wanted things to be more organized under there."
2. Prep Works All three stainless-steel sinks in the kitchen are fitted with grooved, oiled boards made of maple butcher block that can slide from side to side or be removed as necessary. This convenient arrangement makes prep work and cleanup a breeze. Maple butcher block also tops the island itself. Hudson ran the grain of the wood across the island in the short direction, which visually serves to play down subtly the island's length.
3. Deeply Sensible According to Hudson, conventional deep pantries represent inefficient planning: they're hard to reach into, and items tend to get forgotten in their depths. Her solution: a pullout pantry, which glides open and shut and offers the additional benefit of being accessible from two sides.
4. Built Right To Hudson, a ledge under a built-in espresso machine makes perfect sense. "You need a place to put your coffee beans, so why not have it as close as possible?" she says. For a similar reason, she stores her espresso cups above the machine. Because of the cabinet's width and height, she opted for a lift-up cover over an ungainly cabinet door.
5. Drink Up Hudson refers to the part of the kitchen that's adjacent to the refrigerator as the "drink station". "Whenever someone wants to make a smoothie or mix themselves a drink," she says, "they have everything they need here. It's great because it keeps traffic away from the cooking area."