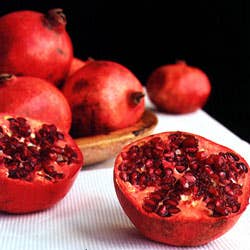 Culture
Winter Red
Once you learn how to unlock their vivid flavor, pomegranates are the stuff that myths are made of.
I've always thought of pomegranates as a forbidding fruit. When we were kids in Arizona, we used to pluck peaches and plums and apricots from the trees in our yard all summer long; but the pomegranates resisted us till the fall, when they were completely ripe. You can eat a peach even when it's green, if you don't mind a stomachache, but an immature pomegranate is like a ball of bitter wax, all but impossible to peel—and pithy even if you manage to breach the skin. Wait for autumn, though, and inside that reddened rind is a juicy mass of sweet and succulent seeds—a great explosion of crimson and flavor.
There is no way to rush pomegranates, either in the growing or in the eating—and as I've grown older, I've come to appreciate that very quality in them. Every fall, when the air and the leaves turn but the raspberries and the asparagus mysteriously keep coming, ripe pomegranates finally arrive in the markets, in their own good time, as if to prove that nature still has the last word, at least sometimes.
Like the sweet corn and peaches of late summer, this ancient Middle Eastern fruit is a fleeting, greedy indulgence. For a few brief months, pomegranates are plentiful and affordable enough to cook with, snack on, even squander in autumnal floral arrangements. But by midwinter, as demand peaks and supplies dwindle, not even the most well-connected, high-priced produce dealer can do anything but wait until next fall.
It's only fitting that one of the most powerful of classical myths revolves around the pomegranate. The names differ depending on who's telling the story, but basically Persephone is abducted by the god of the dead and imprisoned in the underworld, where she unwittingly eats a few pomegranate seeds. Her mother, Demeter, the goddess of agriculture and fertility, is so despondent over the loss of her only daughter that she freezes all growth on earth. Persephone is finally released only through a hard bargain: Every year she must return to Hades, staying one month for each pomegranate seed she ate. From that time forth, the earth has had seasons: The world is barren while Persephone does her time in the underworld, but offers up its bounty when she returns to the world of the living.
The myth still applies to the pomegranate, whose cultivation remains inflexibly bound to the seasons. Before they can bear fruit, pomegranate trees must go dormant in the cold of winter. Then—in the Northern Hemisphere, anyway, where most of them grow—they come into bloom in April, develop fruit in summertime, and are ready for hand-picking by September and October. By January, they have disappeared for another year.
Thought to have originated in Persia or Afghanistan, the pomegranate is so old that no one can be sure of its source—though it does appear in Egyptian art as long ago as the 16th century B.C., and in ancient Sanskrit writings. It's shape—full and rounded, with a flared, spiky crown—has been copied by humans for centuries, especially in fabrics, from India to Italy. When the Moors brought the fruit to the Iberian Peninsula in the ninth and tenth centuries A.D., they gave Europe a legacy nearly as magical as the Alhambra. (In Granada, the fruit's namesake city in Spain, pomegranate motifs and replicas are everywhere—in the tiled walls of villas, in the door knockers, in the everyday pottery.) Spanish conquistadors eventually planted the pomegranate in the New World in the 16th century.
Although they're a prized staple throughout the Middle East and Asia (where they are sometimes called Chinese apples), pomegranates are still largely considered a mere specialty item in this country. They're just too hard to deal with and, well, messy. The pomegranate's botanical name, Punica granatum, translates literally as "apple with many seeds". Beneath the fruit's leathery skin are hundreds of juicy, crunchy red seeds, packed into compartments separated by a bitter-tasting yellow membrane. Each seed must be picked out by hand, while the staining juice splatters.
Because of their surfeit of seeds, pomegranates have long been associated with fertility, and, by extension, desire. Legend has it that Aphrodite herself planted the trees on the island of Cyprus, and that Greek women once ate the seeds to increase fertility. The fruit also figures in "The Song of Solomon", where the loved one's cheeks are compared to "the halves of a pomegranate behind [her] veil"—and some biblical scholars contend that the serpent lured Eve with a pomegranate, not an apple.
For so tempting an object, the pomegranate is quite sensible nutritionally: At about 105 calories for one average-size fruit, it's high in potassium and contains a fair amount of vitamin C. But don't expect these properties from grenadine, once made from pomegranate juice. Today, the syrup that flavors tequila sunrises is made from corn sweetener, sugarcane syrup, water, citric acid, dyes, and sodium benzoate—and no pomegranates at all.
Most of the nation's pomegranate crop comes from California. Growers try to outwit the pomegranate's obstinate seasonality by planting varieties that will ripen at slightly different times, starting with Early Foothill and progressing through Wonderful (the most common), Ruby Red, and Granada. To determine ripeness, California growers don't just rely on their eyes and wait for pink-red to deep red skins to appear. Instead, they take random samples from their plots to test the fruit for sugar and sometimes for acidity.
What I'm looking for in a fresh pomegranate is fresh fruit, heavy with juice and packed tightly with sweet-tart seeds. I'm the impatient type who brings pomegranates home with the best culinary intentions, only to wind up gobbling every seed as fast as I can extract it. Dripping juice all over a paper-towel-swathed kitchen counter, I dream of traditional dishes like Mexico's chiles en nogada—meat-stuffed poblanos in walnut sauce—or sopa de nuez, a creamy walnut puree accented by the crunchy seeds. Popping seed after seed into my mouth, I conjure up the flavors of spicy Indian pomegranate chutney, of Tunisian pomegranate compote with orange sections and orange juice, of Catalan quail simmered in pomegranate sauce. But I keep eating the seeds.
Luckily, restaurant chefs— who can delegate the tempting task of seeding to their assistants—don't have this problem, and can use the fruit extravagantly. Once, for instance, I encountered pomegranate seeds tossed into a mixed green salad with walnuts and a tart vinaigrette; in a sauce over grilled halibut; even scattered profligately over cheesecake. But my favorite was the variation on kir royale poured by chef Terrence Brennan at his Picholine in Manhattan, with freshly squeezed pomegranate juice sweetening champagne.
In the months when they're not available fresh, pomegranates can be found in other forms. Dried seeds, labeled "anardhana", are often stocked as a spice in Indian groceries to season parathas and pakoras. Unsweetened pomegranate juice (and a molasses-like syrup made from it) are sold in Middle Eastern markets and are used in several Persian dishes—from a pomegranate-based soup of rice and lentils to chicken fesenjan, with walnuts and aromatic spices—or to flavor Russian eggplant purees and the Russian meat kebabs called shashlyk.
Still, there's nothing like the real thing, in season. In a country glutted with tasteless tomatoes, a ripe pomegranate is nature's way of saying the best food always comes to those who wait.