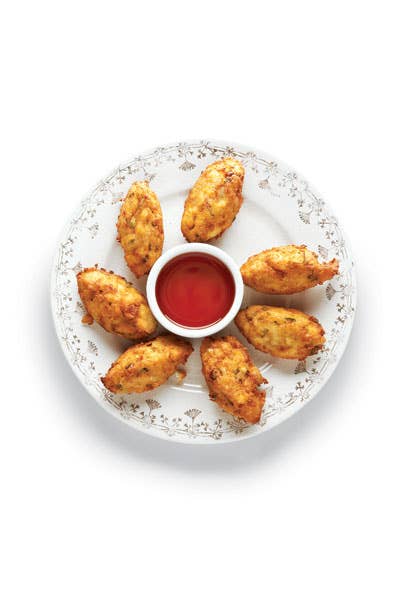 Culture
Tofu Wanzi
In this year's SAVEUR 100, we take stock of our favorite things: recipes, people, places. We consider every last one a new classic.
My Grandma Chin, a native of Dongbei, China, emigrated via Taiwan to Richmond, Virginia, in 1962. Her children sang "Dixieland" at homecoming games, and Grandpa Chin lunched regularly on fried fish and spoon bread at a place called Becky's. Still, certain old habits endured. Grandpa Chin ate Jell-O with chopsticks, and Grandma Chin, or Miz Chin, as she became known, showed up at her children's school dressed in a cherry red cheongsam.
Tofu wanzi, literally "tofu balls," was Grandma Chin's own invention, combining her native bean curd and the bacon of her adopted home. Tofu, scallions, and bread crumbs are mixed with sesame oil and plenty of bacon, molded between two spoons, and deep-fried in vegetable oil until they puff into pillows. The result is crisp on the outside, pudding within, and completely addictive when dipped in sesame oil. I call them tofu hush puppies, and if you ask me, they're among the great hybrid foods that have come out of America's Chinese communities—right up there with chow mein.
The interior of a tofu wanzi is a visually satisfying combination of springtime hues: ivory threaded through pink and green. The outside crust must be tawny gold, have a proper crackle, and be, as the Chinese say, su. Su_is specific to the crunch that comes from butter, lard, and oil; a croissant is _su while a raw carrot is not. My Grandma Chin was an expert, elegant deep-fryer, and a master in achieving _su—_fitting considering Su is her maiden name.
While you can snatch tofu wanzi as they emerge, spitting hot, out of the pan, I think they are even better from the refrigerator the next day, the custardy interior permeated by bacon smoke, surrounded by a slightly greasy crust. Either way, expressed within them are the seemingly dissonant values of northern China and the American South. Upon further consideration, though, the two cultures have quite a lot in common: They are both partial to vinegar, peanuts, pork, and good manners. Still, for some reason, I have never been able to successfully make tofu wanzi for anyone who is not part of my family. Just the other day, I tried to make them for a dinner party, only to have them stick to the pan. And so, for me, Grandma Chin's hush puppies are a private affair, meant to be shared with immediate kin.