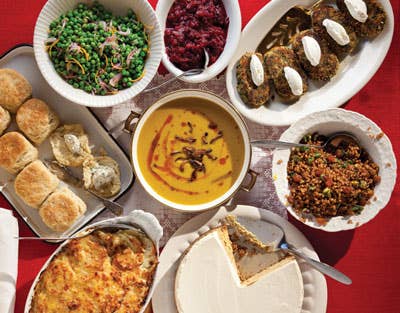 Culture
True Harvest: A Vegetarian Thanksgiving
A vegetarian chef explores the tradition of the meat-free Thanksgiving
On holidays, my mom used to set the dining room table with china and place a roast as its centerpiece. She served ham for Easter, beef for Christmas, and turkey with sausage-and-oyster stuffing and giblet gravy for Thanksgiving.
But I haven't eaten meat since 1998, which for me is not only an ethical choice but a testament to my love of great produce. Nowadays I work as a chef in a vegan restaurant called Sprig & Vine in New Hope, Pennsylvania. For years, my husband, Richard, and I have been hosting Thanksgiving at our house in neighboring Lawrenceville, New Jersey. Everything we cook is vegetarian, but invariably one of our meat-eating friends asks if he or she can bring a turkey. In the spirit of gracious hosting, we've always obliged. But last year, in part inspired by New Jersey's fantastic local bounty, we asked our guests to forego the bird.
It was a tough decision, and it presented a challenge even to a veteran vegetarian like me. To my meat-eating friends, turkey is a symbol of Thanksgiving itself—a harvest feast where the food isn't only rich in flavor, but rich in meaning. The holiday bird and fixings embody Thanksgiving's ideals of sharing and gratitude. How would I re-create that resonance with a vegetarian meal? I'd have to look beyond the usual traditions to find inspiration.
I toyed with the idea of basing my Thanksgiving on one of the world's great vegetarian traditions. I love the aromatic curries and stews of Gujarat, in India. I'm fond of Egypt's Coptic cuisine, with its generously spiced vegan dishes eaten around fasting periods. But Thanksgiving is particular to our own culture; I wanted to keep the meal within the American idiom. So I dug into our national history for precedents.
As it turns out, Thanksgiving and vegetarianism took hold in the United States at roughly the same time. The mid-19th century was a heady period for meat-free eating here; Progressive Era ideas of social change included reforms in health and diet, and there were debates about animal welfare as well. Vegetarian communities and associations sprung up around the country. Around the same time, Thanksgiving—a traditional harvest meal whose date had hitherto varied—was coalescing as a national holiday; hoping to create unity during the Civil War, Abraham Lincoln declared its first set date in 1863.
One of the earliest known meat-free Thanksgivings was held in 1895 at the University of Chicago by a group in that city called the Vege tarian Eating Club. According to Karen and Michael Iacobbo in their book Vegetarian America: A History (Praeger, 2004), chestnut soup, pumpkin pie, and an incongruous dish called pasta d'Italia were among the meal's highlights. I liked the idea of a dish that evoked my family's Italian roots, so I put ricotta crostini on my appetizer menu, making the ricotta myself—an easy matter of separating the curds and whey with lemon juice. When I was a kid, soup was something we made with the leftover turkey carcass. A Victorian-style soup course, I thought, would add elegance to the meal. I went for something lighter than chestnuts, using local Granny Smith apples and acorn squash. I saved the nuts for dessert, upgrading the traditional pumpkin pie to a luscious pumpkin cheesecake with a gingersnap-hazel-nut crust, paired with an apple cider—cinnamon ice cream to gild the lily even more.
My favorite early-20th-century proponent of vegetarianism turned out to be the socialite Mrs. Maud R. L. Sharpe, who authored The Golden Rule Cook Book: Six Hundred Recipes for Meatless Dishes in 1906. Six years later, Sharpe founded the Millennium Guild to promote meat-free eating. The Guild held illustrious vegetarian Thanksgiving dinners at Boston's Copley Plaza Hotel, where guests feasted on mushroom cocktail, hearts of palm (served, the newspaper Boston American reported, "piping hot and tasting like chicken"), and a "Golden Rule" roast—presumably made from nuts, like the other roasts in Sharpe's cookbook.
Though I wasn't keen on the idea of mock meat, I understood the need for a standout entree to take the place of the turkey; it should be something that could be apportioned like meat, in a cutlet or patty form. I decided to serve two such dishes: cornmeal-crusted tempeh with a sweet-tart maple-mustard "gravy," and patties of cannellini beans, sweet potatoes, and spinach, which were spiced warmly for the season, with nutmeg, cinnamon, and sage.
To round out the meal, I would also introduce some of the foods from the Thanksgivings of my youth. Frozen peas were a throwback, but I gave them new life with fresh orange juice and mint. I swapped my mom's standard mashed potatoes for a luxurious gratin that included local rutabaga. I found that cooking the vegetables in a bechamel sauce on the stove top before baking resulted in a particularly creamy version. I made the biscuits I've always loved, with honey, rosemary, and thyme. And in place of canned cranberry sauce, which my mother used to mold with a turkey-shape cookie cutter, I adapted my sister Carolyn's recipe for cranberry chutney, using honey and ginger for sweetness and spice, and celery and onions for savory crunch. Tangy and bright, it went beautifully with the savory patties.
I skipped the traditional stuffing in favor of a wheat berry pilaf with dried apricots and pistachios. Spiced with cardamom, cumin, and cinnamon, it evoked the intensely flavored Indian dishes that I so admired, but it felt perfectly in sync with the harvest season in the States. In fact, I found that many of my dishes benefited from the type of robust spicing that is so common in Asian vegetarian cooking. The autumn vegetable patties got a racy shot of cayenne; the sweet apple and squash soup gained dimension from Chinese five-spice powder.
Looking over our menu, Richard and I decided that beer, not wine, would pair best with each course (see Party Like the Pilgrims). It would cut through all the spices, and it, too, had historical significance: The Pilgrims carried ale with them from England and made the decision to land at Plymouth Rock due to "our victuals being much spent, especially our beer," as one Mayflower diary noted.
When our guests arrived, Richard met them at the door with champagne flutes of tart Orval ale, and everyone snacked on the ricotta crostini and other appetizers. Then we sat down at the table laden with dish upon meat-free dish. The buzz of conversation lapsed into satisfied murmurs as our guests tucked into their food. I watched my crowd dig happily into the vegetable patties and the cranberry chutney, the tempeh and the pilaf and the gratin, and felt the warmth of the occasion. Even without the bird, the meal was complete. This must be what Maud Sharpe felt like all those years ago, I thought. Though I don't know if her attendees embraced the Golden Rule roast, not one of my guests talked turkey.