Recipes
Luo Go Bao (Daikon Cake with Garlic Hoisin Sauce)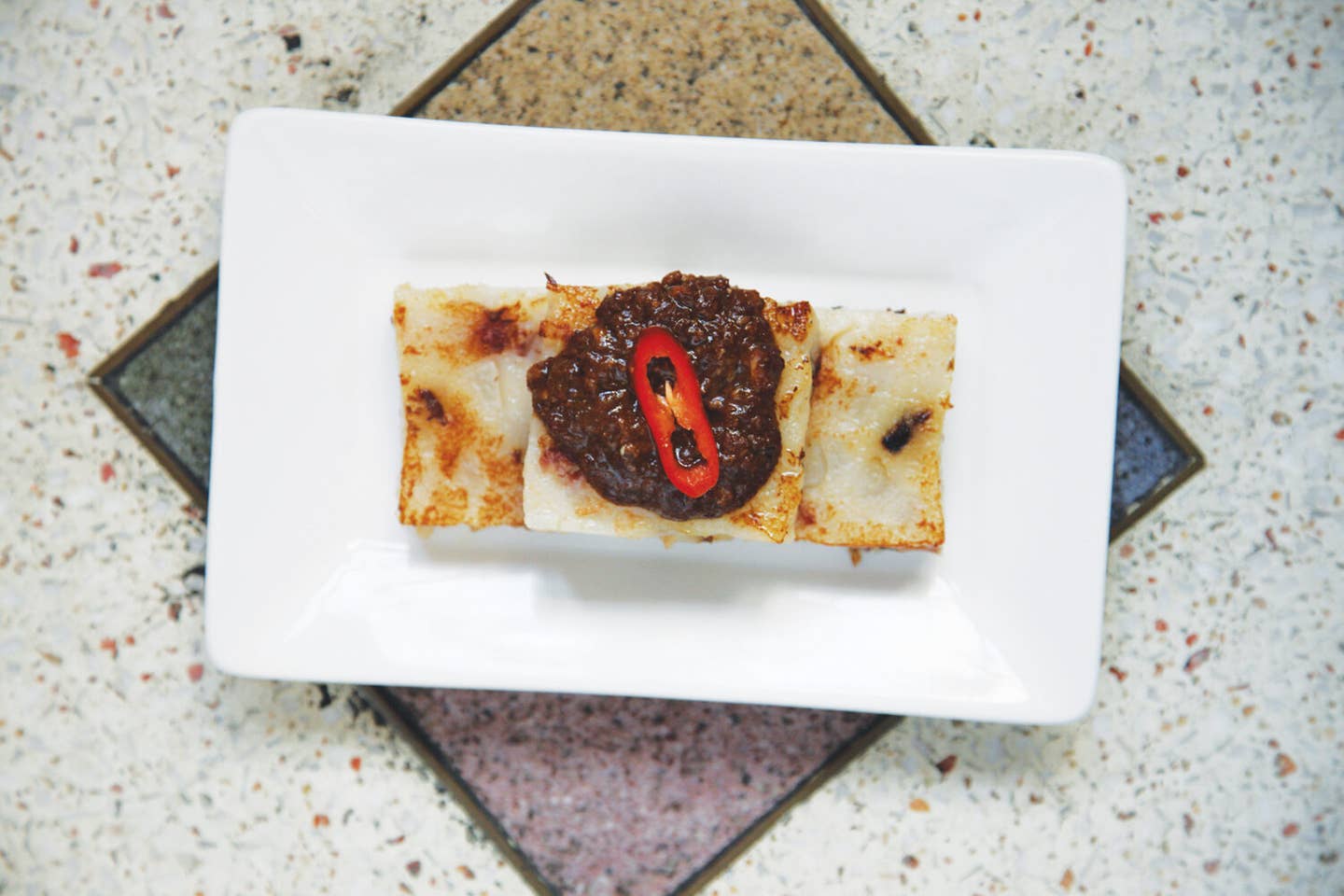 A Chinese New Year treat, these daikon and rice flour cakes are flavored with savory dried sausage and served with a spicy hoisin sauce. This recipe first appeared in the iPad edition of our Jan/Feb 2013 issue along with Kit Yau's article Lunar New Year in Hong Kong.
Ingredients
2 1⁄2 tbsp. canola oil, plus more for greasing
2 tbsp. small dried shrimp
1 lb. daikon, peeled
2 (6") dried Chinese link sausages, casings removed, finely chopped (available at amazon.com)
1 medium shallot, finely chopped
1⁄2 cup plus 2 tbsp. green onion, finely chopped
1⁄2 tsp. sugar
2 tsp. salt
1 1⁄2 cups rice flour
1⁄4 tsp. five-spice powder
5 tbsp. hoisin sauce
1⁄4 cup garlic chili sauce
1 red chile, thinly sliced, for garnish
Instructions
Step 1
Grease an 8"-square baking dish, and line with parchment paper; set aside. Cover shrimp with 1⁄2 cup of hot water and soak until soft, 25 to 30 minutes; drain, finely chop, and set aside. Grate daikon on the small holes of a box grater. Transfer to a 4-qt. saucepan with 1⁄3 cup of water and bring to a simmer over medium-low heat; cook until water has evaporated, about 35 minutes, and set aside. Heat 1⁄2 tbsp. oil in 10" skillet over medium-high heat. Add sausage; cook, stirring occasionally, until browned, about 7 minutes. Add reserved shrimp, the shallots, and 1⁄2 cup green onions; cook until shallots and onions are soft, about 4 minutes. Stir in sugar and half the salt; set aside.
Step 2
Bring 1 1⁄2 cups water to a boil in the bottom of a 12" skillet. Whisk remaining salt, the rice flour, and five-spice powder in a large bowl; stir in 1 cup plus 2 tbsp. water and reserved daikon until a thick, porridge-like batter forms. Stir in reserved sausage mixture to combine, and spread evenly in prepared pan. Place pan in a 12" bamboo steamer, and place steamer over skillet. Cover and steam, until set, about 40 minutes. Let cool 1 hour, invert pan onto a plate, peel away parchment and cover loosely with plastic wrap; freeze cake for 30 minutes, or refrigerate overnight.
Step 3
Mix hoisin, garlic chili sauce, and remaining green onions in a small bowl. Slice cake into 8 rectangles. Heat remaining oil in a 12" nonstick skillet over medium-high heat. Working in 2 batches, cook, flipping once, until crisp and golden, 3 to 4 minutes, and transfer to a serving plate; serve with spicy hoisin sauce, and garnish with sliced chile.