5 Kansas City Greats for Barbecue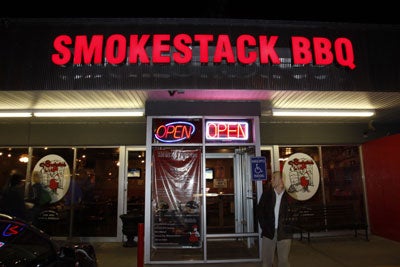 Arthur Bryant's 1727 Brooklyn Avenue (816/231-1123; arthurbryantsbbq.com__) This 81-year-old institution is famed for its thick, spicy-sweet tomato-and-molasses barbecue sauce, fresh-cut fries, and succulent burnt ends.
Danny Edwards' Famous Kansas City Barbecue 2900 Southwest Boulevard (816/283-0880; dannyedwardsblvdbbq.com__) In 2007, this family business moved from a cozy, 18-seat location to a sprawling restaurant, typically packed with families tearing into racks of spareribs and baskets of sweet potato fries.
Fiorella's Jack Stack Barbecue 13441 Holmes Road (816/942-9141; jackstackbbq.com__) This south Kansas City spot is the original location of what is now a local restaurant chain beloved for its hickory-grilled chicken, saucy ribs, and sides like smoky pit beans bolstered with hunks of barbecued brisket.
Oklahoma Joe's 3002 West 47th Avenue (913/722-3366; oklahomajoesbbq.com__) Founded by a winning competition-barbecue team in 1996, Oklahoma Joe's smokes brisket, ribs, and shoulders over Missouri white oak for a complex smoky flavor.
Smokestack BBQ 8920 Wornall Road (816/444-5542; smokestackbbq.com__) This no-frills favorite carries on a grand tradition with chicken wings in spicy butter sauce, sticky baby back ribs, and scrumptious burnt ends called Poor Russ, after the restaurant's founder.