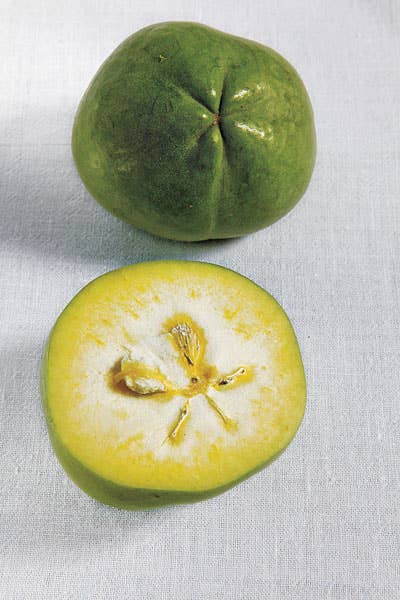 Travel
A Farm To Table Revolution
Some of southern California's most interesting produce is grown in a community garden in Watts.
If you're not careful, a drive through southeast LA with the chefs Jaime Martin Del Campo and Ramiro Arvizu quickly becomes a botanical expedition, a survey of hidden sugarcane and cornstalks, of trees bearing tejocotes, or Mexican crab apples. "This guy has the best chayote," says Jaime, referring to the variety of squash, as he parks in front of a modest, Colonial-style house. "And avocado leaves, too." The two men, old friends from the Mexican state of Jalisco who opened the restaurant La Casita Mexicana 11 years ago in the town of Bell, just southeast of the city, are well known in these parts for their locally inspired cuisine. Their traditional chiles rellenos and moles are made with Mexican herbs and vegetables grown by local gardeners, and one of their signature drinks is an agua fresca made with tiny Mexican limes from a tree in Arvizu's mother's backyard. The two are easy to pick out in a crowd: with their bald heads, big mustaches, and perma-grins, they're a familiar morning talk show presence on the Spanish-language television station Univision, where their cooking segments on the program Despierta America spread the gospel of Mexican LA's homegrown foods.
Until the 1950s, Los Angeles was still the largest agricultural county in the United States, a prime source of citrus and walnuts, strawberries and tomatoes, milk and meat. When you drive around the vast metropolis now, you can see vestiges of the old farms: marooned barns in Pasadena that still house rusted tractors; orange trees, once part of endless groves, that march across suburban backyards. In industrial areas, hints of the old order sprout like grass through cracked sidewalks: lettuces in the shade of freeway overpasses and edible cacti, or nopales, on railroad right-of-ways.
After buying the chayote and avocado leaves, the chefs and I drive to the Stanford Avalon Community Garden, a rural expanse under hissing power lines in the Watts district of LA. Many of the farmers, who pay only for water and incidentals, are refugees from the South Central Garden, a few miles north, which was bulldozed by the city in 2006 and whose destruction was mourned by Angelenos. Zack de la Rocha of the band Rage Against the Machine played a protest concert on the site. The actress Daryl Hannah refused to come down from a walnut tree. Mayor Antonio Villaraigosa himself found the farmers this seven-acre site four years ago.
If you're intent on a tour, look around for Juan Gamboa, a Jalisco native and the garden's manager, whom you can usually find working on his 41-by-30-foot plot. The men over there are from Guerrero, Gamboa explains; the ones to the left, from El Salvador. They all share tools and fertilizer, coffee and soup. All in all, there are about 190 plots, tended by a melting pot of farmers from Mexico and Central America. Martin Del Campo says he can tell where they come from by what they grow: if it's the musky-tasting herb papalo, they're likely from Puebla; if it's the broccoli-like green huauzontle, probably Mexico City. As we wander, people tell us which herb is good for a sour stomach, which repels gophers, and which flavors beans. Chipilin, a weedlike herb often used in El Salvador, has caught on among many of the farmers for its peculiar side effect.
"Viagra de Maya," an elderly Guatemalan woman says, pointing at the herb and laughing.
Today the chefs are looking for the best romeritos, a feathery, pungent green they use in their fried shrimp patties. Arvizu finds a patch he likes and nods to the farmer, who bends down to cut an armful with what looks like a rusted steak knife. Arvizu hands him a five. The dollar he gets back as change is worn and walnut brown with ground-in dirt. The experience makes shopping at a farmers' market seem as impersonal as a trip to the supermarket. —Jonathan Gold, food critic for LA Weekly and author of Counter Intelligence: Where to Eat in the Real Los Angeles (LA Weekly Books, 2000)