A Life on the Water in Kenya
Fishing is a source of livelihood all over coastal Kenya and along its inland lakes.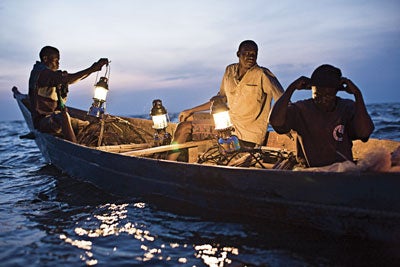 Fishing is a principal source of livelihood all over coastal Kenya and also in the vicinity of Kenya's vast inland lakes. The men pictured here are net fishing at night for tilapia on Lake Victoria, an immense body of freshwater on Kenya's western border. In Mombasa and other major seaports, industrial fishing fleets—especially shrimp trawlers—bring significant quantities of seafood to market these days, but along some parts of the coast traditional wooden boats called dhows, fitted with distinctive-looking lateen sails, still unload their catch every morning: kingfish, tuna, snapper, and other local varieties. All over Mombasa's Old Town and in the main town on Lamu Island, cooks at sidewalk restaurants grill freshly landed fish—often dressed in a simple, bold-tasting marinade of tamarind and chiles—over charcoal.