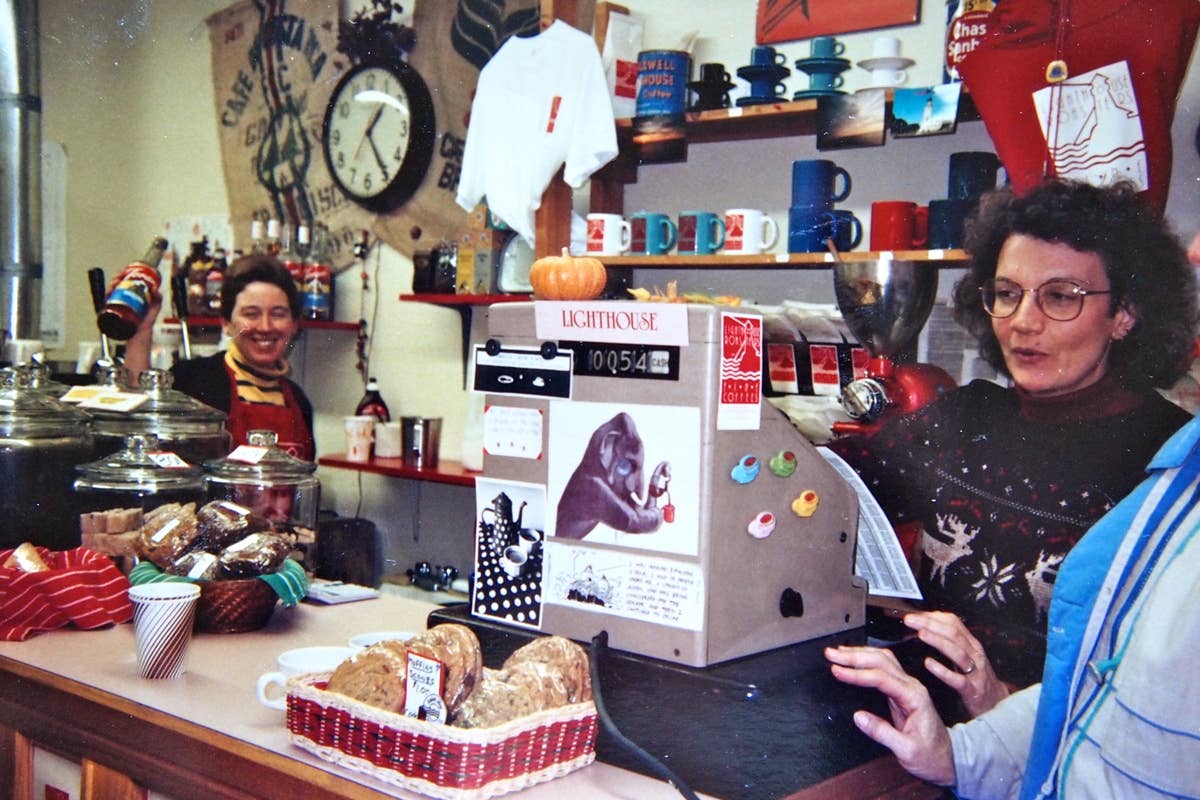 Travel
A Seattle Coffee Story
Growing up amidst the beans and bags of Washington State's coffee frontier
In 1983 my two mothers, Meredith and Elyse, bought an espresso cart, parked it along Alki Beach in West Seattle, and unknowingly positioned themselves among a handful of coffee pioneers in the Northwest. A year later, I came along. I have spent my life surrounded by coffee.
As a child of the 80's, it was quite probable I'd grow up in a kitchen with a mother and father brewing Taster's Choice every morning before heading to the office. Instead, my earliest years were spent comforted by the sound of milk steaming, the clunk of the espresso filter being emptied into the knock box, and the smell of coffee roasting in the back of my mothers' shop. What started as a few espresso carts they pushed through local community colleges transformed, in 1987, into Mad Hatter Espresso, a coffeehouse in the middle of Seattle's young, hip, and gay Capitol Hill neighborhood. There, my parents always had two kinds of soup simmering, their best friends in the kitchen, and a story that they told everyone about how the coffee cake recipe was an old family secret (the cookbook my mother Meredith photocopied it from remains a mystery). Bonnie Raitt and Joni Mitchell played on the tape deck while I concocted elaborate baking experiments and chatted with regulars at the counter.
My parents tend to dream big, while simultaneously being the most efficient people I know. Were they to come to me today and outline their latest idea—to, say, open a retirement colony for aging feminists on a remote tropical island—I wouldn't doubt them for a minute. Looking back, it isn't surprising that somehow in the middle of raising a daughter, running a cafe, and pursuing various degrees, my mothers bought and restored a vintage Danish coffee roasting machine.
In 1989, they opened Lighthouse Roasters, Seattle's first women-owned coffee roastery, just down the road from our home in Sand Point. There was an old pinball machine in the back, jars of Italian amaretti cookies in paper wrappers, and plenty of burlap sacks of green beans to nap on. My time away from school was spent making wholesale deliveries with my mom Elyse out of our Volvo station wagon, and eating maraschino cherries in closed bars around the city while she dropped off samples and chatted up the managers. It was wonderfully scrappy and entrepreneurial, but it was my normal.
Maybe that's why 20 years later, I work for a coffee roasting company two blocks from the (now condo-converted) site where my parents had opened their (now-closed) shop Mad Hatter Espresso. A few old-timers here remember the two women who started Lighthouse Roasters. Lesbians with a kid, roasting ten pounds at a time and pulling shots in a storefront half the size of my current employer's cupping room. There's a certain symmetry in my return to the coffee industry, although I never intended it. My parents are retired now, the business sold years ago, still drinking 12-ounce Americanos and visiting me at work as roasted beans cool in giant drums.
_
_
FIVE SEATTLE COFFEE LANDMARKS
In 1895, a dock worker found an overturned bag of coffee beans on the pier, roasted them in a pan, and launched a whole bean venture that led him to open Seattle Tea & Coffee in Pike Place Market. 76 years later, the very first Starbucks moved in just across the way. Seattle is a city grounded in coffee: what follows are five of the coffee landmarks that I hold closest today.
1. Lighthouse Roasters
400 North 43rd Street Seattle, WA 98103
Ed Leebrick purchased Lighthouse from my parents in 1993 and has been roasting out of Seattle's Fremont neighborhood ever since. The original logo, drawn by a design student in exchange for many free cups of coffee, remains the same.
2. Caffe Vita
1005 East Pike Street, Seattle, WA 98122
If Lighthouse was my birthplace, Vita is my home. Roasting locally since 1995, Caffe Vita now operates 10 cafes across the country. The Capitol Hill shop happens to be where I work, drink and spend most of my waking hours, surrounded by the best coffee in Seattle.
3. Monorail Espresso
520 Pike Street Seattle, WA 98101
In 1980, Chuck Beek opened the very first espresso cart under the monorail and started serving delicious espresso to Seattleites. Now operating out of a more permanent walk-up window in the same location, some say the burnt cream latte is life changing.
4. Pegasus Coffee
131 Parfitt Way Southwest, Bainbridge Island, WA 98110
Just a short ferry ride from downtown Seattle, Pegasus has been caffeinating Bainbridge Island since 1980. After a fateful afternoon there, my mothers wound up buying their coffee roaster from David Dessigner, who still roasts daily on the island.
5. Starbucks at Pike Place Market
1912 Pike Place, Seattle, WA 98101
Including Starbucks on this list seems like an odd choice in a city full of independent shops, but the very first cafe is a landmark, having opened its doors in 1971. Today it is the only chain store allowed in the market, proudly boasting the original bare-breasted mermaid logo out front.
Drew Zandonella-Stannard_ is a writer and coffee drinker. She lives in Seattle, Washington and blogs at One More Salute to Vanity._