Aloha, Vegas
In Sin City, Hawaiians flock to Island Flavor for a taste of home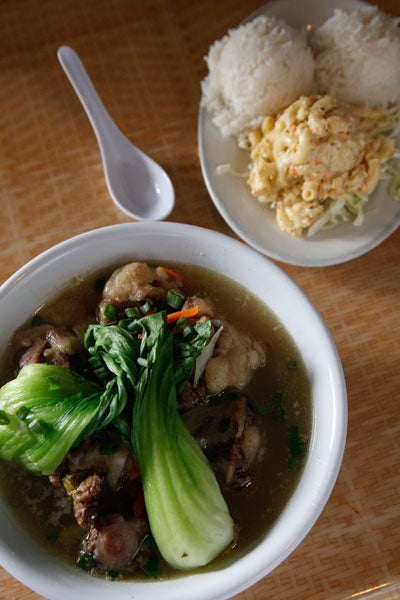 With laid-back island tunes drifting overhead and photos of friends and family posted on the wall, this strip-mall restaurant feels more like a weekend cookout. It smells like home, too, with chicken and fish frying away, sweet and sour sauces simmering, and the light scent of our just-ordered poke salad— fresh, raw ahi tuna tossed with sesame and furikake—tempting us to begin our meal.
I'm eating out today with my friend Gary Haleamau. Born on the Big Island and calling Vegas his home for nearly 15 years, Gary is a musician and organizer of festivals that highlight his native culture. He's brought me to Island Flavor, his pick for the most authentic Hawaiian food in Las Vegas, a city they call the Ninth Island for its large islander population. More than 15,000 Hawaiians and other Pacific Islanders live in Las Vegas, lured here by the low cost of living and work in the booming casino industry. The community has its own magazine, its own radio station, and its own flagship hotel and casino, called the California, boasting its own Hawaiian-themed eateries. But when natives want to eat the foods of home, says Gary, they come to restaurants like Island Flavor.
At this cozy, brightly-colored eatery, converted from a sushi bar four years ago, the most popular plate is kalbi short ribs, a spin on a Korean dish, succulent shards of beef made sticky-sweet when the soy-garlic-brown sugar marinade caramelizes under the broiler. Gary's favorites are salty, smoky kalua pig, and an off-menu treat of laulau, tender pork steamed in taro leaves.
Fried chicken katsu prepared loco moco-style, over rice with fried eggs and rich brown gravy, is an instant nap inducer, leading Gary to joke about his native eats. "It's always a ridiculous amount of food. Hawaiians, you know, maybe our food is known for quantity over quality," he laughs. "But when we get together for a festival or just to be with family, it's all about the food."
Island Flavor
8090 S. Durango Blvd. #103
Las Vegas NV 89113
702-876-2024
islandflavorv.com