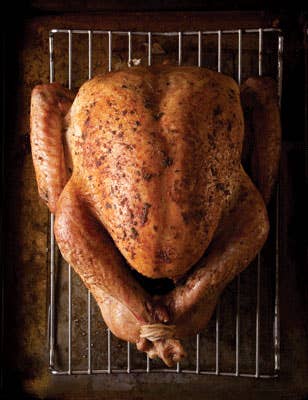 Travel
An Expat Thanksgiving in Italy
I lived in the small comune of Bra in northern Italy for three years and felt homesick for New York for most of it. I missed the bustle of the city and its diversity, both cultural and culinary (it's so hard to find limes and ginger in Piedmont!). But nothing made me feel more at home than gathering my local friends together for the familiar feast of Thanksgiving.
I knew a few other American ex-pats and together we assembled a traditional meal, piece by piece. Anyone visiting the U.S. within six months of Thanksgiving had to bring back brown sugar, pecans, or a can of pumpkin, all unavailable in Italy (though at least one year we used fresh pumpkin for pie, with acceptable results). We could acquire the ingredients for pickled beets and quail eggs and Brussels sprouts with pancetta easily. Some dishes, however, just weren't possible — no one had the guts to smuggle in bags of cranberries (and nobody was interested in eating the canned stuff).
Life in New York did prepare us well for the limitations of apartments in Bra. None of us really had enough space to produce the entire meal. Instead, my friend Carla and I split up the menu, with the turkey falling under my purview. You could find tacchino, as it is called there, on tables in northern Italy, but no one serves it roasted whole, and no supermercato carries them in freezer cases, shrink-wrapped and impaled with plastic temperature indicators. I asked around and luckily found a butcher that could special order a bird for me with a week's notice.
Cooking a whole turkey presented a different kind of challenge. My mini-fridge was not big enough to hold the turkey, so the bird went straight into my also diminutive oven, barely clearing the heating element. The oven's heat dial could be turned from a picture of a small flame to a picture of a big flame, and while I could have gotten an oven thermometer, I found it much more exciting to wing it.
Despite our obstacles, the turkey always turned out great - as did everything else we made. The meat and produce in Italy were always of extraordinary quality and freshness. And, more importantly, Italians love food, so the American tradition of gathering loved ones around the table for a grand meal required no translation at all.