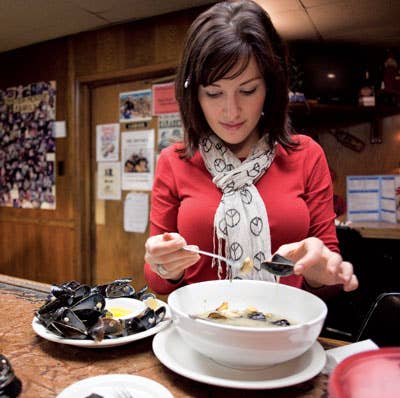 Travel
At Sea in the Valley
The Oyster House has the sort of delectable food you can savor no matter what the circumstances may be.
There is nothing wrong with an exquisite meal whose muted complexities require your full attention. Then again, sometimes, instead of a finely tuned tasting instrument you're just a soul and a mouth and a stomach and—not to put too fine a point on it—a messy bucket full of tears. The death of a loved one will do this. First comes the sheer physiology of shock: the late-night phone call, the jagged announcement, the gasp, the 72 hours of crying. Death is a disjunction and a rupture, a falling through nothingness; then grief lands hard, with a thump in the heart, a constriction in the chest, and a metallic taste in the mouth. The taste is a reminder of the cosmic ionic soup from which we've come and to which we'll return, and, with our animal panic, the actual flavor of food changes. Comfort becomes paramount. Some of us may immediately need to rebegin smoking. But where to go, when death strikes, in Los Angeles?
The answer was clear in the winter of 1991, when my hard-playing, hard-drinking, motorcycle-riding musician friend Jim died too early, at 38. After an emotion-wracked memorial service, all of his friends—mostly studio musicians and their satellites—were gouged out, sad, hungry, and hankering for our neighborhood boite, the Oyster House. Initially, the choice might seem counterintuitive: a theme bar boasting East Coast-y seafood in a freeway-locked, Jiffy Lube-packed area of the San Fernando Valley, the Oyster House is not only incongruous; it's defiantly cheerful. The O.H. never got the memo that it is two hours' drive in bad traffic to the nearest ocean, and if it had, it would not have cared. (For the record, its oysters are delivered every other day from a farm in Washington State.)
But here was the thing: the Oyster House has a feature rare for health-obsessed Los Angeles, a smoking patio. Abutting the parking lot, the patio is festooned with snarls of nets and seashells, along with its sign, which reads, THE CONCRETE BEACH. This surreal outdoor setting seemed the perfect place for a bunch of expats. You see, Los Angeles studio musicians are typically people of bad habits they've tried to leave behind in Chicago, Milwaukee, or Cleveland. (Jim, himself a fan of the O.H., had hailed from Kentucky.) But that day the masks fell. Not only did the cigarettes come out (how better to face the void than to hurl butts into it?), but some serious, non-Southern California-style drinking began: the spicy and excellent house bloody marys, bourbon rocks, vodka tonics, and even a few martinis (the simpatico O.H. bartenders and waitresses will provide not just extra olives but a separate glass full of them if you wish, literally a "side" of olives). "To Jim!" fellow bass players called out weepily. "He never knew how good he was, man. Never."
And then, to soak up the nicotine and the booze, the fressing began. The Oyster House has the sort of delectable, wonderfully ballsy food you can savor while smoking, not to mention drunk. One-dollar oyster shooters. Frogs' legs. "Blue-blue" salad (crumbled blue cheese and blue cheese dressing). I ordered my favorite, a melange of shrimp, crab, and calamari served over pasta, drowning in tomato cream sauce, about a thousand calories a bite, not remotely kosher, totally allergenic.
In a convivial cloud of cigarette smoke, Los Angeles smog, and the keen snap of night air, reminiscences flowed about other Valley haunts come and gone: the Money Tree, Timmy Nolan's, the Steak Joynt. With neither a dry eye, nor a chardonnay, in the house, the O.H. was a fine place to lift a glass: "This one's for you, bro'!" Sure, we were at sea in the world and in life and in Los Angeles, and yet, for that night at least, we were firmly docked. —Sandra Tsing Loh, author of Mother on Fire_ (Three Rivers Press, 2008)_