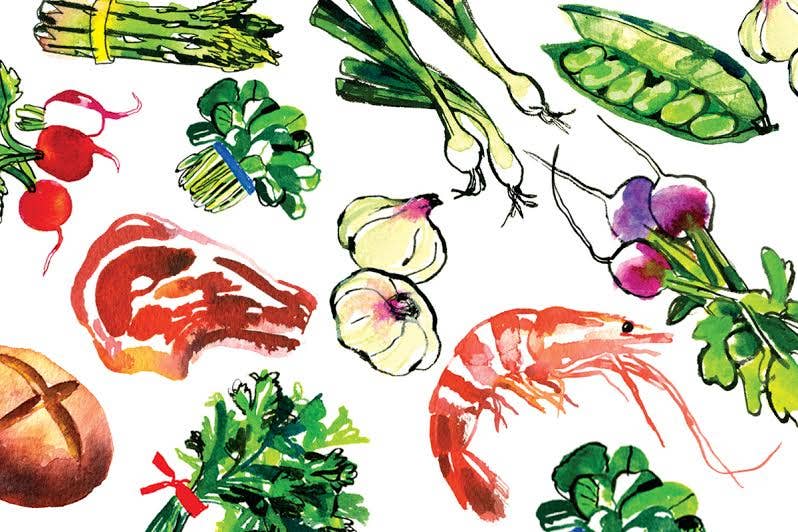 When I moved to Bangkok after college in 1999, I got a crash course in Thai food out on the street. All across the metropolis, and even in the suburbs where I first lived, vendors prepare a mind-blowing variety of dishes at outdoor food stalls, where families, businesspeople, and students converge to eat. Keen to learn as much as possible, I started seeking out the best street food and photographing my discoveries (you can view them on my blog at www.austinbushphotography.com), whether in Chinatown, at the weekend flea market called Suan Chatuchak, or at any one of the city's clusters of mobile kitchens. A decade later, I'm still amazed by what I find.
Noodle vendors were my first love: most serve multiple options, from phat thai (rice noodles fried with egg and dried shrimp) to bamee (an egg noodle soup). I often gravitate to kuaytiaw reua, "boat noodles", so named because they used to be sold from boats on the canals of central Thailand. A satisfying tangle of rice noodles and pak boong (water spinach) with pork, beef, and fish balls in a dark, herb-infused broth, it's a one-dish feast.
Another of my standbys is khao mok, or biryani, a rice dish sold predominantly by Thai Muslim vendors from the country's south. Flavored with turmeric and other spices and cooked with tender pieces of chicken, it's usually served with fried onions, cucumbers, and a sweet vinegar-based sauce. Damn, it's good.
Bangkok's most iconic street food is the green papaya salad called som tam. I love the Isan-style version (from Thailand's northeast), which is brightened with chiles and fermented fish. The vendors who sell it often also serve my other weakness: kai yang: chicken marinated with white pepper and coriander root and grilled over smoldering coals.
But it is the makeshift buffets called raan khao kaeng, or rice and curry stalls, where I still encounter dishes I haven't seen before. Whether it's a stir-fry or a curry, it's all the proof I need that eating in Bangkok is an ongoing education.