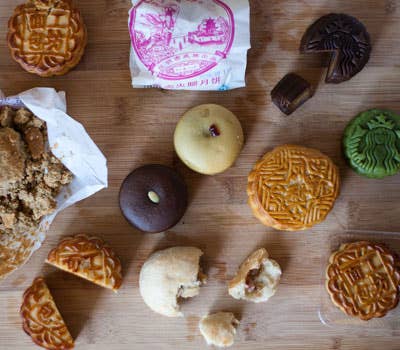 Travel
China's Modern Mooncakes
In China, late summer is mooncake season. In the weeks leading up to the Mid-Autumn festival, or Moon Festival, this iconic holiday food is everywhere you turn. Grocery stores, drug stores, and department stores sell decorative boxes full of the cakes, each wrapped in its own brightly colored tin or wrapper; streetside vendors sell them from the backs of vans or pile them up on folding tables; bakeries of every kind display them prominently. The most beautiful packages of cakes can cost upwards of a hundred dollars, but more humble versions are available too, in simple paper wrappers, for just about a dollar each.
The cakes are made from pastry dough, either cakey, flaky, or somewhere in between, surrounding a sweet filling of lotus seed paste, sweet bean paste, chopped nuts, or dried fruits. Some boast a salted duck egg yolk at the center to symbolize the full harvest moon. Mooncakes, which are usually given as gifts to family, friends, and associates, have been eaten in China for centuries: one legend has it that in the 14th century, they were even used as a tool to foment rebellion—the Han Chinese are said to have hidden messages in mooncakes urging their compatriots to join a rebellion against their Mongol rulers.
In the last few years, however, new, innovative versions of these traditional sweets have come from an unlikely source: American chain stores. Haagen Dazs, Dairy Queen, TCBY, and Starbucks have all introduced their own twists on this holiday tradition to their Chinese stores to tremendous demand. In the past few years, Haagen Dazs' chocolate-covered ice cream mooncakes and Starbucks' versions (which come in flavors like green tea-toffee-cheesecake and espresso-milk chocolate) have become wildly popular among the country's young, upwardly mobile consumers in cities like Shanghai and Beijing.
To Americans, this may seem like an ironic turn of events. Mooncakes are not as popular in Chinese-American communities as they are back on the mainland; many people think of them as similar to Christmas fruitcakes— a necessary holiday tradition but a boring food at best. But the new versions that are springing up are surprisingly good. Perhaps, if we're lucky, the companies that are revolutionizing the market for mooncakes in China will decide to bring their creations back to the U.S. market, so that American consumers of all stripes can learn to love these festive Chinese treats.
Georgia Freedman is a freelance writer living in China. She is a contributing editor to SAVEUR.