City Dozen: Chris Onstad and Sarah Kanabay's Portland, Oregon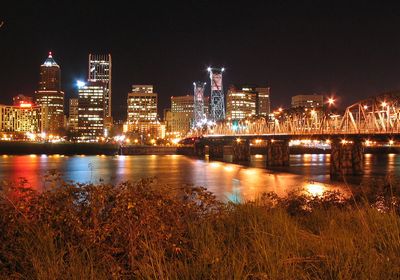 With its graceful urban landscape, relaxed attitude, and mild weather, Portland, Oregon occupies prime quality-of-life territory squarely at the intersection of low cost of living and high levels of culture. A major factor in its attractiveness as a destination (it's routinely named one of the best cities in which to live in the United States) is the town's steadily rising profile in the firmament of gastro-worship: cooks and civilians alike can afford to own a 1914 Craftsman and a fairly reasonable car, with enough disposable income left over to take dining (and snacking, butchering, coffee-drinking, and beer-drinking) seriously. Anchored on a strong community of farmers, gardeners, ranchers, and charcutiers, Portland's full-blown "farm to table" culture is the envy of cities ten times its size.
Author and cartoonist Chris Onstad moved to Portland in 2009 (after working and dining there for over a decade); Oregon Culinary Institute alum Sarah Kanabay has lived and eaten in the city for two years. Here, their picks for a dozen can't-miss destinations for the culinarily-minded visitor to a place they describe as "the Shire of American cities": a bungalow-dominated landscape dedicated to comfort, the championing of second breakfast, and staying out of the damp with a proper pint.
Jump to the interactive map »
Tanuki
From the irascible and outspoken (and Charlie Trotter-trained) chef Janis Martin comes Portland's one-of-a-kind akachochin Tanuki, a constantly surprising combination of sake bar and izakaya. Don't go expecting rigorous interpretations of either, though: Martin's dishes are whimsical and market-based. Regulars of this local treasure know to just throw down a $20 for a staggering omakase that is likely to include oysters with kimchi shaved ice, the city's finest hamachi sashimi, sweet wild boar in an egg crepe, and much more. Be warned: those who do not order drinks will raise the staff's ire.
Tanuki
413 NW 21st Ave.
tel: 503/241-7667
Tonalli's Donuts & Cream
Sure, there's that other famous doughnut place in town, the one where you could fight your way through a crowd and back again for the honor of standing hunched on the sidewalk mawing a fritter that should come with its own hand truck. But for a fried dough experience that's far less Man vs. Food and far more "My, what delightful viands are these!", the real doughnut aficionado should head north to Tonalli's, where the unassuming storefront, and the fried treats that wait therein, hearken back to less complicated pleasures. Brilliantly executed, delicious in their simplicity, these doughnuts — from the tangy sweet density of the buttermilk bar to the perfectly crisp exterior of the old-fashioned — are the kind that your grandfather would be able to identify. More importantly, the kind he would recognize as great. Those in the know get there at 9 p.m. (it's open until midnight) to find the case at its fullest and finest, the doughnuts resplendent in piping-hot, crispy artistry.
Tonalli's Donuts & Cream
2805 NE Alberta St.
tel: 503/284-4510
Dovetail
The old adage about good things coming in small packages is particularly apt for this jewel of a bakery, whose petite case is daily filled with the sweet scents of its equally petite proprietress' pastry wizardry. We particularly enjoy bringing non-vegans here—and failing to mention that everything made within is free of animal products until after they've had their first swoon-inducing bite of a signature sticky bun; astonishment invariably follows (in the best way possible). Baker Morgan Grundstein-Helvey displays a deft hand throughout her range of treats, from the toothsome, chewy molasses spice cookie to the pleasant, surprisingly crisp bite of millet seeds in a moist apricot jam-and-carrot muffin. Excellent tea, coffee, and kombucha are all on tap, and biscuits and gravy emerge from the kitchen on weekends, along with a rotating cast of delicious soups.
Dovetail Bakery
3039 NE Alberta St.
tel: 503/ 287-0601
Woodlawn Coffee
To be sure, Portland has many fine coffee purveyors. But what we don't have is more than one shop featuring the baked goods of Gretchen Glatte. Mornings at Woodlawn involve a cozy, honey-hued parade of delectables hot out of the ovens of the open kitchen at the back of the long, airy room. Pitch-perfect brioche, creamy and citrus-fragrant orange ricotta cake, and thick slices of crisp white toast, slathered in butter and jam all beckon you to start your day at a gentle pace, and the menu varies as the hours progress. We can easily imagine spending an entire day there in calm comfort, as muffins give way to savory galettes, and scones turn the stage over to chocolate torte. It's the best of what a Portland coffee enclave has to offer: warm wooden floors, the scent of browning sugars, and a neighborhood clientele that has come in to share a pause from the rigors of the day.
Woodlawn Coffee
808 NE Dekum St.
tel: 503/954-2412
Gartner's Country Meat Market
Considering its sheer volume and old-world variety, Gartner's full-service meat counter (which seems a hundred feet long) is Portland's no-nonsense, all-American-yet-strongly-Teutonic butchery and wursthaus. Emile Zola could have spent twenty pages on the house-made frankfurter selection alone, but here's an attempt at description: expert sausages with snap, quality marinated meats (the beef short ribs are a carnivore's shibboleth), and all cuts of land-bound animal, from ruby red to milky white. After half a century in business, the large staff knows how to handle its town's smallest supper or most leviathan Superbowl lamb roast.
Gartner's Country Meat Market
7450 NE Killingsworth St.
tel: 503/252-7801
The Secret Society
You are sitting in a private coach on the nascent Southern Pacific railroad. Gas lamps flicker idly on the dark lath walls. Across the table from you sits the mountain of black wool and pinned ascots that is Leland Stanford, thoughtfully brandishing the golden spike he will soon drive at Promontory Summit, Utah Territory, thereby uniting the United States. Before him, a servant places a cocktail that was out of vogue before your grandfather was born. You choose a Moscow Mule, a futuristic drink from 1941 that sends Stanford's eyebrows jabbing at one another. No bother; your table at Toro Bravo is ready downstairs. "I love what Gorham's doing with smelt these days," he says, as you gather yourselves and waft across the carpet. You see, it was no train at all; it was The Secret Society, and Leland Stanford was just your friend Mike.
The Secret Society
116 NE Russell St.
tel: 503/493-3600
CHOP Butchery & Charcuterie
Holding court in the gourmet enclave of City Market is Chop Butchery, a full-service meat counter specializing in high-end charcuterie. A "gateway pate" (our term) of venison will draw the most squeamish into their magnificent case of old-world preparations; the chicken liver mousse and selections of terrines are also prepared with an expert's palate. Owners Eric Finley and Paula Markus live by the motto "Know Your Butcher," so … now you know them. Drop in for local, responsibly sourced meats, one of the best made-to-order Italian sandwiches in the city, fried chicken, or a hot daily special, such as their cult classic porchetta.
CHOP Butchery & Charcuterie
735 NW 21st Ave.
tel: 503/221-3012
Ned Ludd
This restaurant quietly embodies all that is best about Pacific Northwest food in the current farm-to-table zeitgeist. Chef Jason French and recently-departed co-owner Ben Meyer created the kind of neighborhood eatery that all locavores wish would open in an unassuming strip of urban jumble, close to home, and far from the maddening downtown lines. There's a warm, open room whose central star is the wood-burning oven, whose flavor-enhancing heat is present on the menu from beginning to end. Even a simple roasted chicken is a revelation: intensely flavorful, moist, crisp, burnished, beautiful. The sly heat of harissa in an autumn vegetable hash, the roasted brussels sprouts with lemon and chile flake that we ordered, expecting to have a few, and then devoured an entire bowl of — Ned Ludd wants to feed you the way that you know you should eat, only far more deliciously, and with a fire-roasted s'more at the end.
Ned Ludd
3925 NE MLK Jr. Blvd.
tel: 503/288-6900
PDX 671
Portland's food carts are no great secret — they're the golden idols of the cult of curbside lunch, and it can be difficult, amongst the great clamor of the rapidly opening and closing wheeled dispensaries, to sort the wheat from the chaff. It would be foolish to even try to name a single cart as the best, no-miss destination in all of Portland, but, amidst the great clamor, PDX 671 emerges as an example of a place that's doing everything right: a short menu of exciting new tastes, done incredibly well, for an eminently reasonable price, with a minimum of gimmickry. Their name is a marriage of Portland's airport code and Guam's area code, and in their food local ingredients meet island heat: Guam's flavors reflect influences from China, Japan, Mexico, the Philippines and Spain. There's heat, and sweetness, and smoke tumbling around in the grilled chopped chicken, and the soothing floury crispness of the naan-like flatbread; a whiff of coconut, the tang of garlic and vinegar…you could try to parse the interplay of flavor all afternoon. Or, you could pony up five dollars and simply enjoy an excellent lunch.
PDX 671
Refuel North Station, on the corner of N. Killingsworth St. and N. Greeley Ave.
tel: 971/570-0945
Firehouse
Perhaps Portland's best-kept secret, Firehouse is the genuine expression of cozy, rustic hospitality that so many Napa valley restaurateurs try to emulate. A painstakingly renovated phoenix, the hundred-year old former fire station now serves wood-fired pizza, a smoky rotisserie chicken to rival Zuni Cafe's, delicate but substantial salads, and a smart assortment of antipasti. Come for the lemon and garlic potatoes, stay for the embrace of a warm, happy space. The consummately friendly and professional staff will remember you, and make you forget all the water glasses your apathetic hipster waitress never filled at lesser establishments.
Firehouse
711 NE Dekum St.
tel: 503/954-1702
Wong's King
As a San Francisco transplant, Portland's dearth of Chinese joints (and its attendant, heartbreaking lack of delivery) had me (Chris) entertaining second thoughts in the title company's lobby. Was an ethereal, steaming Cantonese broth—or plate of chow fun, wok-hay'd to the maddening brink of umami—the sacrifice I made to live in a dark and constant downpour? Walking into Wong's King, all was made right. Their hot, quivering, ultra-fresh dim sum rivals that of the finest Oakland parlors, and their dinner menu satisfies the spectrum of adventurousness. From "chicken paws" to potstickers, from duck mandibles to your country cousin's favorite sweet-and-sour, Wong's King offers huge variety, upscale ambience, buttoned-down service, and the enormous relief of a world-class plate of salt & pepper squid. Seafood is a specialty, with many live wells on display.
Wong's King
8733 SE Division St.
tel: 503/788-8883
Saraveza
You'd have to be living under the media equivalent of a rock to not know that Portland has become synonymous with great craft beer. What you might not know, however, is that there are places other than the two most prominent breweries and their attendant pubs where you can sample the bounty in a cozy, convivial atmosphere. Saraveza, in North PDX, is just such a place. A self-proclaimed "bottle shop and pasty tavern," this Wisconsin-loving bar is the rec room you always wished your parents had. Tables patterned with bottle caps, warm stained glass lanterns, a general woolly cozy glow, and a menu featuring both Chex mix (house-made) and meat pies all conspire to create an atmosphere that is perfect pub. And then there is the beer: self-service out of a giant fridge with soft 50's lines, or on tap in a wide array of hues and strengths, all carefully curated to bring the delicious. The pies are flaky and savory, the pickles piquant and sharp, and you can always get a Rice Krispie treat or a cupcake at the end of it all. Is that Garrison Keillor in the corner with a Ninkasi stout? It probably is.
Saraveza
1004 N Killingsworth St.
tel: 503/206-4252
Where to Stay
The Ace Hotel is Portland. Chic in a carefully distressed way, from the dark wood and clawfoot tubs to the Pendleton wool blankets on the comfortable beds; coolly edited without being downright cold; and located next to two Portland classics and a soon-to-be-classic: Kenny and Zuke's, Stumptown Coffee (technically in the lobby), and Clyde Common, right next door. Around the corner is the Cleaners, an event space often used for private supper club functions; play your cards right in the Clyde bar (home to a mind-boggling list of single malts and some of the best cocktail mastery in town), and you might very well end up with an invite to one. It's a block from Powell's, across the street from the Living Room Theater (catch up on the latest Phillip Seymour Hoffman flick), and each of its rooms features a unique artwork from a local artist. You could stay in the hotel, travel in a one-block radius and still come away with a decent idea of what this city is all about: warmth, drink, delicious bites, dark bars, and books. But it also makes an excellent jumping off point for further explorations about town.
Ace Hotel
1022 SW Stark St.
tel: 503/228-2277
Interactive Map: Chris Onstad and Sarah Kanabay's Portland Dozen
View The Saveur City Dozen: Chris Onstad and Sarah Kanabay's Portland in a larger map
When not lamenting the perpetual depression of his couch-ridden dachshund, author and award-winning cartoonist Chris Onstad enjoys nothing more than sharing an evening with his codependent enabler glutton friends. He holds an unimportant degree from an important university.
Writer Sarah Kanabay can usually be found on a side street in Portland, hot on the trail of an edible Italian sandwich or a Chinese place that might deliver to her neighborhood. A former prep cook, she trekked across the windmill-dotted fields of America to attend the Oregon Culinary Institute — and stayed to eat her way across the city after graduating with a degree in pastry.