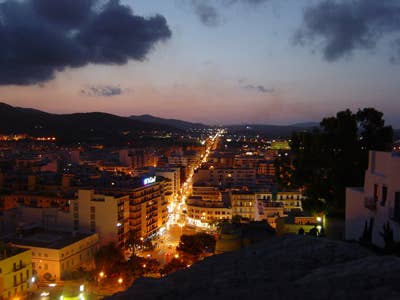 Travel
City Dozen: Cila Warncke's Ibiza
Every city is full of magnificent things to eat, things to buy, and things to do — you just need to find them. In our City Dozens series, local experts from around the world pick twelve can't-miss options for the culinarily-minded traveler. Check out all our City Dozens in the archive »
Ibiza may be best known as a party hot spot for all-night clubbing, but its rich history belies its boozy reputation. First settled around 4500 BC, Ibiza ('Eivissa' in Catalan) was ruled by Phoenicians, Carthaginians, Romans, Moors and, since 1235, Catalans. The key to its desirability is ses Salinas - the salt flats which have provided seasoning to surrounding countries for three millennia. (Don't leave without picking up a sachet of Sal de Ibiza, the source of the nickname "the White Island.")
But salt isn't Ibiza's only gustatory delight. Its hilly, pine-scented interior boasts brick-red soil where citrus, carob, figs, olives, peppers, squash, tomatoes, melons and herbs thrive, and the turquoise sea yields exquisite fish - get up early one day and go to the port to watch the fishermen offload the night's catch. Dining in Ibiza is relaxed; don't mistake the leisurely pace of service for indolence, since the concept of 'turning a table' has yet to take hold, and wait staff expect you to linger. You can eat wonderfully well in Ibiza Town alone, but to appreciate the diversity of Ibicenco cuisine, hire a car to explore the seaside chiringuitos and country restaurants. A final tip: be sure to say si when offered a chupito de hierbas - a shot of the strangely addictive local liqueur is the perfect way to finish your meal.
Jump to the interactive map »
La Paloma
Run by two generations of an Italian family, La Paloma is almost unbearably charming. Set in a citrus-fringed corner of the village of Sant Lorenc it is also one of the island's few vegetarian-friendly spots. The birds and flowers that dance across the walls were hand-painted by local doyenne Orietta, and the food is created with equal love and attention. Lunches are simple affairs: salads bursting with tomatoes, lettuce and herbs from their organic garden; sandwiches on freshly baked focaccia; and crudites served with the sublime hummus. Dinner is simple and robust: steak; risotto; an organic, vegan option that changes daily; fresh fish; and sumptuous desserts.
La Paloma
C/ Sant Llorenç 4
San Lorenzo
tel: +34971325543
Es Boldado
One absolute must-see is Es Vedra, a limestone islet just off the southwest coast. Reputedly the third most magnetic place on earth, semi-spooky stories abound featuring underwater lights, hovering aircraft, and converging ley lines. Even skeptics admit there is something otherworldly about Es Vedra's imposing white flanks and one of the best views is from Es Boldado, above the beach of Cala d'Hort. A no-frills fish restaurant, Es Boldado serves up the fattest mussels I've ever eaten, paella, its own-recipe seafood stew, and impeccably fresh fish. The cliff-top perch makes it an ideal place to enjoy a glass of wine and watch the sunset.
Es Boldado
Ctra San Miguel KM 3,5
Santa Gertrudis
tel: +34 971 197 516
** La Bodega**
Lush vines cover the façade of this jewel of a tapas joint nestled beneath the walls of Dalt Vila. The multi-hued lights that bathe its vaulted stone ceiling lend a chapel-like atmosphere but the yard-long wine list, and potent cocktails quickly dispel solemnity. There are cosy booths at the back but La Bodega is better enjoyed in company. Its long, central table by the bar ensures you're never more than a gesture away from the next round of drinks and a big group is the perfect excuse to order one of everything on the menu. Don't miss juicy, garlicky prawns, piquant chorizo, and patatas bravas. (Be aware: They don't take credit cards.)
La Bodega
Calle de las Farmacias (Rambla Dalt Vila)
Ibiza Town
tel: +34 971-192-740
El Olivo
Meals at El Olivo have a delightfully playful sense of occasion, thanks to its prime people-watching location in Dalt Vila's bustling Plaza de Vila—though once you're seated, you may have a hard time tearing your eyes away from the feast before you. Chef Frederic uses local produce to create unforgettable dishes like fresh-caught skate with capers and butter sauce, rabbit stew with pickled lemons, and a goat's cheese stuffed fillet of pork. Like many Ibicenco restaurants it is oblivious to vegetarianism: If you don't eat meat or fish, you'll have to make do with just bread, salad, and dessert.
El Olivo
Plaza de Vila, 7-8-9
Ibiza Town
tel: +34 971 30 06 80
Can Caus
A working farm, Can Caus produces a range of foods for the local market, but their meats and cheeses are best enjoyed in their homey, wood-beamed restaurant. Carnivores will delight in an array of meats including lamb, rabbit, ribs, and chorizo cooked in the traditional style, a la brasa, and served with garden-fresh salad. Veggies are surprisingly well-catered to as well: the paradilla de verduras is a revelation, serving up smoky corn-on-the-cob, eggplant, zucchini, onions, and mushrooms the size of saucers. Order a selection of the homemade goat and sheep's milk cheeses to nibble on, and save room for a slice of flao, a typical Ibicenco pastry made from mint, egg and soft cheese.
Santa Gertrudis
tel: +34 971 197 516
Sa Caleta
One of Ibiza's oldest chiringuitos, Sa Caleta inspires feverish devotion. Locals adore it while visitors return year after year, like pilgrims to a shrine. Overlooking Es Bol Nou, a minuscule beach guarded by vermilion cliffs, it is equally enjoyable in the summer sun, or cozied up inside on an autumn afternoon. They serve heroically proportioned paellas and fideus - a variation of paella made with fine noodles instead of rice - as well as a selection of fresh-caught seafood. Pick your own shellfish or lobster from the huge tank inside, then nibble on bread, olives and aioli while the kitchen prepares it. Finish your meal with cafe Caleta - a liqueur-spiked coffee served flambe that guarantees a lingering, boozy afterglow.
Sa Caleta
Calle Caleta
Sant Jordi
tel: +34 971 187 095
Bella Napoli
There are plenty of good pizza places in Ibiza, but the hands-down best is Bella Napoli. It has a prime spot on the promenade next to the ferry port in Ibiza Town, but the main attraction isn't the location: it's a huge, wood-fired brick oven that turns out the most delicious thin, crispy pizza I've ever had the pleasure of eating. Dinner companions assure me the fresh pasta, steak, and calzones are equally rewarding, but after eating the pizza it's hard for me to imagine ordering anything else.
Bella Napoli
Santa Eulalia Des Riu Avgda 9
Ibiza Town
tel: +34 971 310 105
Cafe Sidney
While its sister restaurant in Ibiza Town's Marina Botafoch caters to the young, hip, and possibly-still-loaded, Santa Eularia's Cafe Sidney has a more grown-up vibe, as befits its swanky setting. Should you be fortunate enough to arrive by boat, Sidney offers shore-to-ship catering. Otherwise, take a table on the terrace at the end of the promenade and enjoy the view of the yacht-studded marina over a lazy breakfast of fruit, ham and cheese, or one of their famous salads and a glass of cava.
Cafe Sidney
Zona Del Port Esportiu
Santa Eularia des Riu
tel: +34 971 332 214
Es Tap Nou
A combination fruit-and-veg stall, juice bar, and sandwich shop, Es Tap Nou is a great place to stock up on groceries or recharge after a day of sightseeing. There's an extensive menu of freshly squeezed juices, and their tostadas, made from garlic-and-herb spiked tomato paste on a toasted baguette, are a terrific snack. Huge salads are made with organic local veg and topped with slabs of goat's cheese and other delicacies. A word of caution to the meat-averse: they habitually adorn the salads with a handful of shredded ham, so be sure to specify in advance if you don't want any. .
Es Tap Nou
Carre Madrid, 18
Ibiza Town
tel: +34 971 399 841
Madagascar
Madagascar is in the Plaza del Parque, the social hub of Ibiza Town and the see-and-be-seen place to hang out, check your email, and prepare for the night ahead. In summer, Madagascar dishes out coffee, beer, and bocadillos to tourists and workers, but the spot really comes into its own during wintertime. When autumn arrives, the locals flock back to reclaim their seats from the now-gone tourists, and spend hours reading the papers, playing chess, or gossiping over wine and olives. The food is basic but tasty, with a selection of tostadas, oversized sandwiches, salads, and crispy little pizzas .
Ibiza Town
tel: + 34 626 477 233
Comidas San Juan
It doesn't take reservations, doesn't make substitutions, and the staff could care less if you're surprised to find chunks of sausage in your vegetable stew, but to know Comidas San Juan is to love it. For one thing, it's ridiculously cheap: a three course meal, with wine, is under €15. For another, everyone is crammed together at communal tables, turning dinner into a polyglot social adventure. Rounding out its rustic charm is the fact the hand-scrawled menu is only in Catalan. Fortunately there is no such thing as a bad dish - even if you don't know exactly what you're eating, you're bound to enjoy it.
Comidas San Juan
Carrer Montgri 8
Ibiza Town
tel: +34 971 311 603
Croissant Show
Open from the wee hours till late at night, Croissant Show is no mere patisserie. It is the breakfast venue of choice for the morning after the night before, and a perennially popular spot for a beer or espresso to kick off nighttime hijinks. Moustachioed proprietor Andres is a local icon and his multi-lingual staff serves up melt-in-your-mouth pastries, fruit tarts that look too good to eat, sandwiches, fresh orange juice and coffee made to exacting French standards. Nab an outdoor table and enjoy passing parade of families, glamour queens, street musicians and club kids.
Croissant Show
Mercado Viejo
Ibiza Town
tel: +34 971 31 7665
Interactive Map: Cila Warncke's Ibiza Dozen
Writer and epicure Cila Warncke lived in Ibiza for three years and is currently based in London, UK.