City Dozen: The Berkshire Mountains
Every city is full of magnificent things to eat, things to buy, and things to do — you just need to find them. In our City Dozens series, local experts from around the world pick twelve can't-miss options for the culinarily-minded traveler. Check out all our City Dozens in the archive »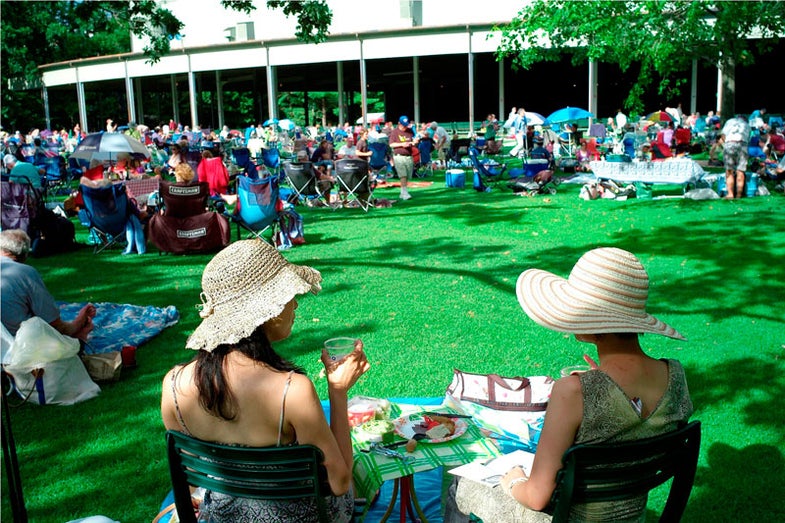 Summer is the time to visit the small hamlets clustered in the Berkshire Mountains, a tree-covered highland that straddles western Massachusetts and Connecticut. Equal parts fertile farmland, high art, and Yankee liberalism, this corner of New England feels like a slice of utopia. But I have a particular fondness for the Berkshires' Massachusetts towns. The area is home to some of the best seasonal arts in the country: the Williamstown Theater Festival; Jacob's Pillow in Becket, host of the world's finest dancers in the summer; and Tanglewood in Lenox, summer home to the Boston Symphony Orchestra. Talents past also lend this place gravitas—Edith Wharton's mansion in Lenox is now open to visitors, as is Norman Rockwell's museum in Stockbridge, and Herman Melville wrote Moby Dick in nearby Pittsfield. As rich as the culture is, there's a homegrown food scene to match it. From the small farms that dot the area that put forth excellent meats, dairy, and produce, to local cheese makers, coffee roasters, artisan bread bakers, and more, the Berkshires is a fine place to celebrate all the senses. — Gabriella Gershenson
SAVEUR Senior Editor Gabriella Gershenson has been visiting the Berkshires, particularly Tanglewood, since she was a toddler. She's been spending even more time in the area since her parents' recent move to Pittsfield, MA.
Barrington Coffee Roasting Company
This airy roastery is ground zero for coffee enthusiasts in the Berkshires. Founded by self-described java geeks Gregg Charbonneau and Barth Anderson, Barrington Coffee Roasting Company specializes in certified organic coffees, roasted onsite in Lee. In addition to their signature blends, single-origin coffees, and "limited offerings"—from far-flung locales such as Ethiopia, Costa Rica, and Hawaii—the experts at Barrington regularly hold "cuppings;" professional tastings of their brews. Visitors are made welcome in a lovely ante room, where a carafe of hot freshly brewed coffee is available for sampling. The store also peddles in drinking accessories, such as the classic Chemex coffeemaker, whose headquarters are in nearby Pittsfield.
Barrington Coffee Roasting Company
165 Quarry Hill Road
Lee, MA 01238
tel: 413/243-3008
Charles H. Baldwin & Sons
One of the Berkshires' most charming shops, Charles H. Baldwin & Sons has been making vanilla extract at this West Stockbridge location for over 100 years. Owned by Earl B. Moffatt, Baldwin's great grandson, the general store is a destination for Madagascar vanilla extract, which percolates away in plain view in a copper still, and is aged in nearly century-old oak barrels. In addition to the extract, vanilla powder, whole beans, and vanilla sugar, Charles H. Baldwin & Sons sells baking supplies, and doubles as a novelty shop carrying quirky gifts and paper goods.
Charles H. Baldwin & Sons
1 Center Street
West Stockbridge, MA 01266
tel: 413/232-7785
The Meat Market
Chef-entrepreneur Jeremy Stanton's locally-minded butcher shop is a recent yet beloved addition to the Berkshires. Stanton's commitment to sourcing from nearby independent farms is apparent in the quality of his custom cuts, whether it's a porterhouse steak or a goat's head. In addition to selling the fruits of the abattoir, Stanton sells prepared foods (most of them are listed on the vast blackboard behind the counter) and runs a catering business that specializes in cooking over open fires. Depending on the day, you may encounter house-made headcheese among the charcuterie, as well as a menu of sandwiches and meat-centric specialties, such as beef pie with a leaf-lard crust.
The Meat Market
389 Stockbridge Road
Great Barrington, MA 01230
tel: 413/528-2022
Berkshire Mountain Bakery
This European-style artisanal baker makes the best breads in the Berkshires. Richard Bourdon, who runs the bakery out of a former paper mill, has been studying his craft for decades. He specializes in slow-fermented sourdough breads with incredible depth of flavor, an elastic, glossy crumb, and chewy, crackly crust. Popular loaves include the bestseller sunny flax, rich with flax and sunflower seeds, as well as the bread and chocolate, heavy with bittersweet chocolate chunks. A small adjoining cafe serves the bakery's own sourdough pizzas.
Berkshire Mountain Bakery
367 Park Street, Route 183
Housatonic, MA 01236
tel: 413/274-3412
Rawson Brook Farm
The winding road that leads to Rawson Brook goat dairy is gorgeous, and to describe its charms (brambly, sun-dappled, overgrown) would require many a rustic cliche. Though it's easy to miss the turn off to the farm, once you arrive, you'll know you're in the right place, as you'll be greeted by a small herd of Alpine goats. Their milk produces some of the freshest, tangiest soft goat cheese around. There's no store, but inside a small shed on the grounds is a refrigerator full of tubs of goat cheese (plain, chive and garlic, or thyme and olive oil—all delicious) that can be purchased on the honor system.
Rawson Brook Farm
New Marlborough Road
Monterey, MA 01245
tel: 413/528-2138
Rubiner's Cheesemongers
The inventory at this upscale Great Barrington grocer, run by cheese aficionado Matthew Rubiner, reads like a who's who of fetish foods: cheeses from Neal Yard Dairy in London, Mast Brothers chocolate from Brooklyn, vintage European sardines, Vermont-grown Japanese rice—you get the idea. Located in a grand neoclassical building, the carefully curated shop exudes prestige; as such, the selection is reliably beautiful, if preciously priced. In the summer, Brooklyn's Blue Marble dispenses ice cream from a cart out front, and year-round, Rubi's, the cafe behind the market, serves coffee, sandwiches, and even wines by the glass.
Rubiner's Cheesemongers
264 Main Street
Great Barrington, MA 01230
tel: 413/528-0488
Guido's Fresh Marketplace
With locations in Pittsfield and Great Barrington, Guido's Fresh Marketplace is the supermarket for discerning home cooks in the Berkshires. The store is an ideal place to stock a vacation rental, or put together a Tanglewood-bound picnic. The family-run grocer offers a fine selection of local meats, cheeses, seafood, and produce, as well as a respectable natural foods section. It's also good for specialty items —whether you're seeking Cholula hot sauce, Maldon salt, or SoCo Creamery ice cream. Be sure to pick up some Berkshire Bark, Guido's proprietary sweet, a chunky chocolate bar in fine-tuned flavors such as White Lightning, made with white chocolate, lemon zest, cashews, and candied ginger.
_Guido's Fresh Marketplace
1020 South Street
Pittsfield, MA 01201
tel: 413/442-9912
760 South Main St
Great Barrington, MA 01230
tel: 413/528-9255_
Chocolate Springs Cafe
Classically trained chocolatier Joshua Needleman did some time at La Maison du Chocolat in New York City before opening this chocolate shop-cafe in Lenox. His store caters to sophisticated palates while maintaining a welcoming, family-friendly vibe. Here, you'll find delicate Early Grey-infused ganaches and handmade passion fruit marshmallows alongside chocolate-dunked Oreos and molded chocolate Buddhas. There are a few seats for those who wish to linger over hot chocolate, house-made ice creams and sorbets, or an assortment of pastry, such as macarons and chocolate chip cookies.
Chocolate Springs Cafe
55 Pittsfield Road
Lenox, MA
tel: 413/637-9820
Moe's Tavern
Though it shares a name with Homer Simpson's favorite dive, this craft beer bar is a bit more discerning. The dozens of mostly domestic brews range in style from robust IPAs to toasty porters. The breweries represented, such as Sixpoint, Troeg's, Dogfish Head, and Unibroue, hail from all over North America. Moe's looks as a beer bar should — with brewery paraphernalia covering the walls, and rotating tap selections scrawled on every available surface. Moe's doesn't serve food, but they do invite patrons to order in from local restaurants, and will even provide you with menus.
Moe's Tavern
10 Railroad Street
Lee, MA 01238
tel: 413/243-6697
SoCo Creamery
Every place needs its homegrown ice cream, and for the Berkshires, SoCo Creamery is it. Though the family-run operation is nearly ubiquitous — there are several scoop shops in the area, pints are sold in supermarket freezers, and a stand appears seasonally at Tanglewood — the quality stays true to their small batch values. SoCo uses local berries in their Berkshire Berry flavor, and entices with imaginative flavors such as lavender honey, mission fig, and deep, dark "dirty" chocolate.
SoCo Creamery
5 Railroad Street
Great Barrington, MA 01230
tel: 413/528-9420
Farmers Markets
The Berkshires are rich in local agriculture, and farmer's markets are especially bountiful during the summer. Two of our favorites are in Lenox and Great Barrington. The selection in Lenox tough to beat—each Friday, dozens of vendors display their wares, and the prices are quite reasonable. Keep an eye out for the gorgeous root vegetables and greens from Markristo Farm, and Cricket Creek Farm's Italian-style cheeses made from pastured cow's milk. The Great Barrington market gets the award for most charming — two-dozen vendors gather each week at the site the town's old railroad station. Among them are Maynard Farms, growers of superb stone fruit and berries, and Naga Bakehouse, makers of hand-shaped artisan breads. You may even pay for your spoils with Berkshares, the local currency, which is accepted by more than 400 area businesses. Each is adorned with a local hero, such as Norman Rockwell on the $50 bill.
_Great Barrington
40 Castle Street
Great Barrington, MA 01230
tel: 413/528-8950
Lenox
70 Kemble Street
Lenox, MA 01240
tel: 413/528-8950_
DreamAway Lodge
One of the most memorable places for a night out in the Berkshires is Becket's DreamAway Lodge. A relatively short, winding drive from Jacob's Pillow Dance Center, the 200-year-old farmhouse, perched on the edge of October Mountain State Forest, is equal parts roadhouse, indie music venue, and local hangout. The place is decorated in mismatched furniture and bric a brac, and the menu is as comforting and eclectic — offerings range from a juicy bacon bleu cheese burger to Moroccan tagine. The hippie vibe is palpable, and there's a reason — Arlo Guthrie was a regular back in the 1970s, and thanks to him, the restaurant appears in Bob Dylan's film Renaldo and Clara. Be sure to visit when there's a band (which is most of the time). There's nothing like starting the evening at the bar, progressing to the dining room, and ending it dancing barefoot on the grass.
DreamAway Lodge
1342 County Road
Becket, MA 01223
tel: 413/623-8725
Where to Stay: Porches Inn
Located next to Mass Moca (the Massachusetts Museum of Contempary Art) in North Adams, Massachusetts, Porches is a convenient and quirky perch in the Berkshires. About 30 minutes from Lenox and even closer to Williamstown, the refurbished Victorian row houses host 47 comfortable rooms, all furnished in a homey, grandma-chic style with wainscoting, decorative plates on the walls, and some rooms that come with their own porch. Breakfast is delivered to your room in galvanized metal lunch pails, a sweet touch.
Porches Inn
231 River Street
North Adams, MA 01247
tel: 413/664-0400
Rates: $230-$304 double
Where to Stay: Stoneover Farm
Just a few minutes walk from Tanglewood and the Kripalu Center for Yoga & Health is this charming restored farmhouse and inn. Proprietors Suky and Tom Werman refurbished the 19th century property into three well-appointed suites and two standalone cottages, both with views of the grounds—don't miss the picturesque duck pond—and above-and-beyond amenities that may include a terrace, fully equipped kitchens, a Bose sound system, and more.
Stoneover Farm
169 Undermountain Road
Lenox, MA 01240
tel: 413/637-9100
Rates: $325-$425 double
Where to Stay: Canyon Ranch
Situated in the heart of Lenox, this renowned spa, with outposts in Miami, Las Vegas, and Tuscon, got its start right here in the Berkshires. The location is superb—rolling, well-manicured grounds of a nineteenth century mansion just a few minutes from the town center. In addition to accommodations, Canyon Ranch offers a full range of fitness classes, health, spa, and beauty services. But the focus here is on wellness, and in that regard, the place comes off more like an old-school sanitorium more than a ritzy spa. If you don't wish to make a stay of it, Canyon Ranch also offers an 8am to 5pm day rate that includes a spa service, lunch, and access to all classes for $310.
Canyon Ranch
165 Kemble Street
Lenox, MA
tel: 800/742-9000
See room and spa rates »
Interactive Map: Gabriella Gershenson's Berkshire Mountains Dozen
View The Saveur City Dozen: Gabriella Gershenson's Berkshire Mountains in a larger map