City Dozen: Hayley Stevens's Naples and Sorrento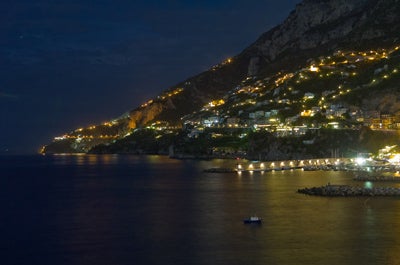 No trip to Campagna is complete without a stop in the region's capital city of Naples. Situated in the shadow of Mount Vesuvius, with a cultural and artistic history that goes back over 2,000 years, today it just might be most famous throughout the world for its pizza, famously floppy-centered and char-crusted, fired in wood-burning ovens that can reach blistering temperatures. Given the area's rich culinary heritage (beyond pizza, it's also a home to extraordinary pastas, gelati, and vast quantities of extraordinary meats and produce), it's no surprise that chefs are starting to approach the Neapolitan cocina with levels of devotion previously reserved for the likes of French.
Hayley Stevens, Chef Instructor at the Italian Culinary Academy at the International Culinary Center (also home to the French Culinary Institute) in New York City earned her professional certification from ALMA, the International School of Italian Cuisine in Colorno, Italy. After graduating, she spent two years as a chef at two-Michelin star Don Alfonso 1890 in Sant'Agata Sui Due Golfi, a small town not too far from Naples, where she dove into Sorrentine and Neapolitan food culture headfirst. "I loved the vegetation and seeing the volcano [Mt. Vesuvius] every day," she says of her time in the area. "I've never been so close to the sea." From one-euro pizza to cage-caught local squid and pasta, here are Hayley's twelve insider picks for Italy's west coast, as told to SAVEUR.com's Ganda Suthivarakom.
La Bellavia Caffe
This is a very traditional Napoletano bar. You get the very thick caffe, so thick that when you put the sugar in your espresso cup, it doesn't fall through the foam. They make all of the traditional desserts. Get the cornetti (breakfast brioche) and the sfogliatelle, rippling dough shaped like a clam shell and filled with ricotta thickened with semolina. There's an actor, Germano Bellavia, in the soap opera Un Posto al Sole who's famous to Naples—this is owned by his family. I was going there every day with my uncle this past summer.
La Bellavia Caffe
Via Luca Giordano, 158
80128 Naples, Italy
tel: +39 081/229-83-29
Inexpensive
Pizzeria la Notizia
It's very subjective, but for me, this is the best pizzeria in Naples. It's so good. It's a small hole-in-the-wall restaurant run by Enzo Cocchia. They have a degustation of pizza menu and they do everything from pizza stuffed with smoked provolone and eggplant to fried pizza to flat pizza. They use the typical dough of Naples, which is a softer dough, and a wood-fired oven—the difference is that the ingredients are far superior. This is in the Vomero, the area of Naples that's a little bit more well-to-do. You have to take a taxi there, and it's only open at night. Go with your friends.
Pizzeria la Notizia
Via Michelangelo da Caravaggio, 55
80126 Naples, Italy
tel: +39 081/714-21-55
Inexpensive to Moderate
Il Pizzaiolo del Presidente
This restaurant is in the historical center of Naples, so it's on the path for tourists who want to visit the Naples underground. It's called Il Pizzaiolo del Presidente because Bill Clinton ate there, but besides the recent name change, it's been there forever. They make pizza that you can buy on the street. It's a little bit bigger than the size of your hand, so for one euro, you get the pizza margherita with the tomato and the mozzarella. That's my favorite lunch place, and it's run by Ernesto Cacialli.
Il Pizzaiolo del Presidente
Via dei Tribunali, 120
80138 Naples, Italy
tel: +39 081/210-903
Inexpensive
Gelateria Gabriele
This gelateria is in Vico Equense, on the way to Sorrento from Naples. They make everything in house. It's a latteria, which means they make their own milk products. It has the most beautiful gelato. The hazelnut gelato, the pistachio gelato, the nut gelatos are gorgeous. They say in the smallest town in Italy, there's always a bar and a gelateria.
Gelateria Gabriele
Corso Umberto I, 5
80069 Vico Equense, Naples, Italy
tel: +39 081/879-87-44
Inexpensive
Taverna del Capitano
What a lot of people don't know is that Sorrento, which is really, really touristy, has a peninsula that comes away from the mainland. On it, there are tons of little towns and beaches, and for me, it's better than the Amalfi coast. We used to go a beach there called the Marina del Nerano, and Taverna del Capitano is a two-Michelin star restaurant there. The chef is Alfonso Caputo, and he's from Naples. His cooking has a lot of Asian influence, and he's a little experimental with his cuisine. You get the most beautiful seafood there, like sea urchins that are just gorgeous, served raw on the half-shell. It's more modern cuisine, and it's right on the beach. I think it's 80 Euros for a tasting menu.
Taverna del Capitano
Loc. Nerano, 10
80061 Massa Lubrense
Naples, Italy
tel: +39 081/808-10-28
Expensive
Lo Stuzzichino
This is the place of a friend of mine, Mimmo, and his wife Dora. They run the front of house and his father is the chef. He's been in the kitchen for 30 years, and they make traditional food from the Sorrentine peninsula, like scialiatielli al profumo di limone. Scialiatelli is a pasta that's made with an herb, usually parsley or basil, that's chopped into the dough, which has olive oil and milk, so it's a little different than egg pasta. It's a tender dough. It looks like fettucine cut into smaller pieces the length of your thumb. They make it with mussels, tomatoes, and lots of lemon zest. The Sorrentine peninsula is famous for its lemons.
Lo Stuzzichino
Via Deserto, 3
80061 Massa Lubrense
Naples, Italy
tel: +39 081/533-00-10
Moderate
Provolone del Monaco
This cheese is aged in the cave of [Michelin-starred restaurant] Don Alfonso, an Etruscan cave where they keep their wines. You have to take a spiral staircase down. We would hang the cheese there and it would develop a really thick mold; it's soft and has holes in it. The flavor is tangy and mildly gamy with a creaminess.
*Fruittivendolo Agata**
There was a woman named Agata with a stand on Corso Sant'Agata in the town of Sant'Agata, and she had the most beautiful locally-grown produce—the best peaches you could ever imagine. They had tiny apples that are typical there called the mela annurca. They pick the apples, and they bronze them on straw in the sun, turning them by hand frequently for 10-15 days. It's a sweet, dense, crisp apple.
Fruittivendolo Agata
Corso Sant'Agata
Sant'Agata Sui Due Golfi
Naples, Italy
Hotel San Pietro
We didn't have much money as cooks, but we were willing to go to San Pietro, a 5-star hotel, to eat a lemon granita and sit on the terrace. It's the most beautifully-located hotel. It's right outside of Positano, and you can see Capri in the distance. The terrace has beautiful tiling, open seating and gardens that cascade. We'd buy the cheapest thing on the menu— I think it was 12 Euros a granite—but it was worth the money. They're known in that area for their cedri, which are lemons about the size of your head. They're super sour, mostly pith, but they're used for candying the peel and flavoring things.
Hotel San Pietro
Via Laurito, 2
84017
Positano, Italy
tel: +39 089/875-455
Expensive
Garden of Don Alfonso
Don Alfonso has a garden on the punta campanella, which is the farthest point of the Sorrentine peninsula. His garden directly faces Capri. That's where we would get a lot of our produce. If he really liked you, he would take you on a tour as a guest. If we needed something for a special dish we were making that day, we would take the little motorcycle with the sous chef and we would pick mint or whatever we needed.
Garden of Don Alfonso
Corso Sant'Agata, 11/13
80064
Sant'Agata Sui Due Golfi
Naples, Italy
tel: +39 081/878-0026
Caseificio Ponticorvo Luca
I have family in Caserta, which is a city just outside of Naples. This caseificio (cheese producer) makes mozzarella di bufala every day that's just phenomenal. It's beautiful and juicy and tangy. You never refrigerate mozzarella in Italy. You leave it on the counter for a day, two days, but you usually eat it all before then.
Caseificio Ponticorvo Luca_
Contrada Miglio, 25
81012 Alvignano Caserta, Italy
tel. 082/361-09-48
Relais Blu
Go for a 25-Euro bottle of prosecco and they send out little snacks, chic little tasting spoons. We would split a bottle between 4-5 people and look at this beautiful view of Capri. I've never eaten there, but it's the place for a pre-dinner drink.
Relais Blu
Via Roncato, 60
80061 Massa Lubrense
Naples, Italy
tel: +39 081/878-95-52
Expensive
Where to Stay
The Agriturismo le Tore have their own award winning olive oil DOP and a small kitchen where they do rustic breakfasts and reservation only dinners for large parties. It is on top of the penisola sorrentina overlooking the bay of Naples. Very reasonable prices and a great location to visit the Amalfi coast and Sorrento. You must have a car.
Agriturismo le Tore
Via Pontone, 43
80064 Massa Lubrense
Naples, Italy
tel: +39 081/808-06-37
Moderate
View The Saveur City Dozen: Hayley Stevens's Naples in a larger map