City Dozen: Yehudit Mam's Mexico City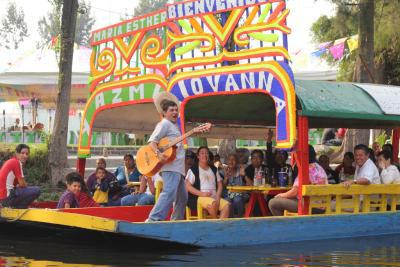 It's hard not to be impressed by the seemingly endless, landlocked sprawl when you fly into Mexico City International Airport. Popocatepetl Volcano rises in the distance southeast of the city, while candy-hued buildings and auburn roofs color the packed urban landscape. Mexico City, also known as Distrito Federal (D.F.) or the Federal District, traces its origins back to the Aztec empire, when it was that great civilization's storied capital, Tenochtitlan. Modern visitors who can get past its impressive gridlock, the pollution, and its reputation for crime will experience a city rich with historical heritage and incredible food traditions.
Advertising creative director Yehudit Mam, a native of D.F., embraces her hometown's sometimes chaotic, sometimes surreal nature. "Everything is intense and everything hits you in the guts: colors, flavors, odors, contrasts," she says. Now a New Yorker, she returns to her birth city twice a year to see family and friends and says that what she misses most about Mexico City is, "without question, the food." From market stall pork tacos to strawberry-flavored pulque on the gondolas of the city's canals, here are Mam's twelve insider picks for culinary adventurers, as told to SAVEUR.
View The Saveur City Dozen: Yehudit Mam's Mexico City in a larger map
Carnitas at Mercado de Medellin
I am Jewish and I have a theory that God told the Jews not to eat pork after He ate Mexican carnitas because He wanted them all for Himself. On Saturdays and Sundays, the pork butcher at the very corner of the butcher section at this amazing market brings homemade carnitas–by my estimation, the best in Mexico City. Order the taco surtido, which includes mysterious but astonishingly delicious innards.
Mercado de Medellin
Eje 3 Pte Medellin and Campeche
Roma
Inexpensive
Contramar
Contramar is a seafood restaurant that melds traditional Mexican preparation with contemporary flair, while avoiding the pitfalls of pretention that makes most nouvelle Mexican cuisine grate on my nerves. Their tuna sashimi tostadas are legendary. Have the tacos de esmedregal al pastor (jackfish), too, or the fresh crabmeat tostadas, and the empanadas de cazon (shark). The service is impeccable, the place airy and welcoming. Get there early (before 3pm for lunch) if you want to find a table.
Contramar
Durango 200
Roma
tel: +52 5514/3169
Moderate
El Cardenal
El Cardenal prides itself on absolutely authentic traditional Mexican cooking. They bake their own bread: crunchy, chewy golden bolillitos (with fresh crema), pan dulce, frothy Mexican chocolate and eggs prepared in more ways than you think possible. Mexicans are into ordering goat barbacoa for breakfast, which comes to the table in its own burning coal anafre. There are also two other branches downtown: one on Avenida Juarez and one on Calle Palma.
El Cardenal
Avenida de las Palmas 215
Lomas de Chapultepec
tel: +52 55/2623.0401
Moderate
Bar La Ópera
The food is quite decent at this gorgeous cantina from the turn of the century. You can look for the bullet that Pancho Villa supposedly aimed at the ceiling. The soups are great: consome de pollo (chicken consomme), jugo de carne (beef soup), or sopa de tortilla (tortilla soup). There are snails in chipotle sauce too. Eat and drink while being serenaded by a melancholy romantic trio at 70 pesos per torch song. It's a Mexico City landmark.
Bar La Ópera
Calle 5 de Mayo 10
Alameda Central
tel: +52 55/5512.8959
Moderate
Covadonga
Roma is now the hippest, coolest nabe in town. Hit the cavernous cantina Covadonga on Thursday nights to mingle with the Mexican intelligentsia. Down salt-rimmed micheladas with Mexican and Spanish snacks like tortilla española, thick with sliced potato.
Covadonga
Puebla 121
Roma
tel: +52 55/5533.2922
Inexpensive
Cacahuates Japoneses
Mexican Japanese peanuts happen to be the number one query on my blog. People ask for the recipe to make them at home. I believe that they are achieved by nuclear fission and should not be attempted in a regular kitchen. They are covered in a crunchy shell made of wheat flour and soy sauce. The very best and classic brand is Nishikawa. Squeeze a fresh lime inside the bag. Add some chili powder (El Tajin brand is good). Shake bag. Then squeeze the contents out with your teeth. When you are done, rip off the cellophane bag and lick it clean. You are now an honorary Mexican.
Available at convenience stores
Xochimilco
The "Venice of Mexico City" is totally surreal. Rent a trajinera and have a leisurely ride in the canals. I imagine that this is what life in ancient Tenochtitlan may have been like. Vendors hawk food from their gondolas. Mariachi bands come over and sing you songs. You can watch Mexican families enjoying themselves at leisure, eating, drinking and singing their hearts out. Ask the gondolier to take you to the creepy Isla de las Muñecas (Island of the Dolls), and the freak out will be complete. It's a quintessential Mexican experience.
Xochimilco
Guadalupe I. Ramirez 4
Inexpensive
Pozole at the Mercado de Coyoacan
Coyoacan is a lovely colonial area in the south of the city that includes Frida Kahlo's house, Leon Trotsky's house, a gorgeous central plaza, quiet cobblestoned streets and little squares. I make a pilgrimage to eat the pozole at the small food market catty corner from the church. You will recognize the stall by finding the silver-haired gentleman who commandeers it and because there is a line five-deep of people anxiously waiting for seats. For less than 5 bucks you get a steaming bowl of rich red broth and generous helpings of pork and hominy, locally called cacahuazintle, with all the trimmings. Best in the universe.
Mercado de Coyoacan
Ignacio Allende and Higuera
Coyoacan
Inexpensive
Klein's
A Mexican Jewish diner at Ave. Presidente Mazaryk in the heart of Polanco. The food is more Mexican than Jewish, and not kosher, but you can get an awesome torta de salami, sopa de fideos (my favorite soup), great sopes, and even dishes for the diet-conscious. It's a fabulous diner.
Klein's
Presidente Masaryk 360
Polanco
tel: +52 55/5281.0862
Moderate
The classic margarita at the San Angel Inn
The San Angel Inn is a fancy Mexican restaurant housed in a gorgeous 17th-century hacienda, with beautiful manicured grounds. The food is just okay, but their beautifully serene garden patio bar is a must. As the waiter says, "Yes, we have tamarind and mango and frozen, but you are here for the classic 1945 margarita." It's served from a little silver flask in a dainty martini glass. Up with salt—no ifs, ands, or buts.
San Angel Inn
Diego Rivera 50
San Angel Inn
tel: +52 55/5616.1402
Expensive
El Califa
You gotta have tacos. There are a zillion kinds of them (sudados, dorados, al pastor, al carbon, de canasta) and you should try as many as you can. A great taqueria is El Califa de Leon, in Colonia Condesa. Have the bistek, rib eye, or al pastor tacos. Also have the grilled nopales and the frijoles charros. Experience happiness.
El Califa
Altata 22
Col. Condesa
Inexpensive
Torre Latinoamericana
To get your bearings, go up to the top of the Torre Latinoamericana. See what a city of 20 million souls looks like from above. There is a bar there, too, for a drink at night. Then just stroll around the magnificent historic downtown at ground level. Visit the Palace of Fine Arts, the Zocalo, Plaza de Santo Domingo, the archaeological excavations at Templo Mayor and most importantly, just walk the streets and immerse yourself in the bustling heart of Mexico City.
See Photos: Yehudit Mam's Mexico City Dozen »
Yehudit Mam is a creative director in advertising. She blogs at The Grande Enchilada and I've Had It with Hollywood.