City Dozen: Ganda Suthivarakom's Stockholm
Every city is full of magnificent things to eat, things to buy, and things to do — you just need to find them. In our City Dozens series, local experts from around the world pick twelve can't-miss options for the culinarily-minded traveler. Check out all our City Dozens in the archive »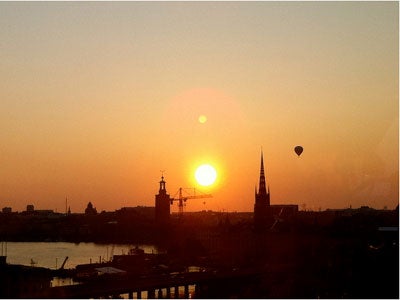 Stockholm, the cosmopolitan capital of Sweden, is renowned for its great fashion, beautiful blondes, and refined interior design. But the city's denizens also apply their aesthetic rigor and regard for natural beauty to an increasingly relevant culinary scene. Pristine raw materials make all the difference because while the growing season here isn't long, it's exuberant. In the outskirts of the city, sweet, jewel-like berries weigh groundcover down in the late summer, from midnight-hued blueberries to thick strands of bright red lingonberries; fresh, feathery-skinned new potatoes taste of earthy minerals; wild chanterelles gathered from dewy glades fill plates in the early fall. Year-round, locals feast on salmon striated with fat fished from clean waters, while the summer brings archipelago parties soaked in caraway-scented snaps and dill crown-boiled crayfish parties. International variety may not be the city's strong suit, but the local cuisine is a world unto itself, nuanced and unfussy.
Saveur.com site director Ganda Suthivarakom lived there for seven months, trying to eat her way around the entire city. She learned to love most herring and may have eaten every pastry available on the islands. Here are her twelve picks for Stockholm, Sweden.
Matsalen
Mathias Dahlgren's fine dining establishment is one of my favorite places to eat in the entire world. He sources Nordic ingredients and prepares them with a worldly sensibility. Luscious raw beef and briny oysters are chopped together and served with a velvet lashing of horseradish cream for the most sensuous beef tartare ever created. Petals of raw salmon with dabs of perfumed lemony artichoke puree distill the essence of spring in a single bite. One dish in particular haunts me — a brioche cube stuffed with bloomy cow's milk cheese, fried in olive oil, and drizzled with sweet honey and a sprinkling of sea salt; it is served with a slim shot glass of bjorksaft, fermented birch sap. It was a portrait of contrasts — salt and sweet, creamy and crisp, yeast and tang — that the record player of my mind has worn out with replaying.
Matsalen
Sodra Blasieholmshamnen 8111 48
Stockholm, Sweden
tel: +08 679 35 84
Rosendals Tradgard
Tucked at the top of a hill in Djurgarden, the former hunting grounds for the royal family, this organic garden serves what its greenhouses and dirt rows yield. The slim menu changes daily, with gorgeous organic salads and soups, an assortment of cakes including a stellar kladdkaka, chocolate mud cake with unsweetened whipped cream, and sandwiches made with the deep, complex breads baked in their own wood-fired ovens. Bask in the sun at tables in their hedge-lined gardens or do as the locals do and picnic in the apple orchard.
Rosendals Tradgard
Rosendalsterrassen 12
tel: +08 545 812 70
Tranan
Don't be fooled by the red and white checked tablecloths: it looks homey, but its kitchen dishes out a modern take on husmanskost, or Swedish comfort food. I could eat a whole basket of their chocolate-dark, sweet house bread slathered with salted butter, but save room for the off-the-menu meatballs with raw lingonberry sauce, mashed potatoes, and cream gravy. This is also a great place to try lojrom, a Swedish specialty — mild, small-bead bleak roe served with buttered toast points, chopped red onion, chives, and sour cream.
Tranan
Karlbergsvagen 14
tel: +08 527 281 00
Lux Bageri
I gained ten pounds during my time in Sweden and I feel sure that Swedish buns are to blame. Sweet, yeasty, soft, and spiced, they are everything my palate craves. Lux has the most decadent ones, but come early for them or risk leaving empty-handed. The kardemummabulle, or cardamom bun, is a classic, with an impossibly lofty rise and thin swirls of spice, but my number one pick is the vaniljbulle, a classic Swedish cinnamon bun with a generous dollop of eggy vanilla custard baked in.
Lux Bageri
Patentgatan 7
tel: +08 656 20 20
Vete-katten
I never tire of Swedish sweets and Vete-katten makes some of the best. Their award-winning semlor, Fat Tuesday buns with almond paste and whipped cream, are justifiably famous, but it's worth visiting them year-round for stellar versions of almond paste-filled mazariner, pretty green marzipan-covered princesstarta, and, my favorite, chokladbiskvier — almond paste cookies topped with a cone of chocolate buttercream covered in a dipped hard shell of dark chocolate.
Vete-katten
Kungsgatan 55
tel: +08 20 84 05
Pelikan
Explore Stockholm's working class roots at Pelikan, a huge, airy beer hall on Sodermalm that claims to date back to the 1600s. Stake out an angular, dark wood booth and stab lustily at cider mustard-glazed schweinehaxe, a grilled pork neck, thick and savory, chased with bulbous glass beakers of snaps on ice.
Pelikan
Blekingegatan 40
tel: +08 556 090 90
Restaurang Aktiebolaget Kvarnen
Swedes are very serious about their herring. Even those who are not a fan of the jarred deli stuff might find a variation on herring to love here. A fine example can be found at Slussen's Nystekt Stromming cart where the sweet, mild fish is lightly breaded and fried and served on_ knackebrod_, the cracker-like Swedish hard bread, with a bit of red onion and crisp cucumber. If that doesn't float your boat, you can also try matjessill, a very lightly brine-cured herring at Sodermalm's Kvarnen. The silky, almost raw flesh shines under a slick of brown butter. The S.O.S. plate there (smor och sill, or herring and butter) is also fantastic, with wedges of Sweden's most famous dairy product, zesty Vasterbotten cheese.
Restaurang Aktiebolaget Kvarnen
Tjarhovsgatan 4
tel: +08 643 03 80
Caramella
Have I told you how much I love sweets? The Swedes do, too; according to this article, the people of Sweden eat more candy than any other nation in the world. They love pick-and-mix bins, and the best selection in Stockholm can be found at Caramella. The vast and well-organized selection includes everything from sour gummy skulls to intensely challenging salty licorice buttons. I love stocking up on things like marshmallowy "strawberry dreams", chewy "forest berries", and creamy black and white Fazermints.
Caramella
Hotorget 1
Stockholm, Sweden
Bla Porten
Instead of a strong brunch culture, the Swedes have the most excellent and enviable fika, which is a coffee break with a little bit of nosh. Bla Porten is an excellent place to enjoy fika with something from their long table of golden pastries. I love their smorgasar, morning sandwiches with various vegetables, cheeses, and meats made on multigrain, seeded rolls and spread with salted butter. Sit by the fountain in their sunny garden during warm months.
Bla Porten
Djurgardsvagen 64
tel: +08 663 87 59
Mosebacke
There are a couple of places on the island of Sodermalm's northern edge where you can get a good view of Stockholm's swirling center and spread, but I like the view from the Mosebacke terrace best. In the summer, hordes of relaxed young professionals descend after work for a beer or four at umbrella-protected picnic tables, so the people watching is as great as the view of the water. It's also a great meeting place for the beginning of the evening, as it's where everyone goes in the early hours during the summer.
Mosebacke
Mosebacke 3
tel: +08 531 994 00
Hotorgetshallen
Östermalms Saluhall, a food hall located in Stockholm's ritziest neighborhood, is more polished, but subterranean food hall Hotorgetshallen has a better variety of both prepared foods and dry goods. An international array of vendors offer cold Turkish meze platters, dried fruits from around the world, sausages from Latin America, and much more. If you're here for the lunch rush, there's nothing better on a cold day than the fisksoppa, or fish soup, from Kajsas Fisk. Huge chunks of tender fish and their sea brethren swim in a dark red tomato broth. Cloud the bowlful with the rib-sticking blob of aioli that comes on top, but don't forget to add a spoonful of spicy harissa at the counter before you find a seat.
Hotorgetshallen
Hotorgshallen 30
tel: +08 20 30 03
Kungsholmens Glassfabrik
This little shop on the less-traversed island of Kungsholmen makes thick, decadent ice cream in classic Scandinavian flavors like cardamom, licorice, and polka (candy cane). A few scoopfuls are best tucked into their housemade cones, which are redolent of caramel and vanilla. They also specialize in every 1980s Swedish child's birthday wish, glassbomber, a layered, dome-shaped frozen dessert..
Kungsholmens Glassfabrik
Pipersgatan 14
tel: +08 650 58 04
Interactive Map: Ganda Suthivarakom's Stockholm Dozen
View The Saveur City Dozen: Ganda Suthivarakom's Stockholm in a larger map
** _Ganda Suthivarakom** is the website director for SAVEUR.com._