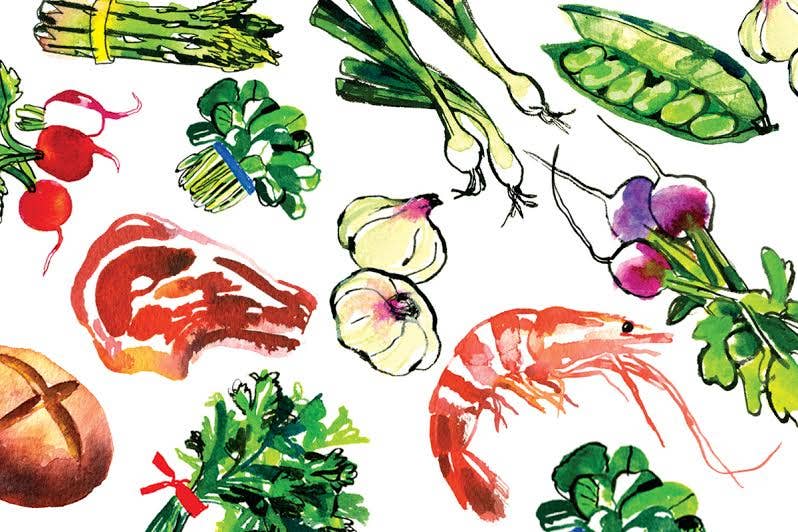 Travel
County Cork: Food Capital
One could look at West Cork as the California of Ireland," says Frank Krawczyk, "not in its climate, but in its openness and creativity." He should know. A bearded, studious-looking Pole who has lived in western County Cork since 1981, Krawczyk (pronounced KRAF-chek) fashions smoky, almost gamy salamis and other hard sausages that are not quite like anything you've ever had before. "I tried to create something with a specific character of its own," he says, "something that defines the nature of West Cork—which is rural but cosmopolitan, very diverse in many ways, and probably the most forward-thinking place in Ireland."
It is also the country's gastronomic capital—its Burgundy as much as its California (if unfortunately lacking the capacity for viticulture that is the pride of those two places). It was in West Cork—which stretches west of Cork City to the County Kerry line—that the modern-day Irish artisanal food movement was born. Today the region boasts artisanal salmon smokers and sausage makers, an artisanal miller, a host of Ireland's best cheese producers, and a number of good restaurants, some wonderfully eccentric. The eastern part of the county, meanwhile, is home to the seminal Ballymaloe House, bailiwick of the legendary Myrtle Allen, and the Ballymaloe cooking school, one of the best in Europe—and of the jewel-like Midleton Saturday market. If you love food and are coming to Ireland, County Cork is an essential destination.
Farmhouse cheese making isn't new to County Cork. In an essay on Irish cheeses published in 1937, the poet and politician Oliver St. John Gogarty mentions a number of cheese-producing dairies in the region, among them Ardagh and Mitchelstown ("greatest of all"). "The story goes," he adds, "that when application was made to Denmark for an instructor to teach the Irish the art of butter and cheese production and preservation, the Danish authorities apologised for being unable to lend their best expert 'because he had just gone back to Cork'!" The diversion of milk to make standardized cheddars and the like during World War II effectively wiped out the production of unique local cheeses. Then along came Norman Steele, an English-born professor of philosophy at Trinity College, Dublin, and his wife, Veronica, a native Dubliner. In 1976, the Steeles, who were living on a farm in Eyeries, a hamlet on West Cork's rugged Beara Peninsula, found themselves with, as Norman puts it, "a one-horned cow named Brisket and too much milk." The idea of making cheese occurred to them. "We got all the leaflets," says Norman. "We also found a book called The Cheeses and Wines of England and France with Notes on Irish Whiskey by a man named John Ehle. The leaflets told you how to make cheese, but Ehle told you what cheese was."
The Steeles began experimenting, finally creating a washed-rind cheese with a complex floral flavor and a creamy texture. "This was the cheese that wanted to be here," says Veronica. They dubbed their creation Milleens, the name of their farm. As word of their success spread, the Steeles started giving cheese-making courses to anyone who was interested. "Almost everybody who came went on to make cheese of their own," says Norman. Today the Steeles' son, Quinlan, is in charge of production.
The second West Cork artisanal cheese maker was Jeffa Gill, with her Durrus—a semisoft raw-milk cows' milk cheese, a little fruity and pleasantly pungent—made near the town of the same name. Like Norman Steele, Gill is from England originally, and like the Steeles she started producing cheese because she had plenty of milk. Echoing Veronica Steele, she says, "The milk makes its own cheese. I just let it happen."
Giana and Tom Ferguson craft another of West Cork's famous cheeses, Gubbeen, at their farm in Schull, while their son, Fingal, produces artisanal sausages and cured meats next door. Giana, too, is English, but grew up in Spain and France. "Then you marry a West Cork farmer," she says, "and suddenly have all this beautiful milk … " She proudly shows us her piglets, her small but immaculate cheese-making facility, and Fingal's smokehouse, where he makes mostly Mediterranean-inspired charcuterie, including excellent salami and garlic sausage.
Then the Fergusons invite us into their handsome, cluttered farmhouse kitchen, warmed by an ancient Aga oven, for lunch. We eat a soup of just-picked nettles, simple and nicely tart; roast pork loin from one of their own pigs, with fat so soft and sweet that it's impossible to think of it as villainous; and then a dessert of faintly iodine-scented carrageen seaweed cooked in milk with nutmeg and brown sugar. As we nibble on pieces of ripe Gubbeen, creamy and a little sour, with a nutty flavor not unlike that of reblochon, Giana talks about the obstacles facing artisanal cheese makers in Ireland—mostly having to do with governmental regulation and rigorous inspection. "In France, the man who'd be regulating the cheese would have known brie and vacherin all his life," she points out. "Not so here. Our position is that cheese making can't be seen as dangerous. We're a part of our cheese, and we're a part of our environment—part of the warmth and softness of West Cork."
Salmon is revered in Ireland—in Irish folklore, the great warrior Fionn mac Cumhail (Finn MacCool) gains imbas (poetic intuition) by tasting the Salmon of Wisdom; bradan beatha (salmon of life) is an Irish idiom meaning life essence—and the idea of smoking it dates back thousands of years. Today there are two artisanal salmon smokers in West Cork, and they're in the middle of a stew. A lobby of sportfishermen and conservationists wants to ban commercial drift-net salmon fishing, and Slow Food (which is taken very seriously in Irish artisanal circles) has at least temporarily suspended its support of smokers who use wild salmon.
At his Ummera smokehouse in Timoleague, Anthony Creswell (yet another English transplant) uses some wild salmon but speaks highly of organic farmed fish, which he uses increasingly to produce his elegant, medium-smoky product. "The salmon we buy are raised in cages out at sea," he says, "so they're actually able to swim. Their texture is much closer to that of wild fish than to most farmed salmon." Sally Barnes of the Woodcock Smokery in Castletownshend, on the other hand, says, "I don't process any farmed fish of any description." Barnes, who came to Ireland from Scotland 30 years ago, started smoking fish (initially in an old tea chest with a hole in it) when she was married to a commercial salmon fisherman. Her salmon is a bit racy, saltier and smokier than Creswell's; she also produces delicious smoked mackerel. "It isn't drift-netting that's harming the catch," says Barnes. She points out that the president of the North Atlantic Salmon Conservation Organization has identified dozens of factors contributing to the decline in salmon stocks.
One night we're invited to dinner by a young food writer and television personality named Clodagh McKenna, at her cottage near the picture-book fishing village of Courtmacsherry, not far from Timoleague. McKenna runs a small artisanal food production business of her own, turning out assorted terrines and a silky-smooth but vividly flavored chicken liver pate, among other things. She is a natural cook, with her head on straight and a confident hand. She has bought fish just out of the water from a local fisherman—mackerel and Ireland's exquisite black sole—and has gathered little lettuces from her tiny damson-framed garden and wild herbs from a nearby wood. In a small kitchen brightened by jars filled with bluebells and geraniums on the ledge of a window looking out to the sea, she prepares a meal that begins with a salad of greens enhanced with tiny cubes of Gubbeen and lardons of Fingal Ferguson's bacon. The mackerel is then fried with lemon juice and a minced red chile; the sole is sizzled in garlic butter and scattered with chopped wild garlic flowers. Pots of carrageen lemon pudding, airy and only faintly sweet, are dessert. The freshness and simplicity of the meal eloquently express what modern Irish food can be.
One of the best places to sample the artisanal bounty of County Cork, surprisingly, is a stylish tapas bar in Cork City called Boqueria. The context may be Spanish, but the food is often Irish. The cheese plate, for instance, might start with the expected manchego and continue with Gubbeen, Crozier Blue (a lovely sheep's milk cheese from County Tipperary), and a couple more of Ireland's finest. The charcuterie plate might combine serrano ham and Spanish chorizo with Gubbeen saucisson and Frank Krawczyk's dry salami. And at Saturday brunch at Boqueria, a welcome variation on the traditional Irish breakfast—delicious but daunting—typically includes such specialties as salmon smoked by Frank Hederman in Cobh, sausages and bacon from Caherbeg Free Range Pork in Rosscarberry, former restaurateur Declan Ryan's crusty Arbutus breads, and Donal Creedon's Macroom oatmeal, from the town of that name west of Cork City. (Stone ground and very coarse, it's different from anyone else's in Ireland, full of flavor when simply cooked and immensely satisfying in its grainy texture.)
Most of these same products may also be bought at Cork's English Market. All of Cork seems to come to this small but densely populated indoor market in the heart of the city, with its pretty ceiling of leaded glass and shaped wood suggesting an inverted ship's keel, to shop at places like Gerry Moynihan Poultry, Bresnan's Victuallers ("Traditional Family Butchers"), On the Pig's Back, Mr. Bell's Oriental Foods, K O'Connell's seafood shop, and Frank Hederman's smoked-fish stand.
Hederman, from the East Cork port town of Cobh, is the county's third artisanal salmon smoker. "Sally Barnes and Anthony Creswell and I all started at about the same time, in the 1980s, unknown to each other," says Hederman. "It's funny how that happens. It was the same thing about a hundred years ago, when all the Cork vernacular bakers started up within a few years of each other." Hederman smokes his salmon, both wild and organically farmed (he also makes a remarkably subtle, buttery smoked mackerel, among other products), with sea salt, over beech chips. "I'm interested in creating awareness of the distinctiveness of our product," he says. "We have great raw materials in Ireland, but we have to add value to them. To be a success, we've got to make sexy food."
Upstairs at the English Market, around the central atrium, is the Farmgate Cafe, which consists of an open cafe with photographs of local farmers and artisanal producers on the walls and an attractive self-service menu (shepherd's pie, tripe and onions, assorted sandwiches and salads) and a small glassed-in restaurant where the excellent traditional fare might include lamb's liver and bacon, tripe with drisheen (the Cork "blood pudding"), and a definitive corned beef with parsley sauce served with broccoli, mashed carrots and parsnips, and champ (potatoes mashed with scallions), representing the colors of the Irish flag.
The best restaurant in Cork, however, might very well be Cafe Paradiso—a modest, rather bohemian-looking place, serving food that is absolutely original and very good. Chef Denis Cotter, who owns the place with his wife, Bridget Healy, has been a vegetarian "forever," he says, and for five years cooked "whole foods" dinners at Cork's Quay Coop. A trip to Healy's native New Zealand in 1992 turned his head around. "Fusion cooking was exploding in the Pacific, and I realized there was so much more I could do."
Today, no longer limited by the restrictions of the whole-food diet but still resolutely vegetarian, Cotter uses first-rate products (he is a regular at the English Market), cooks skillfully, and has a well-developed sense of contrast and counterpoint in his food. The menu changes often, but among the dishes we've enjoyed are beet-filled mezzaluna pasta with hazelnuts; a tartlet of spinach and long-cooked red onions topped with melted Coolea cheese, garnished with parsley-walnut pesto and olive-crushed potatoes; couscous, pine nut, and feta cake with sweet and hot chile jam, yogurt sauce, and spicy chickpeas; galette of leeks, celeraic, and Cashel Blue (Crozier's cows' milk sibling) with mashed jerusalem artichokes and green beans flavored with caraway and orange; and sticky fig and ginger pudding with cinnamon ice cream and caramelized banana. It's food that manages to express both sophistication and down-home goodness—two qualities to which County Cork is no stranger at all.